Halloween is a fun time of the year for plenty of people, families, and kids. Since it can be such a scary time for our pets, we decided to share some basic Halloween safety tips that are just for your pets. With lots of decorations, strangers, doorbells, weird costumes and all of those deliciously tempting treats everywhere it is important to keep our fur-family members safe just like our kids!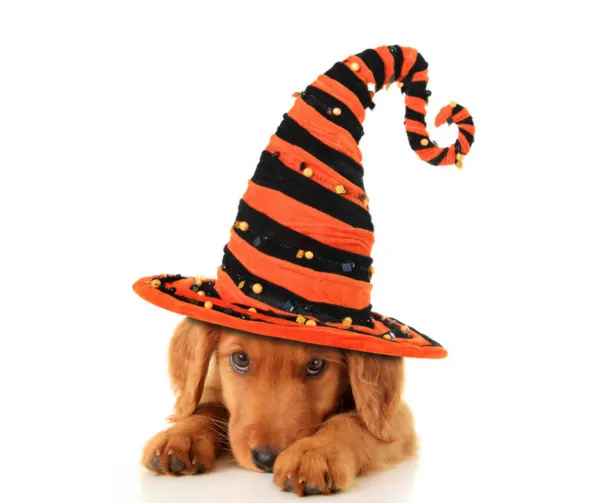 Halloween Safety Tips For Pets
This post may contain affiliate links. We may earn a commission if you make a purchase.
These Halloween Safety Tips are perfect for keeping your pets safe while you are celebrating one of our favorite holidays. Our dog is wary of strange new yard decorations, especially if they move or make noise. My daughter wants to take our pup trick-or-treating, but I know it's not a good idea based on her growling at outdoor Halloween decorations during the day. Take a look at these tips to determine what works best for your family and pets this year.
Secure Decorations
Halloween décor often has cords and strings and other potential dangers for pets attached to it. Secure or cover electrical cords so dogs or cats can't chew on them (and risk potential shock). Fake cobwebs, streamers and more can all cause trouble for your pet if they ingest or get tangled in them. Glow sticks and necklaces are a tempting treat for pets so keep them out of reach. And, instead of real candles in your pumpkins or other decorations, try battery operated candles that look just like the real deal.
Keep Human Treats Away From Pets
According to the American Animal Hospital Association, pets and candy are a bad combination. Common candy ingredients like chocolate, raisins or xylitol (a sugar substitute often found in sugar free candy and gum) are toxic for pets and can cause symptoms from vomiting to rapid heart rate to, sadly, even death. Keep the ASPCA Animal Poison Control Center (APCC) phone number handy in case of an emergency: (888) 426-4435.
Pets getting into the candy often eat the wrappers, too. The AAHA warns that candy wrappers aren't good for pets in ingest, because it causes irritation or blockage. Keep human treats away from your pets and warn kids to do the same. Instead, give them something special to eat like Raw Pet Treats & Chews.
Bring Pets Inside
Keep your pets inside not just on Halloween night, but the days before and after. This is one of the most important Halloween safety tips for your family to observe. Unfortunately, pets can be a target for theft, inhumane "tricks" and more. Better safe than sorry!
This is extra important for outdoor cats. They may not like it but keeping them safe is top priority! Also, if you are thinking about bringing your dog out on Beggar's Night, consider carefully how he might react to the noises, crowds and costumes. Even mellow dogs can get freaked out so it may be better to keep him home.
Be Cautious With Pet Costumes
Pets look so cute all dressed up! While some pets don't mind costumes at all, others dislike it. Take cues from your pet to determine if he likes playing dress up or not. The American Veterinary Medical Association suggests getting your pet accustomed to the costume for a few days before festivities.
Make sure the costume is comfortable on him and fits properly. Watch for pieces that can be easily chewed off or tangled and make sure your dog (or cat!) can see, hear and breathe while wearing the costume. Costumes are great, but only if worn safely. Safety is more important than your pet looking cute.


Make Sure Your Pet Has ID
Pets should always have proper ID on them but on holidays like Halloween it's especially important, says the ASPCA. With so many people coming and going, it's easy for a pet to slip out the door. Make sure your pet has a collar with ID tags and is micro chipped as well.
Keep Pets in a Safe Room
For extra safety, keep pets in a secure room away from all the action during Halloween, recommends the Humane Society of the United States (HSUS). That will keep them safe and less stressed during the festivities. This is a good idea for Trick or Treat night and any parties you may have at your home. And, the HSUS points out, when humans are wearing costumes, they look and smell differently to pets so even the cutest costumes can scare your dog or cat!
Halloween doesn't have to be frightening for your pets. Think about pet safety ahead of time and use common sense when considering how your pet might react to various aspects of the holiday. Then, have fun knowing your dogs and cats are safe from harm!
These Halloween safety tips for your pets are musts if you have fur-family in your home. Take some time to make your home safe for your pets so they will be able to enjoy the holiday with your family with no fears.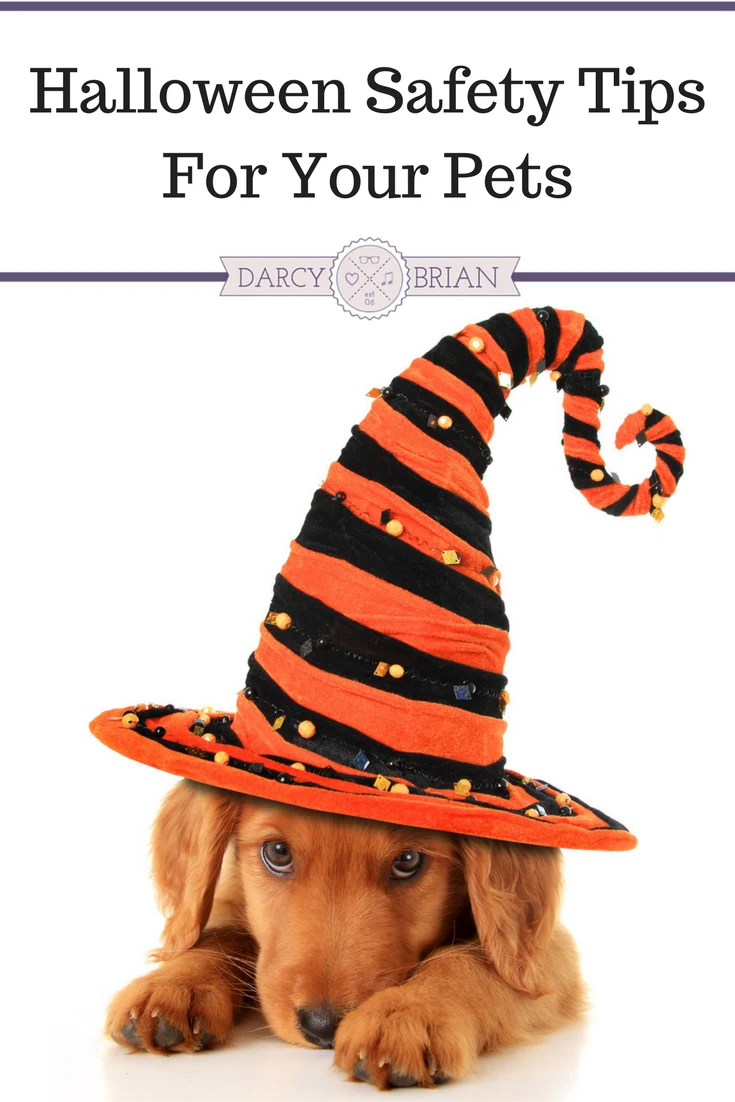 More Halloween Ideas: