Are you looking for an easy fudge recipe? You'll love this delicious pumpkin fudge recipe! Make it as a tasty Thanksgiving treat or as a sweet homemade Christmas gift for family and friends.
Easy Pumpkin Fudge Recipe
This post contains affiliate links.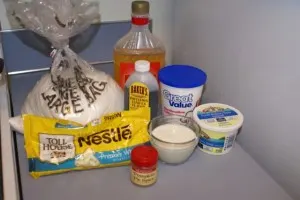 Ingredients:
3 cups white sugar
3/4 cup butter or margarine
2/3 cup evaporated milk
1/2 cup canned pumpkin
2 TBS light corn syrup
1 tsp pumpkin pie spice
1 12oz pkg white chocolate chips
1 7oz jar of marshmallow fluff
1 tsp vanilla extract
1 cup chopped pecans (optional)
Directions:
Start by lining a large cookie sheet or glass baking dish with aluminum foil. You could use non-stick spray, but the clean up will be much easier if you use foil.
In a large pot, combine white sugar, butter, and evaporated milk.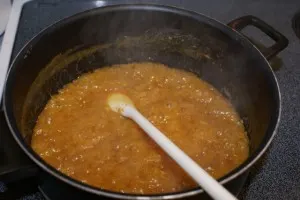 Cook on medium-high heat, stirring constantly until the mixture reaches 234 degrees or a soft ball stage (which should take about 12 minutes).
If you don't have a candy thermometer, that's OK! Here is how to check your fudge without a candy thermometer. Get a small cup of COLD water and after about 10 minutes, drop a small amount of candy mixture into the water. Pick it up with your finger. If it holds its shape but falls flat its perfect! I found that 12 minutes was the perfect time.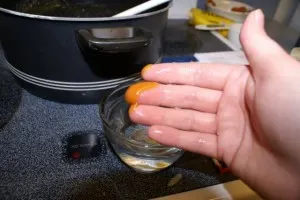 Once the fudge mixture reaches the correct temperature, immediately remove the pot from heat. Add the remaining ingredients and stir quickly to melt all the chocolate chips and marshmallow fluff.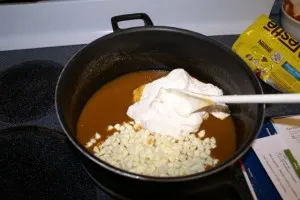 Pour the fudge mixture into your pan and let it cool for at least two hours to set. Once it is completely cooled off, cut into small pieces. Don't forget to sample a piece. You know, for quality assurance!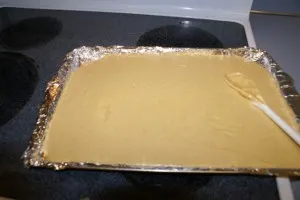 Store fudge in an airtight container. To create a tasty DIY gift, wrap a piece or two in plastic wrap and tie with a pretty ribbon and tag.
If you weren't sure what to make and take to your family's Thanksgiving dinner, whip up a batch of this easy pumpkin fudge recipe. It's a delicious fall treat your guests are sure to love!
More Thanksgiving ideas for you: