Looking for Christmas activities for kids that you can do together? How about reading Christmas picture books? We all have a favorite book from when we were kids. Is yours a classic tale? Perhaps it's a story that was turned into a movie?
Or maybe you love any magical Christmas story that you can get your hands on! We're sharing several enchanting holiday tales that are perfect for toddlers, preschoolers, and kids of all ages. The youngest ones will love looking through them, even if they don't sit still while you read aloud.
Also, grab the printable book list at the end of this post so you can check them off as you finish them. These books also make great Christmas gifts for kids!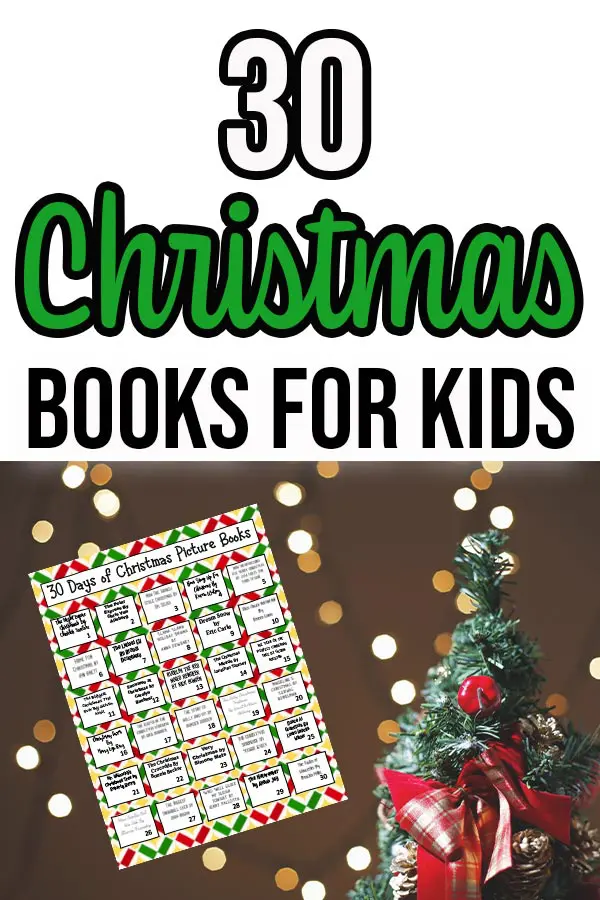 This post contains affiliate links. As an Amazon Associate and a participant in other affiliate programs, we earn a commission on qualifying purchases.
Make Christmas Memories Through Picture Books
Remember the storybook you wanted to hear over and over when you were young? Do your kids have a favorite that they love to hear on repeat?
My personal favorites as a child were The Night Before Christmas and The Polar Express. The magic and suspense of a good Christmas story never gets old, not even for us who are "old!" Ha.
Parents, loved ones, and teachers can play such an important role in a child's life by reading to them.
The wonder in a child's eyes as they're invited into a picture storybook is a treasure to behold. Even older kids love being read to by a loved one.
Imaginations and ideas come to life as you dive into the pages of great classic tales or explore new storybooks. Reading Christmas stories together makes a wonderful Christmas tradition to start with your family.
Consider the adventure of creating your own family storybook! Maybe you've got a fabulous storyteller in your home and another child who loves to illustrate.
Put these talents together and make your own book! Then enjoy passing it down through future generations.
Upper elementary aged children may also enjoy creating their own pop up Christmas book!
120PCS Christmas Bookmarks
75Pcs Christmas Color Your Own Bookmarks
Christmas Throw Blanket Kids
Bedsure Kids Blanket Hoodie with Sleeves
Benefits of Reading Aloud for Kids
During the holiday season, reading aloud with kids is not just a cozy and comforting activity, but it's also an incredible way to nurture their language skills, comprehension, and cognitive development.
It creates a special bond between the reader and the child, filled with shared adventures and emotions that stories bring to life. Reading Christmas picture books can become a beloved tradition, blending the magic of the holiday season with the enchantment of storytelling.
It fosters a love for reading, sparks imagination, and imparts valuable lessons woven into the narratives. Moreover, this practice allows kids to associate positive emotions and memories with reading, igniting their lifelong journey of learning.
Want more book suggestions? Check out these fall picture books for preschoolers.
More Christmas Learning Activities
Brimming with holiday cheer, Christmas-themed learning activities are a delightful way to combine festive fun with valuable educational experiences. Pairing these activities with reading holiday-themed books can form an immersive Christmas unit for kids.
This approach seamlessly blends literacy with hands-on learning, helping to solidify concepts and enhance comprehension.
Engage your little ones in a range of holiday crafts, puzzles, and games that reflect the themes, characters, and lessons found in their favorite Christmas books.
This could include creating Santa's workshop with blocks after reading "Santa's Workshop", or a winter sensory bin inspired by "The Snowy Day".
Don't forget to include our roll a Christmas tree printable dice game for extra fun and learning! It's an entertaining way to work on early math skills.
By bridging the gap between story time and playtime, we create memorable learning experiences that encourage imagination, creativity, and a deeper understanding of the spirit of Christmas.
Chuckle & Roar – Christmas Village Puzzle
Goodplay 60 Piece Wooden Jigsaw Puzzle in an Box Merry Christmas
Funrous 24 Pcs Christmas Crafts Kits for Kids
48 Pcs Christmas Craft Kits for Kids Christmas Stockings
Cork Reindeer Christmas Ornament Craft Kits – Makes 12 – Holiday Crafts for Kids
Craftorama Sewing Kit for Kids
Christmas Picture Books for Kids
Enjoy sharing the gift of wonderful stories with your children this Christmas. Visit your local library if you need fresh ideas for some Christmas picture books.
But before you go, grab this printable book list and jump into some new pages of Christmas excitement, or renew some of your favorites.
Classic and new titles are included in our list! You can also see all of these Christmas books in our Amazon shop for added shopping convenience.
As an Amazon Associate and member of other affiliate programs, I earn from qualifying purchases.
Fostering a love for reading in your children can be made even more special when the stories revolve around the cozy and magical spirit of Christmas. These books not only entertain but also teach valuable lessons and ignite the imagination.
So, why wait? Grab your printable list and embark on a delightful literary journey infused with the joy of the holiday season.
Whether it's a visit to your local library, a quick online order, or a thoughtful gift for a loved one, let these Christmas picture books add a touch of enchantment to your child's festive season.