Are your kids fascinated by jellyfish? Then they will love making a paper plate jellyfish. This simple craft project is a great way to spark your child's interest in these strange, yet beautiful sea creatures.
In this post, we'll show you how your child can create their own jellyfish out of a paper plate.
This is the perfect activity to do before or after visiting an aquarium where you can watch them swimming around! Be sure to check out our entire collection of craft ideas for kids.
Preschoolers will have fun working on fine motor skills while creating their own jellyfish. Painting, cutting, using the hole punch, and tying are all important skills for young children to practice.
We will also share tips to extend this craft with other learning activities, such as making ocean zones in a jar.
It also makes a great addition to an ocean themed art center, unit study, or week of summer camp at home.
More Ocean Crafts for Kids
Jellyfish Paper Plate Craft Supplies
There is very little prep needed and you can have your very own bloom of jellyfish created in under 30 minutes.
(Did you know a group of jellyfish is called a bloom? That's just one of the collective nouns used for them. They are also referred to as a swarm or a smack!)
This post contains affiliate links. As an Amazon Associate and a participant in other affiliate programs, we earn a commission on qualifying purchases.
White Paper Plate
Paint Brush
Scissors
Black Marker
Glue
You may use large paper plates or small ones. It would be fun to make some in both sizes to have variety just like in the ocean. Simply adjust the number of holes and pieces of yarn as needed.
Speaking of yarn, if you do not have any on hand, you could use ribbon or crepe paper instead.
How to Make a Paper Plate Jellyfish
First, cut your paper plate in half. Then paint the front side of it blue. Give it time to dry and apply another coat if needed.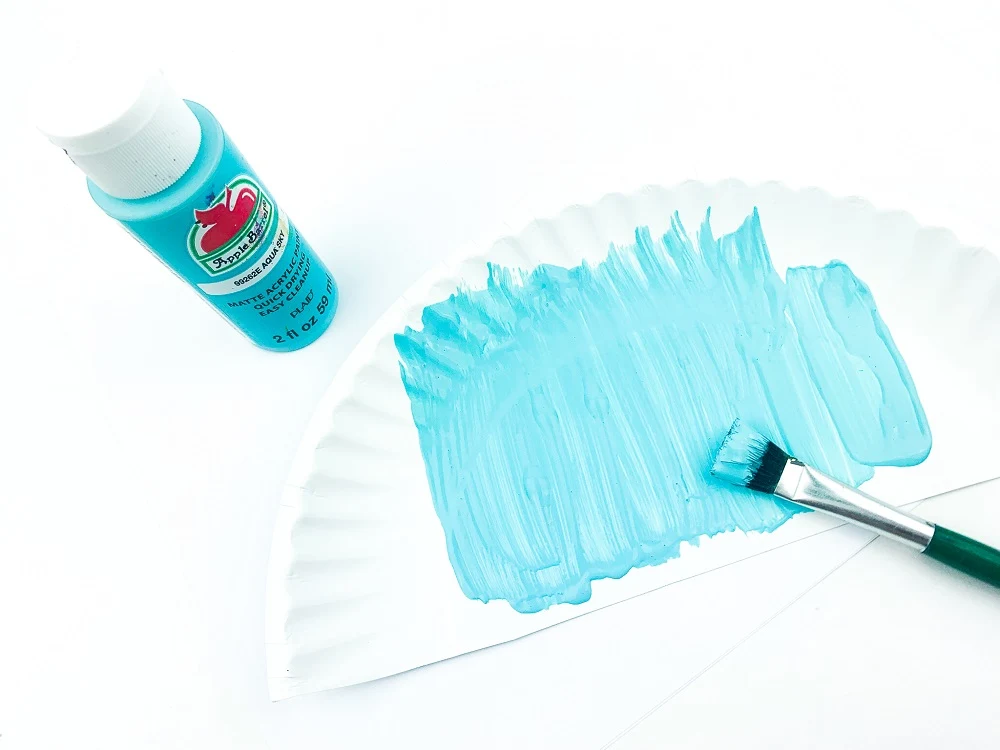 You don't have to paint the back of the plate, but you can if you want. Painting the entire plate would look nice if you plan on hanging up your jellyfish.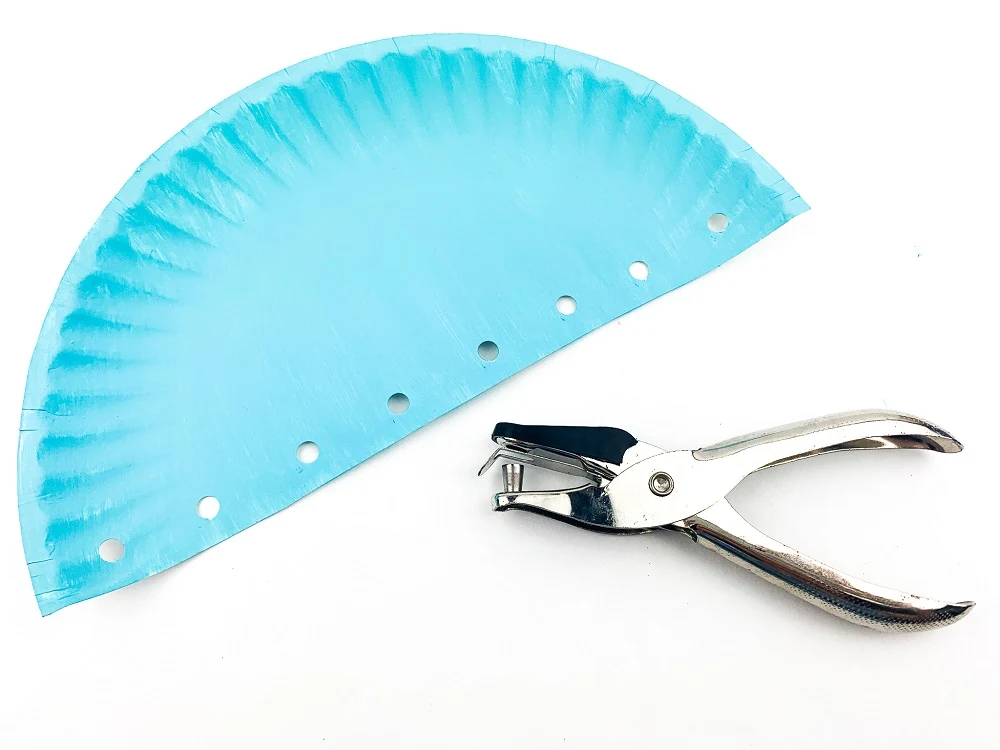 Punch about eight holes along the flat part of the plate. Measure and cut 12 inch lengths of yarn. You will need one for each hole in the plate.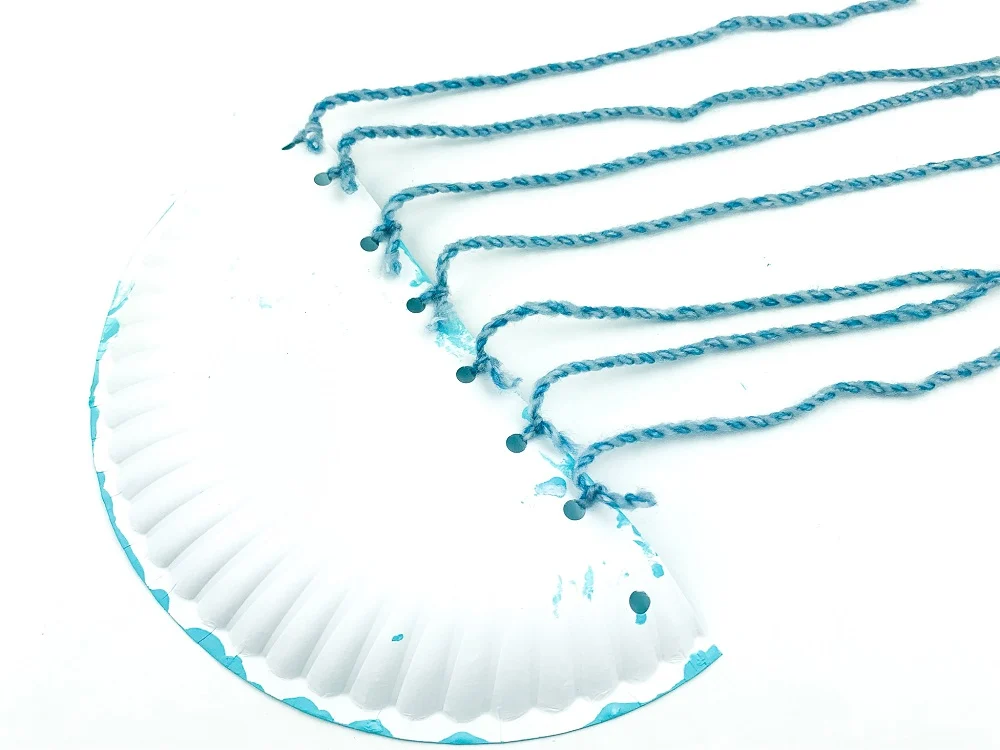 Put the yarn through the hole and tie a knot to hold it in place.
Another option is to fold the piece of yarn in half and push the middle part through to make a loop. Put the ends of the yarn through the loop and pull them through.
Glue on the eyes (or peel and stick, depending on the type of googly eyes you have) and use a marker to add a smile.
Now you can hang your child's jellyfish or they can play with it. If making these in a classroom, you can add names to the front and use them to decorate a wall or bulletin board.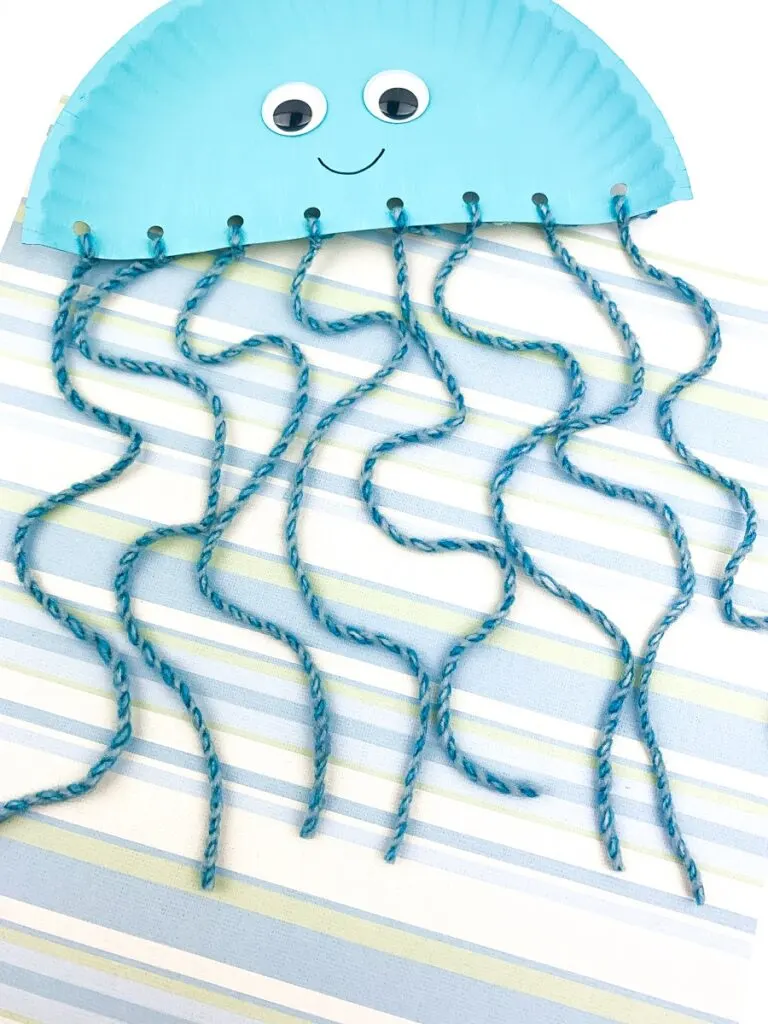 Ocean Books for Kids
Do your kids like to learn interesting facts and tell you all about them? Then they will love looking through The Fascinating Ocean Book for Kids: 500 Incredible Facts!
They might also enjoy the Ultimate Oceanpedia from National Geographic Kids. It is full of gorgeous photos, amazing facts, illustrations, and diagrams. This is an excellent book to use in an ocean unit study or to create mini research reports.
Have fun reading the collection of rhyming poems in Commotion in the Ocean by Giles Andreae with the kids. The poems are all about animals that live in and around the ocean.
Ever wonder what an octopus would do if it escaped the aquarium? Children will love reading Inky the Octopus by Erin Guendelsberger with you.
It is based on the true story of a brave and daring octopus that escaped from his tank at the National Aquarium of New Zealand. This picture book also includes interesting marine biology facts for kids.
More Paper Plate Crafts
Jellyfish Paper Plate Craft
Estimated Cost:
$5 or less
Make this fun paper plate jellyfish for an easy preschool craft!
Materials
White Paper Plate
Blue Craft Paint
Blue Yarn
Googly Eyes
Tools
Single Hole Punch
Paint Brush
Scissors
Black Marker
Glue
Instructions
Start by cutting the paper plate in half.
Paint the plate blue and set aside to dry.
Use a hole punch to make eight holes along the flat part of the plate.
Measure and cut 8 pieces of yarn that are about 12 inches long.
Pull yarn through the hole and secure it with a knot.
Add googly eyes near center of plate.
Draw a smile with the marker.