As the sun shines brighter, we've got a delightful project that your kids will absolutely love – the coffee filter watermelon craft! This summer craft is not just about creating a cute suncatcher that will sparkle in the sunlight, it's also a fantastic opportunity for your children to exercise their fine motor skills.
Whether they are in preschool, kindergarten, or older, this craft project is a perfect combination of creativity and skill-building. So, gather up your coffee filters and let's create some summer magic together! Check out all of our coffee filter crafts for kids for even more ideas like this.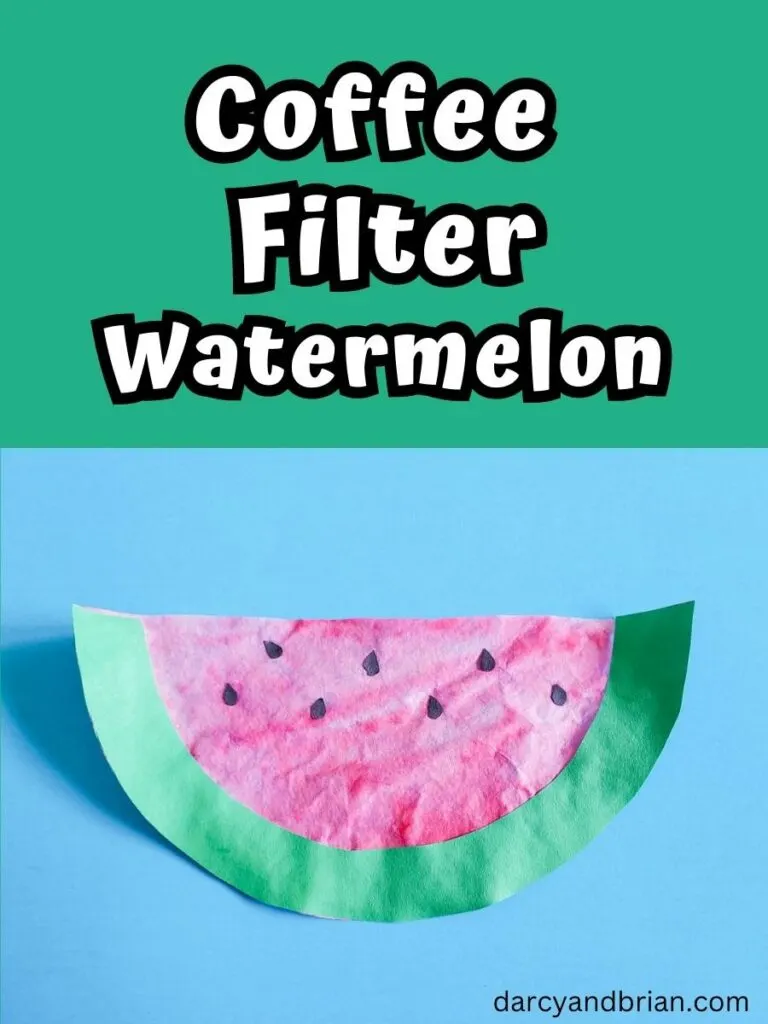 This coffee filter watermelon is the perfect summer project for preschool, kindergarten, and older children.
It's an entertaining way to practice fine skills while making a cute suncatcher in the process! Plus, it'll give your child's creativity a chance to shine!
More Summer Crafts for Kids
Summer is all about having fun, soaking up the sun, and yes – embracing our crafty sides! From handprint art to paper plate animals, there's no end to the creations your little one can dream up. Here are a few summer craft suggestions for you:
Benefits of Crafting for Kids
Have you ever thought about the magic that lies in a simple craft project? Take crafting a coffee filter watermelon for instance. It's not just an enjoyable activity; it's an opportunity to boost your child's fine motor skills.
Imagine your little one coloring the coffee filter paper, carefully cutting out the rind shapes, spraying water to blend the markers, and applying glue – each of these actions helps refine their hand-eye coordination and precision. But that's not all!
Crafting isn't just about creating something pretty, it's a beautiful journey of self-expression and creativity. As your child decides what shade of green to use or how many seeds their watermelon should have, they're making choices, solving problems and expressing their unique ideas.
It's also the perfect opportunity to expand learning about a topic. You can easily incorporate this coffee filter watermelon into a unit study about fruits and vegetables.
Appropriate Age Range for this Craft
This coffee filter watermelon craft is appropriate for children of all ages, but may be especially appealing to preschoolers and kindergartners. However, older children can also benefit from this craft project with minimal help from adults.
Watermelon Coffee Filter Craft Supplies
One of the things I absolutely love is how affordable coffee filter crafts are to make and the materials are fairly easy to obtain whether you are making these at home or in a classroom. Here's everything you will need to create your own batch of watermelons:
This post contains affiliate links. As an Amazon Associate and a participant in other affiliate programs, we earn a commission on qualifying purchases.
How to Make a Coffee Filter Watermelon
Start by flattening out a round coffee filter. Draw on it with washable markers, coloring the entire thing red. Experiment with using red, pink, and a mix of both.
Place the colored coffee filter on a craft mat before misting with water. Kids always have fun watching the colors move and blend! Set aside to dry.
While this is drying, fold a flattened dry coffee filter in half and trace the half circle on your green construction paper.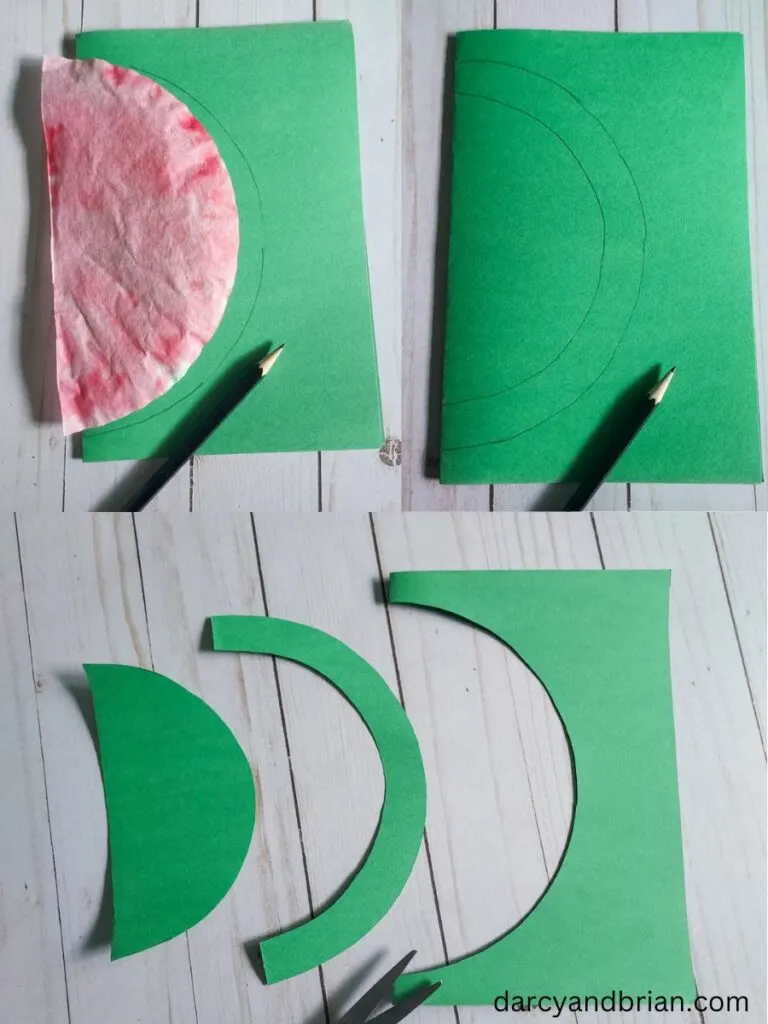 Slide the coffee filter forward to trace another semicircle inside the first half circle. This will create a C shape that is about 3/4 inch to 1 inch wide.
Now, cut the C shape out. This will be used as the watermelon rind. Next, cut out several tiny raindrop-shaped seeds from the black construction paper. Once your color blended coffee filter is dry, fold it in half and cut.
Glue the green C-shaped rind along the outer edge of the red coffee filter. Then glue the black watermelon seeds on.
Allow time to dry completely before hanging your coffee filter watermelon suncatcher in the window.
Doesn't it look lovely?
You can easily make two watermelon slices at once, just fold the green paper in half before cutting the rind out.
Another option is to leave the pinkish red coffee filter whole and cut out a green circle border. This will look like a watermelon was sliced in half. You can also cut the watermelon craft into quarters to create triangle wedges.
Books About Fruits and Vegetables for Kids
Introducing books that correlate with our craft activities is an excellent way to extend learning and fuel curiosity. By exploring these interactive, colorful, and engaging books about fruits and vegetables, children can deepen their understanding of where our food comes from and even learn fun facts about their favorite fruits and veggies!
Here are some wonderful books that will perfectly complement our coffee filter watermelon craft activity:
Eating the Alphabet
Fruit Bowl
The Great Garden Escape
Up in the Garden and Down in the Dirt: (Nature Book for Kids, Gardening and Vegetable Planting, Outdoor Nature Book) (Over and Under)
Recommended Fun Fruit Games
And now for the fun part, let's dive into some entertaining fruit-themed games that can keep your little ones engaged and learning. Learning through play is our favorite!
HABA My Very First Games – First Orchard Cooperative Board Game for 2 Year Olds (Made in Germany)
Bananagrams: Multi-Award-Winning Word Game
Bananagrams Appletters: Word Worm Game for Kids Age 5+
My First Bananagrams: Multi-Award Winning Kids Spelling Board Game For Ages 4+
More Fruit and Vegetable Crafts for Kids
Let's explore more engaging, age-appropriate, and colorful fruit and vegetable crafts that perfectly align with our coffee filter watermelon craft activity. These fruit and vegetable crafts further promote fine motor skills, awaken creativity, and offer delightful hands-on learning experiences for children.
So there you have it! A summer craft that's as refreshing as a slice of watermelon itself. This coffee filter watermelon craft is more than just a fun activity to keep your little ones busy—it's a creative journey that boosts their fine motor skills, encourages their creativity, and extends their learning about fruits and vegetables.
It's a perfect blend of learning and fun, ideal for preschoolers, kindergartners, and even older children. So gather up those supplies and enjoy making this cheerful suncatcher. Here's to a summer filled with creativity!
Coffee Filter Watermelon
Estimated Cost:
$5 or less
Make a cute summer suncatcher with this coffee filter watermelon craft for kids!
Materials
Round White Coffee Filters
Red and Pink Washable Markers
Green and Black Construction Paper
Liquid Glue
Tools
Scissors
Water Spray Bottle
Pencil
Instructions
Draw on a flattened white round coffee filter with red and/or pink washable markers.
Lightly misting with water to blend. Set aside to dry.
Fold a flattened dry coffee filter in half and trace the half circle on green paper.
Trace another semicircle inside the first half circle to create a C shape about 1 inch wide.
Cut the C shape out to be the watermelon rind.
Cut watermelon seeds out from the black construction paper.
Cut dry colored coffee filter in half.
Attach the green C-shaped rind along the outer edge of the red coffee filter with glue.
Glue the black seeds on. Allow to dry.
Recommended Products
As an Amazon Associate and member of other affiliate programs, I earn from qualifying purchases.