Summer is here, and with summer comes the sounds of ice cream trucks! What better way to celebrate than by reading books about ice cream?
If you're looking for a bunch of fun-themed books to read for the summer, you can't go wrong with ice cream themed books! Ice cream is a childhood classic during the summer months and perfect for your little ones.
These books are perfect for preschool, kindergarten, and early elementary school age children, but work well for kids of any age.
Did you know the third Sunday of July is National Ice Cream Day? What a perfect time to enjoy a story and this cool creamy treat.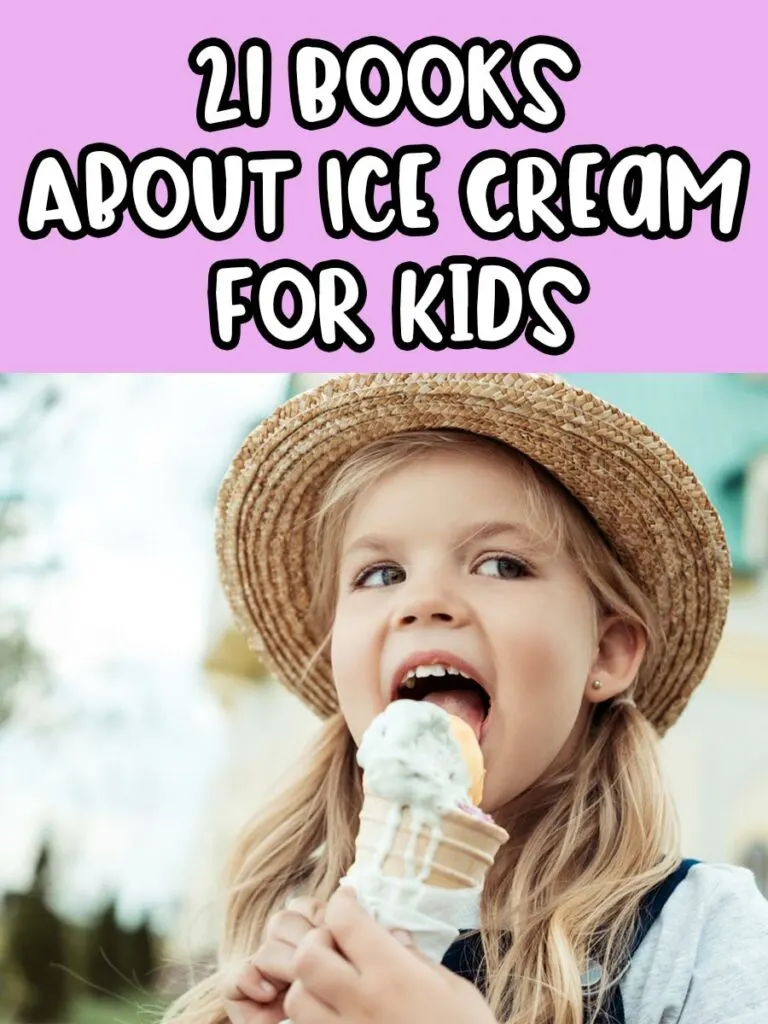 These books are also an excellent option for an ice cream unit study (for homeschool or at school) during any time of the year.
If you're looking for some fantastic books about this decadent treat, here are 21 Books About Ice Cream for Kids.
21 Ice Cream Themed Books For Kids
While your children are out enjoying the warm summer weather, they can also read some ice cream inspired books.
Reading for kids is an important part of their learning and development process. Books are an excellent way to teach them lessons, increase their vocabulary and spark their imagination.
You can plan a fun ice cream themed week of books and activities. Along with reading these books, you can make homemade strawberry ice cream, create ice cream crafts, and color ice cream coloring pages.
Another idea is to enjoy an ice cream taste test with a variety of flavors or brands. For a mini science lesson, discuss the differences between ice cream, frozen custard, and gelato.
There are plenty of ice cream themed learning opportunities that your kids will love.
Whether your favorite flavor is vanilla, chocolate or something more complex, there are plenty of great ice cream titles for kids to enjoy!
This post contains affiliate links. As an Amazon Associate and a participant in other affiliate programs, we earn a commission on qualifying purchases.
1. The Nice Dream Truck
The Nice Dream Truck by Beth Ferry and Brigette Barrager is a whimsical bedtime story about an ice cream truck that travels on moonbeams and serves up scoops of fantastic dreams in every flavor.
Whether you wish to be an astronaut or you want to try flying, this book is filled with imagination and adventure.
2. The Little Ice Cream Truck
The Little Ice Cream Truck by Margery Cuyler is a sweet picture book for preschoolers. The ice cream truck is operated by a cheerful driver named Sue.
They drive around their diverse town delivering ice cream to the residents. They have stops to make at a birthday party, a park, and the zoo.
3. Ice Cream: The Full Scoop
Ever wonder how ice cream was first made? Children learn about ice cream's history, including about the first ice cream crank and the original waffle cone, in Ice Cream: The Full Scoop by Gail Gibbons.
Kids will delight in following along with ice cream's journey from farm to factory to their freezer.
4. Splat the Cat: I Scream for Ice Cream
In Splat the Cat: I Scream for Ice Cream by Rob Scotton, Splat goes on a class fieldtrip to visit an ice cream factory.
Splat cannot wait and dreams of eating lots and lots of ice cream. Of course, Splat and his friends have a bit of an adventure while visiting!
This is a cute book for beginning readers to practice the -eam ending sound.
5. Is It Warm Enough for Ice Cream?
Take a trip through the seasons with the picture book Is It Warm Enough for Ice Cream? from DK books. With colorful illustrations and short sentences, this is a quick read aloud for toddlers and preschoolers.
The book shows popular activities during different seasons while asking if it's warm enough to eat ice cream yet. While this book limits ice cream eating to warm summer months, I say it's tasty all year round!
6. War at the Ice Cream Store: Mustachio Pistachio vs. Bully Vanilli
War at the Ice Cream Store: Mustachio Pistachio vs. Bully Vanilli by Dave Gibson and Cheryl DaVeiga is a story about kindness and acceptance.
When one ice cream flavor kicks another ice cream bucket, the rest of the flavors and toppings inside the store come together to stand up against the bully. Together they teach him lessons in being kind to others.
It also includes information about their website where kids can watch a musical, puppet narrated version of the story.
7. Should I Share My Ice Cream?
In Should I Share My Ice Cream?, an Elephant & Piggie book by Mo Willems, Gerald is very excited about the ice cream cone he got on a hot day. However, Gerald is not sure if he should share it with Piggie.
While trying to decide what to do, his ice cream melts. Not to worry though, Piggie arrives with her own ice cream and shares it with him. Kids will love reading this along with you!
8. Ice Cream Soup
Looking for a fun rhyming beginner reader story? Kids will delight in reading Ice Cream Soup by Ann Ingalls to find out what happens when attempting to make an ice cream cake and you add to many things.
9. Just One More
Just One More by Jennifer Hansen Rolli is likely to become one of your toddler or preschooler's favorite books. It was selected for Dolly Parton's Imagination Library three years in a row 2015-2017.
Little Ruby always needs one more – from one more minute of sleep to one more scoop of ice cream – until it's too much.
10. Dragons Love Ice Cream
Dragons Love Ice Cream by Brett Fowler is a fun read. It's a rhyming poem about the love dragons have for ice cream. It has cute colorful illustrations throughout the book.
11. Scoop the Ice Cream Truck
Scoop the Ice Cream Truck by Patricia Keeler is a sweet story of friendship, change, adapting, and belonging. Scoop is an old fashioned ice cream truck that has served vanilla ice cream cones for many summers.
He becomes friends with a little girl named Spunky who sticks with him as he tries to compete with the fancy new ice cream trucks with lots of flavors and toppings.
12. I Like You More Than Ice Cream
If you want a fun, engaging book to read with babies, toddlers, and preschoolers, you need to get I Like You More Than Ice Cream by Brick Puffington.
It's an adorable book that follows along with a sweet ice cream friend and uses a built in finger puppet to create an interactive story time.
13. The Scoop On Ice Cream (History of Fun Stuff)
Who knew history could be so tasty? The Scoop On Ice Cream by Bonnie Williams is full of interesting facts about the history of ice cream.
This Level 3 reader is a fun way to engage kids with nonfiction books. Get ready to learn a bunch of cool ice cream facts!
14. Cake & I Scream!
Cake & I Scream! (…being bossy isn't so sweet) by Michael Genhart (PhD) is a book with a helpful lesson on friendship. Cake and Ice Cream are best friends, but Ice Cream tries to get their way by bossing Cake around. Cake helps Ice Cream realize what they are doing and make changes.
The book also includes helpful information for parents, teachers, and caregivers about the differences between bossiness and assertiveness, possible reasons for bossy behavior, and tips on how to help guide children with being assertive while mindful of other people's feelings.
15. Kitty Cones: The Purrfect Day
If you child loves kittens and ice cream, then they'll want to read Kitty Cones: The Purrfect Day by Ralph Cosentino.
These three kitties live above an ice cream parlor in Kitty Bay Harbor. Join them as they go on adventures outside of their ice cream cone home!
16. Curious About Ice Cream
Curious About Ice Cream is a book put together by Smithsonian food curators. It includes interesting facts and history from where ice cream came from to how its popularity spread throughout the world.
17. Isaac's Ice Cream Tree
Young readers will delight in the story of Isaac's Ice Cream Tree by Angela Henderson.
Isaac is a little boy who feels sad for the maple tree in his yard losing all its leaves for winter. He decides to give the tree a gift so it doesn't feel lonely. He is surprised when the branches sprouts balls of ice cream in return!
18. Lulu the Tiger Loves Ice Cream
Lulu the Tiger Loves Ice Cream by Ann Lee is a book about cooking, sharing, self-esteem, and social skills. Lulu is invited to her friend Hal Hippo's party and asked to bring her favorite dessert. Find out what everyone brings!
19. Milk to Ice Cream
Is your child curious about how things are made? They'll enjoy Milk to Ice Cream by Lisa Herrington, which includes step-by-step photos of how milk is made into ice cream.
20. 7 Days Till Ice Cream
7 Days Till Ice Cream by Bernardo Feliciano is part of the Makers Make It Work book series. In this story, three friends (A.J., Jerron, and Cha) look forward to getting ice cream from the ice cream truck.
The last time they had a special treat was last Sunday. They wait for the ice cream truck, but sometimes it turns down a different road. They work on figuring out the ice cream truck's pattern so they can get their own ice cream.
21. Sprinkle Sundays Series
The Sprinkle Sundays series by Coco Simon is geared towards readers 8-12 years old. After Allie's parents divorce, she moves one town over with her mom. Her mom opens an ice cream shop, where Allie and her best friends work every Sunday.
While there is an ice cream theme to these books, the characters deal with real life issues as well, such as divorce, going to a new school, bullying, balancing activities, and other relationship developments. There are currently 12 books in this series.
More Books For Kids: