Looking for ways to keep your kids entertained without turning on the screen? Have them explore their creative side and get building amazing creations with July LEGO Challenge Ideas!
Our free printable is the perfect way to get their imagination going as they work on developing their fine motor skills. Plus, it's a great opportunity to teach STEM-related concepts such as problem solving – all while having fun!
Check out all of our indoor activities for kids on a rainy day for additional ideas.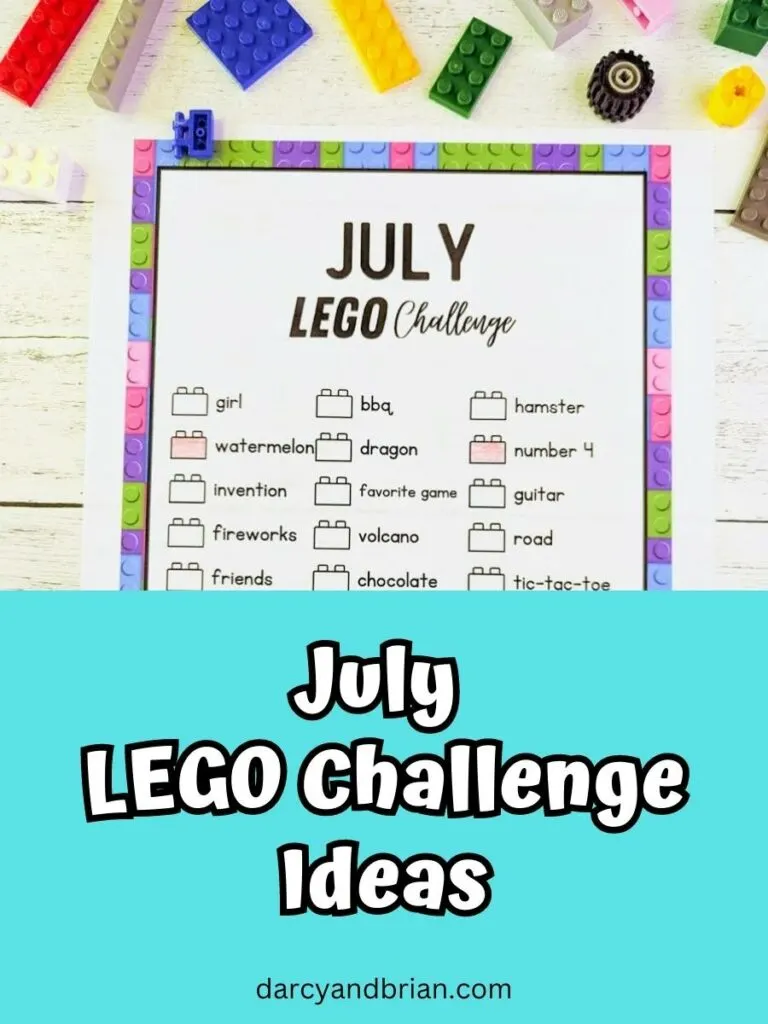 This list of LEGO building ideas for kids can help by sparking their creativity and encourages learning through play. It will also help build their confidence and expand their knowledge.
More Screen-Free Activities for Kids
While you're at it, check out our list of other activities your kids can do to stay entertained without the screen.
From simple crafts to fun science experiments, there are plenty of ways to get creative! Plus, most of these projects require minimal materials and supplies – so they're perfect for any budget.
Free printable available at the end of this post.
Benefits of Playing With LEGO
Playing with LEGO is a fun and creative way for kids to learn problem-solving skills, develop strategic thinking, and practice their fine motor skills. It also helps them build confidence in themselves as they create masterful creations.
Not only this, but playing with LEGO can help children understand the basics of engineering, physics concepts, and mathematics. Playing with LEGO can also help them practice following instructions, which is a key skill for problem-solving and other activities.
Creativity and Imagination
Playing with LEGO requires kids to use their imagination in order to create something out of nothing. LEGO bricks come in a variety of shapes and colors, so children can use their creative muscles when building anything from towers to robots!
Challenging Problem-Solving
LEGO allows kids to explore their creative side, as well as develop problem-solving and critical thinking skills.
When children tackle a LEGO project, they must think outside the box and find different solutions to problems they may come across while building. This helps them understand how design and construction principles work together – a great basis for any STEM activity!
Fine Motor Skills
LEGO is a great way to help children develop their fine motor skills. Holding and manipulating small pieces of LEGO helps kids learn hand-eye coordination and strengthens their grip, which can then be transferred to other activities such as writing.
Improved Concentration
Playing with LEGO requires focus and concentration in order to finish projects, so it's a great activity for kids who have trouble staying on task.
The challenge of solving problems and building objects encourages them to stay engaged and improves their overall concentration.
Stress Relief
LEGO is a great outlet for kids to channel their energy in a fun way. Working on the projects at their own pace provides an opportunity to relax and take their minds off any stress they may be feeling.
It also gives them a sense of accomplishment when they complete something, which can boost their self-confidence!
Social Development
Playing with LEGO can be a great way to promote social development, especially when children are playing together.
Working on LEGO projects in pairs or small groups encourages communication and teamwork, as well as negotiation and compromise. These skills will help them out in the real world!
This post contains affiliate links. As an Amazon Associate and a participant in other affiliate programs, we earn a commission on qualifying purchases.
LEGO DUPLO Classic Deluxe Brick Box 10914 Starter Set – Features Storage Box, Bricks, Duplo Figures, Dog, and Car, Creative Play, Great Early Learning Toy for Toddlers Ages 18+ Months
LEGO Classic Bricks and Houses 11008 Kids' Building Toy Starter Set with Fun Builds to Stimulate Young Minds (270 Pieces)
LEGO Classic Large Creative Brick Box 10698 Building Toy Set for Back to School, Toy Storage Solution for Classrooms, Interactive Building Toy for Kids, Boys, and Girls
LEGO DUPLO Classic Heart Box 10909, First Bricks Building Toy, Educational Activity and Development Set, Early Learning Toys for Toddlers 1.5-3 Years Old
Tips and Tricks for Building with LEGO
LEGO is a great tool for teaching children about STEM, but it can also be a lot of fun! Here are some tips and tricks to make building with LEGO an enjoyable experience:
Start simple and work your way up. Begin with basic projects and gradually add complexity as you get more confident in your skills.
Keep organized. Label your pieces and store them in separate containers for easy access.
Mix and match sets to create new and unique projects.
Don't be afraid to make mistakes! Mistakes can help you learn what works and what doesn't.
Have fun! Playing with LEGO should be a fun experience, so don't be afraid to experiment and explore.
How to Get Two LEGO Bricks apart
Have you ever encountered difficulties separating two LEGO pieces? When my kids started playing with them, they frequently sought assistance to disassemble them. It can be quite a challenge to grasp and pull apart two small bricks!
That's why I highly recommend acquiring a few brick separator tools. These tools are specifically designed to assist in separating LEGO bricks. They empower children to become more self-reliant when dismantling their builds.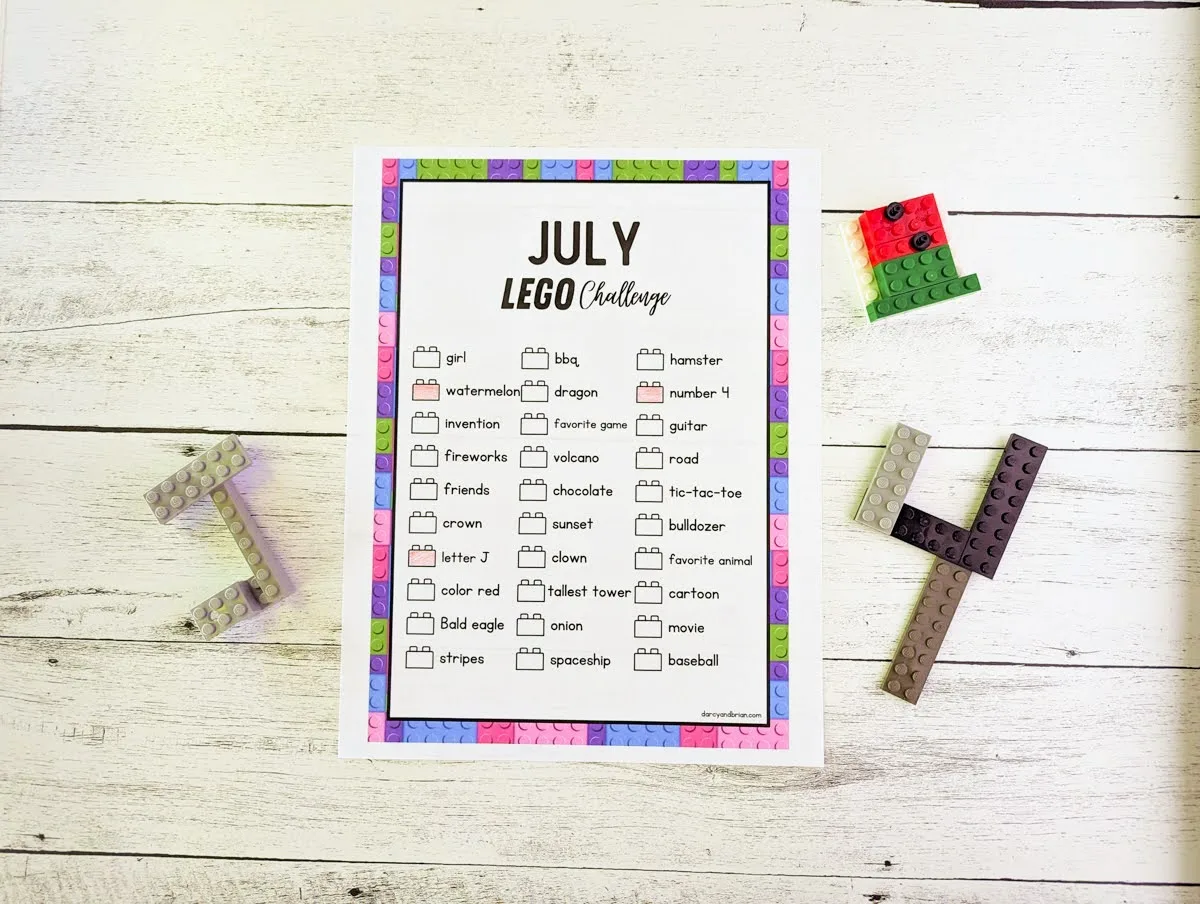 How to Use the July LEGO Challenge Ideas Printable
The July LEGO Challenge Ideas printable is a great way to help kids get creative and have fun with their builds! Here's how to use it:
Print out the sheet and choose one or more of the build ideas.
Gather your pieces – you can use any LEGO sets you have available, or mix and match with other LEGO sets.
Start building! Use the printable as inspiration, but don't be afraid to get creative and make it your own.
Once you're finished, show off your work! Take a picture or video of your completed project and share it with friends and family.
Recommended Products
Here are some of the products I recommend for helping your kids have a successful and enjoyable LEGO building experience:
LEGO Classic 630 Building Accessory – Brick and Axel Separator Tool 8 Pack Mixed Color Set (4 Orange and 4 Dark Turquoise)
LEGO Classic Blue Baseplate 11025 Building Toy Set for Preschool Kids, Boys, and Girls Ages 4+ (1 Pieces)
The Lego Ideas Book: Unlock Your Imagination
The LEGO Adventure Book, Vol. 2: Spaceships, Pirates, Dragons & More!
SGHUO 3-Tier Stackable Storage Container Box Bead Organizers and Storage for Craft Storage, Kids Toys, Art Crafts, Jewelry, Beauty Supplies, Sewing Storage
LEGO Storage 4 -Piece Tote and Play Mat
With these items on hand, you'll be well on your way to helping your kids create some amazing LEGO builds. So let their imagination run wild and build something incredible!
More LEGO Activities for Kids
LEGO building is a fun activity for kids of all ages! If you're looking for more activities and ideas, here are a few suggestions:
The July LEGO Challenge Ideas printable is a great way to help kids get creative and have fun while building with LEGO. It encourages them to think outside the box, develop their fine motor skills, and work on problem solving – all while having an amazing time!
So go ahead and give it a try – you never know what amazing creations your little ones might come up with!