This free printable 30 day LEGO building challenge calendar is a fun way for kids to get creative with their LEGO builds.
These brick building ideas will help spark their imagination without showing or telling them exactly what to build.
Doing one a day makes incorporating daily STEM activities a fun learning experience.
Looking for more LEGO activity ideas? Check out this LEGO Animal Building Game and even more LEGO learning activities.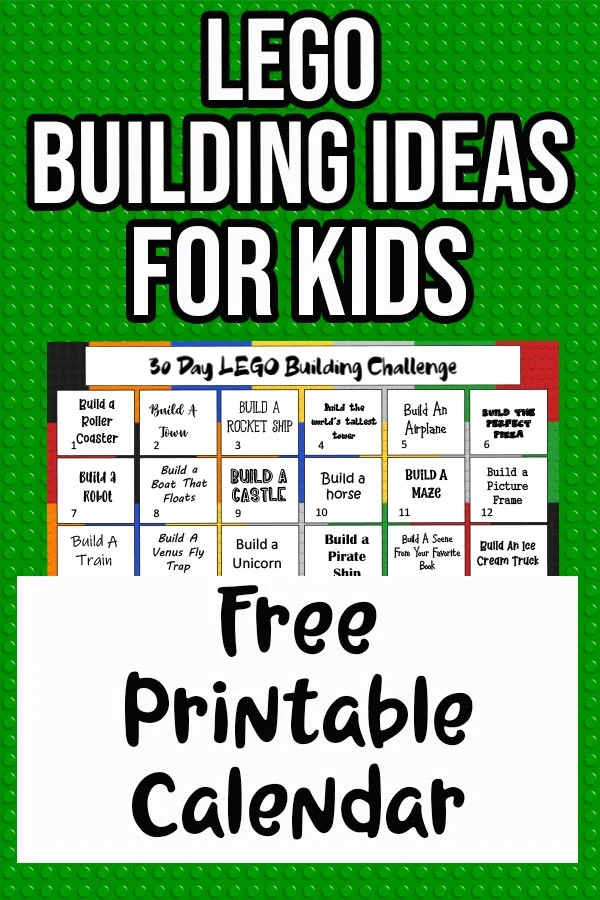 This post contains affiliate links. As an Amazon Associate and a participant in other affiliate programs, we earn a commission on qualifying purchases.
30 LEGO Building Ideas for Kids
I love encouraging the kids to play with LEGO bricks. They started with LEGO DUPLO at a young age and have since moved on to completing LEGO building sets on their own.
You can see how much my son enjoyed this Disney/Pixar Cars 3 LEGO set and building this Minecraft LEGO Chicken Coop set.
There are benefits to playing with them too, including fine motor skills, hand strength, sorting, counting, and imaginative play.
Additionally, building with bricks and blocks is a STEM activity, whether they are free building or following an instruction booklet.
Kids are using engineering skills to bring their ideas to life. They may do some planning, experiment by building and re-building, and finding different ways to use the pieces they have on hand.
Plus, it's loads of fun for all ages – kids AND adults!
I love how these free LEGO build challenges help give kids an idea of what to make, but allows them freedom on their end creation. It's so fun to see how they turn out!

Here are the LEGO building activities included on the printable calendar available below:
Roller Coaster
Town
Rocket Ship
Tall Tower
Airplane
Pizza
Robot
Boat that floats
Castle
Horse
Maze
Picture Frame
Train
Venus Fly Trap
Unicorn
Pirate Ship
Scene from favorite book
Ice Cream Truck
Dog House
Flying Saucer (UFO)
Sports Arena
Water Park
Shark
Bridge
Tree House
Your Name
Dragon
Historical Scene
Monster
Instrument
Free Printable LEGO Build Challenge Calendar
Click the button below to download and save the free LEGO challenge calendar printable.
You can print it out on regular printer paper, but I recommend printing on white cardstock paper. Do them in order or randomly pick one each day, then cross it off once completed.
These printables are for your personal use at home or for your personal classroom only. Share this post with teachers and parents who would love this activity for their kids too!

More Kids Activities: