Halloween is just around the corner, and what better way to get your kids excited than with our free printable Halloween activity pages? These pages are not just fun, but also a great learning tool.
Packed with a variety of Halloween activities for kids, they are perfect for elementary students to engage in both at home and in the classroom.
Whether it's a quiet afternoon activity or the highlight of a Halloween party, our printable pages provide endless entertainment and education.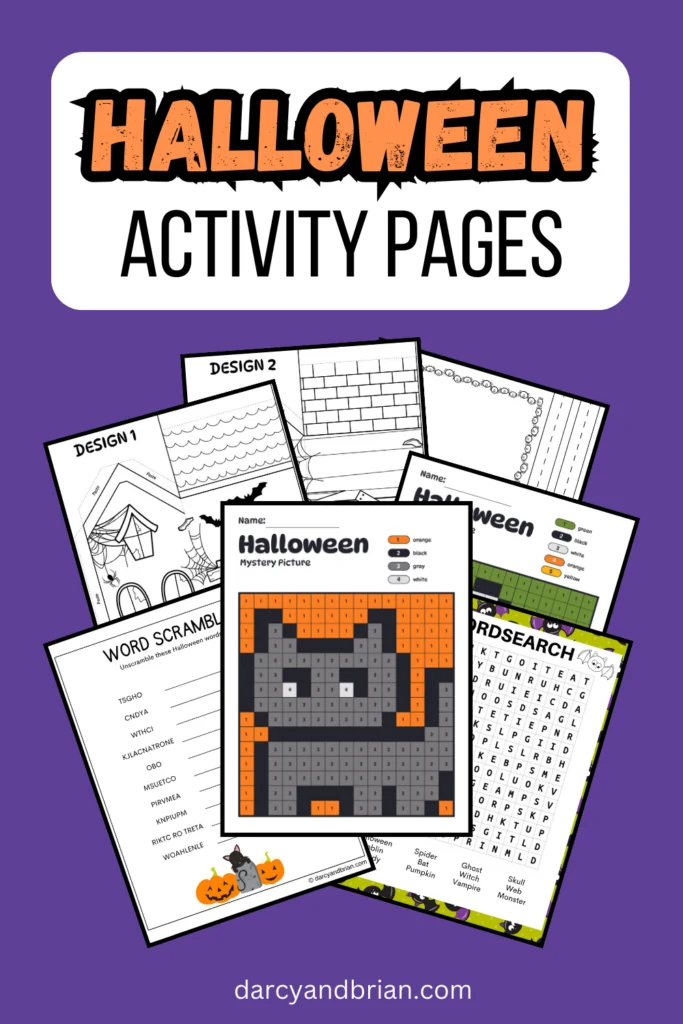 Parents and teachers, are you seeking engaging and low-prep Halloween activity options? Our free printable Halloween activity pages are here to make your job easier!
Whether you need a quiet morning work task or a fun free time option, these worksheets cater to every need. From word puzzles that sharpen cognitive skills to artistic activities that spark creativity, they offer a balanced mix of education and entertainment.
The best part? No more scrambling for resources or spending hours on prep work. Just save, print, and let the spooky learning begin!
Fun Halloween Activities for Kids
To make Halloween even more exciting, consider complementing our printable activity sheets with some hands-on fun! These additional activities provide a fun opportunity for children to express their creativity, build their communication skills, and ultimately enhance their overall Halloween experience.
This post contains affiliate links. As an Amazon Associate and a participant in other affiliate programs, we earn a commission on qualifying purchases.
Spooky Slime Kit for Kids
Natonhi 270Pcs Halloween Crafts
Wettarn Halloween Haunted House with Colors Markers
Paint Your Own Pumpkin lamp kit
Creativity for Kids Big Gem Diamond Painting Kit
JOYIN 2 Pack Halloween Foam Haunted House 3D Craft Kit for Kids
What Ages Are These Activity Pages For?
Our printable Halloween activity pack is ideal for elementary school aged children. However, we believe that learning knows no age limit.
Preschool and kindergarten children may also enjoy some of the activities such as coloring the paper haunted house treat boxes or trying their hand at drawing a cauldron.
We also offer a collection of Halloween pre k worksheets designed specifically for preschool learners, as well as a spooky fun learning packet which would be more suitable for younger children.
Benefits of These Halloween Activity Pages
These Halloween activity pages offer a multitude of benefits for children. Aside from the obvious fun element, they promote important developmental skills such as cognitive abilities, fine motor skills, and problem-solving.
The various puzzles like word searches and scrambles help improve language and vocabulary, while coloring and drawing activities enhance creativity and hand-eye coordination.
Assembling the paper haunted house treat boxes encourages spatial intelligence and fine motor skills.
Plus, the activities provide an engaging way for children to celebrate Halloween in a safe and educational manner.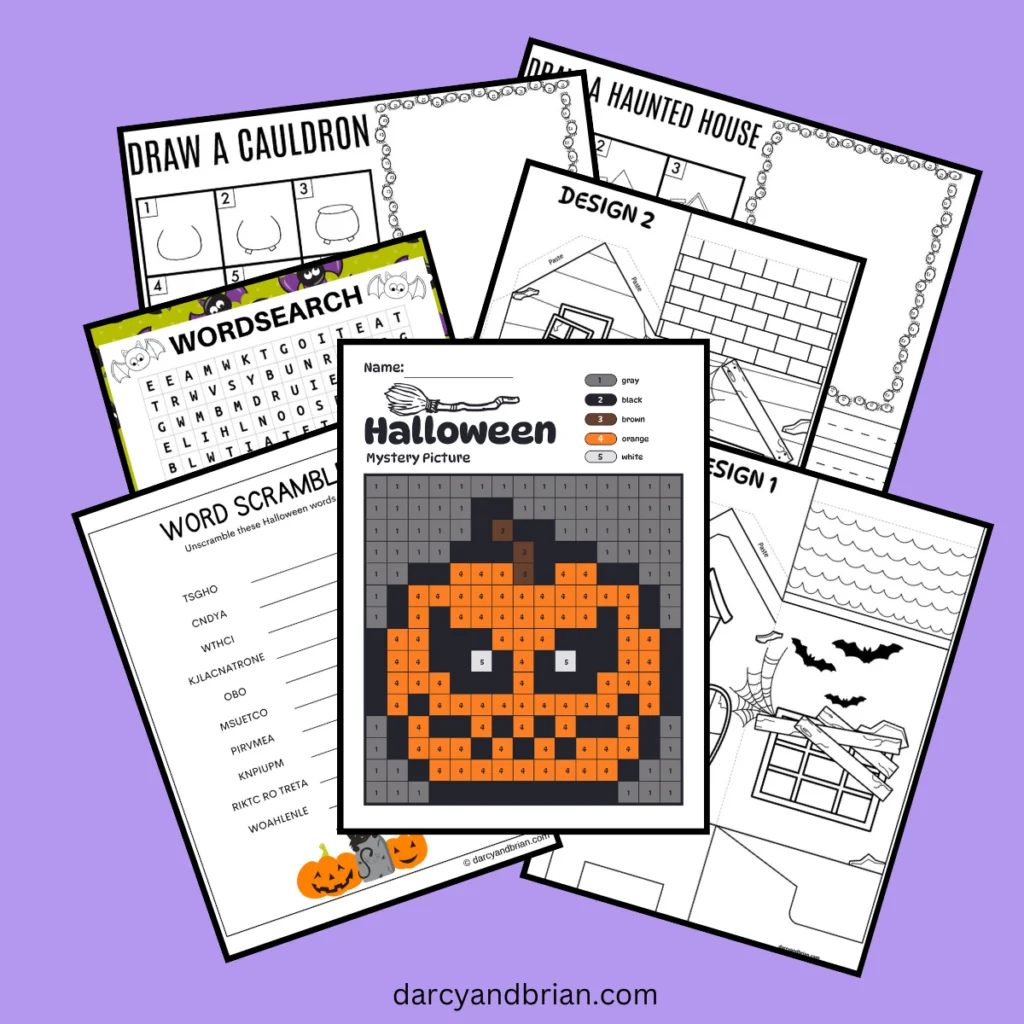 Halloween Books for Kids
Including Halloween-themed books in your Halloween unit is a fantastic way to enhance the learning experience and immerse kids in the spooky season.
Books help bring to life all the fun, mystery, and thrill associated with the holiday. They can add depth to the activities in our Halloween pack by providing rich narratives and colorful illustrations that stimulate imagination and creativity.
Skeletons ARE NOT Spooky!
How to Catch a Witch
Weird But True Halloween: 300 Spooky Facts to Scare You Silly
A Super Scary Narwhalloween (A Narwhal and Jelly Book #8)
Bone Soup
Scary Stories to Tell in the Dark (Scary Stories, 1)
What's Included in the Halloween Activity Pages
Our Halloween Activity Pages pack includes a variety of engaging activities designed to entertain and educate children. They are ideal for elementary school-aged children, but preschool and kindergarten children may also enjoy working on some of them.
Halloween Word Search
The Halloween Word Search page is designed to be both fun and challenging, with 12 Halloween-themed words to find, including 'goblin', 'monster', 'vampire', 'candy', and 'skull'.
Children will delight in the thrill of the hunt as they search for these words vertically and diagonally. To add an extra level of challenge, some words are even positioned backwards!
It's a great way to help children improve their vocabulary while engaging in the spirit of Halloween. And don't worry about getting stuck — we've included an answer page to help out if needed.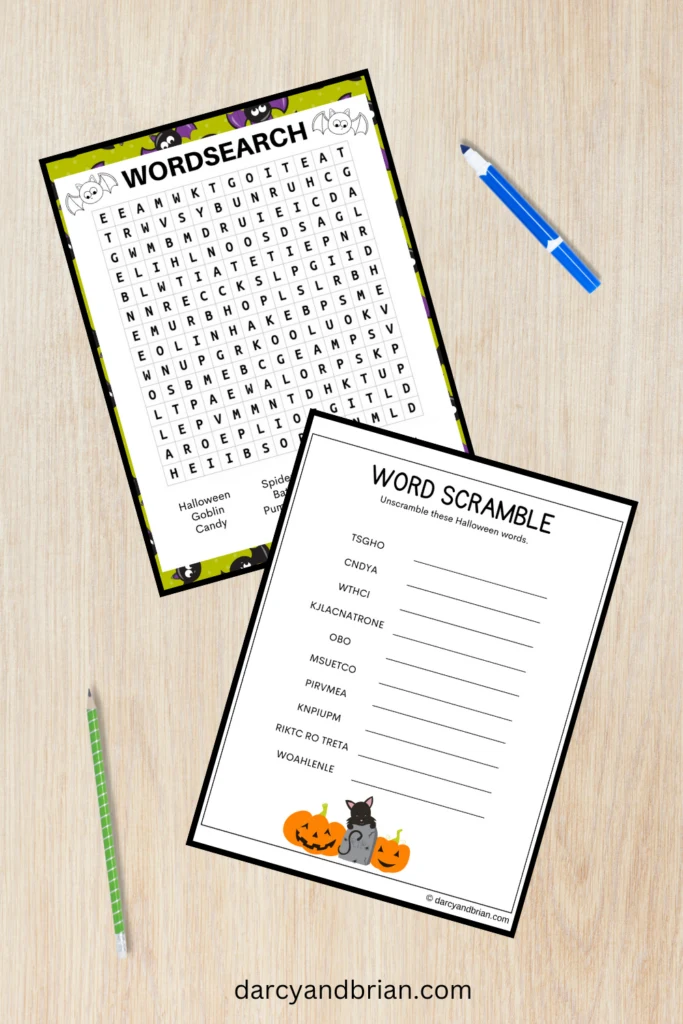 Halloween Word Scramble
Children can test their spelling skills and boost their brain power with the Halloween Word Scramble page. This page includes 10 Halloween-themed words, such as 'jackolantern', 'costume', 'ghost', and 'candy'.
The words are scrambled and the challenge is to unscramble them correctly. Word scramble activities not only provide a fun and engaging exercise but also help enhance children's spelling and problem-solving skills.
They encourage kids to recognize patterns, juggle with letters and improve their vocabulary while having fun. And if any of the words prove too tricky, there's no need to worry. An answer page is included to aid the little ones if they get stuck.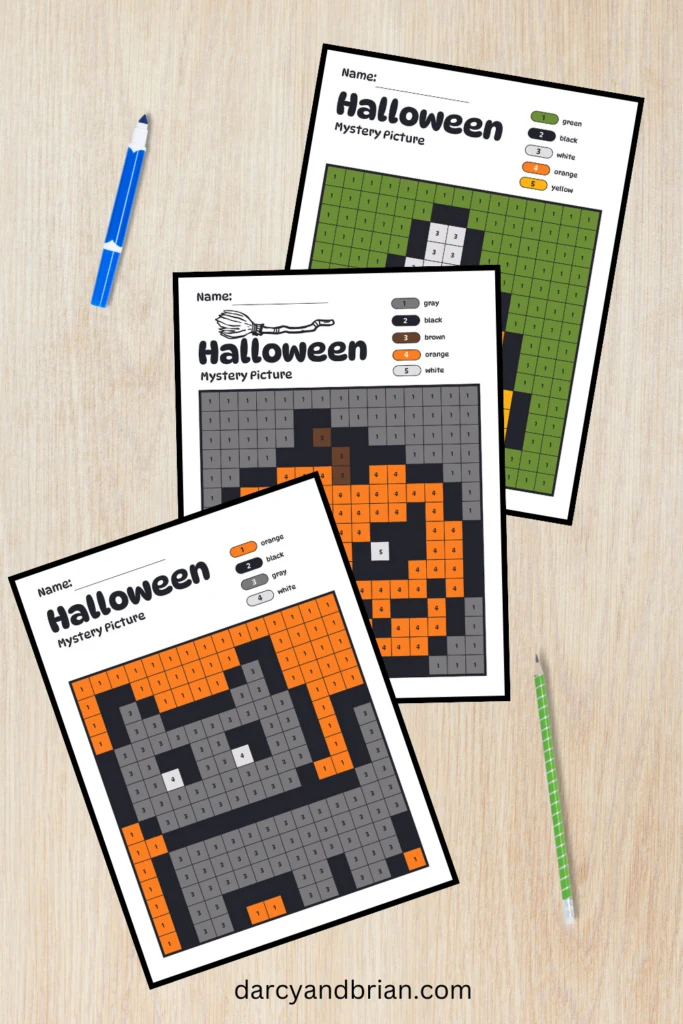 Halloween Mystery Pixel Art
Let's add a dash of mystery to coloring with our Halloween Mystery Pixel Art pages! This activity includes 3 unique images – a mischievous cat, a tasty candy corn, and a smiling jack-o-lantern – waiting to be discovered.
Kids get to unveil these images by coloring the squares according to the number legend. It's like a treasure hunt on paper!
Not only does this activity stimulate creativity as kids fill in the squares to reveal the hidden pictures, but it also helps enhance their number recognition and fine motor skills. Plus, this pixel art activity is a fantastic way to practice patience and concentration.
Haunted House Treat Boxes
Add an extra touch of creativity and fun to Halloween treats with our Haunted House Treat Boxes!
Included in the activity pack are three unique haunted house designs, each one waiting for your personal touch. Children can let their imaginations run wild as they color each design with their favorite spooky shades.
Once the coloring is done, simply cut out the designs, fold along the lines, and use a bit of glue to assemble these fantastic treat boxes. They make the perfect containers for Halloween candies, or can be used as adorable, homemade decorations!
This activity not only stimulates artistic creativity, but also helps develop fine motor skills and understanding of basic geometric concepts through the process of assembling the boxes.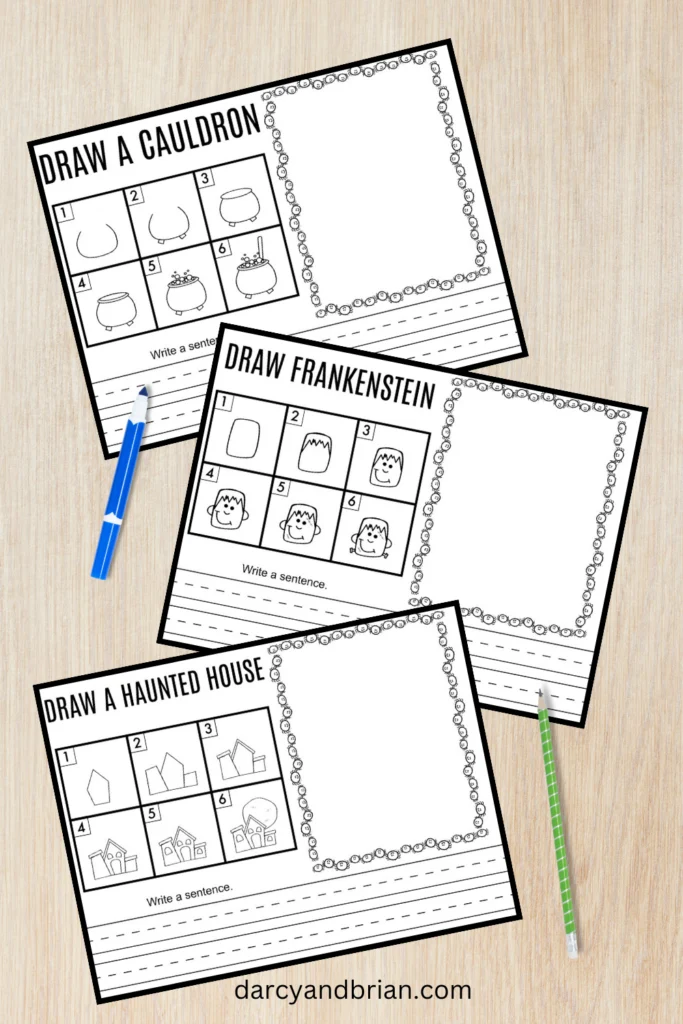 Halloween Directed Drawing
Unleash the little artists in your home with our Halloween Directed Drawing pages! This part of the pack includes step-by-step instructions to draw a fun cauldron, an amusing Frankenstein, and a spooky haunted house.
The instructions are easy to follow, allowing kids to understand basic shapes and lines that form each character. But the fun doesn't stop there! Each drawing page also includes a dedicated space for children to write a sentence about their artwork.
This not only boosts their creativity but also encourages language and literacy skills. Whether your kids are seasoned sketchers or just starting their artistic journey, they'll love adding their own touch to these classic Halloween images.
Recommended Items to Use with These Activity Pages
To make the most out of these Halloween activity pages, we recommend using additional materials such as colored pencils, markers, or crayons for coloring and drawing activities.
You will also need scissors and glue to assemble the paper haunted house treat boxes.
For an added element of fun, try incorporating Halloween-themed stickers or glitter glue to jazz up the drawings and treat boxes.
You can even turn these activity pages into a group project by involving siblings or friends, making it a fun and interactive Halloween activity for everyone involved.
Arteza Kids Colored Pencils, Set of 48 Vibrant Colors, Triangular, Pre-Sharpened
Crayola Classic Color Crayons in Flip-Top Pack with Sharpener, 96 Colors
Epson EcoTank ET-3710 Wireless Color Inkjet All-in-One Supertank Printer, White
Crayola Erasable Colored Pencils 24 count
More Fall Activities for Kids
As autumn paints the surroundings with its delightful colors, it also provides an array of exciting activities for young minds.
Consider taking them on a nature walk to appreciate the changing colors of the leaves, or take part in a local harvest festival. They can collect leaves and make leaf rubbings with them or try to find all the critters on our animal scavenger hunt.
Try a Halloween-themed science experiment, such as this tea bag ghost experiment. Kids will be fascinated by the results while learning about air density.
Explore literature and language by encouraging students to write short poems about fall. Use this printable Scarecrow Acrostic Poem and have kids use descriptive language about the changing seasons, such as words describing the colors, smells, and sounds of autumn. It not only boosts their vocabulary, but also their creativity and emotional expression.
For a cozy indoor activity, you could arrange a fall-themed movie night, complete with homemade caramel popcorn. Inviting them to help prepare pumpkin muffins or other seasonal treats can also be a great way to practice basic math skills while having fun.
Each of these activities is aimed at elementary school-aged kids, offering both entertainment and learning opportunities.
We hope that these Halloween activity pages provide an enjoyable and educational experience for your children. From puzzles to drawing tutorials, there's something for every child to enjoy and benefit from.
So go ahead and grab our free printable activity pages and let your child's creativity run wild this Halloween season. Your child will have a spooktacular time while developing important skills at the same time!