Looking for Halloween activities for kids that are both fun and skill enhancing? Look no further than our Halloween cutting activities, perfect for fostering fine motor skills and scissor precision!
Whether you are homeschooling your preschooler or seeking handy classroom resources, these worksheets are tailored to meet your needs.
Featuring a range of straight, wavy, and zigzag lines next to delightful Halloween-themed pictures, these activities will keep little hands busy and minds engaged. To grab your free 6-page printable set, just fill out the form at the bottom of this post.
Repetition plays a crucial role in learning and honing new skills, particularly in early childhood. The process of repeating an activity or exercise helps to reinforce the neural pathways in a child's brain, leading to mastery over time.
In the context of our Halloween cutting activities, each repeated attempt at cutting along the patterned lines strengthens fine motor skills and scissor handling proficiency.
Seasonal themes, such as Halloween, add an element of excitement and novelty to these repetitive tasks.
The playful Halloween pictures and themes make the learning process less monotonous and more enjoyable, keeping the child's interest piqued. This combination of repetition and engaging themes creates an effective and fun learning environment.
What Are the Benefits of Cutting Activities?
While it may seem like just another preschool activity, learning to use scissors properly is an important task for children. Cutting activities have numerous benefits for young children, including:
Developing hand-eye coordination
Enhancing fine motor skills and control
Promoting bilateral coordination (using both hands together)
Building scissor handling proficiency
These foundational skills are crucial for a child's overall physical development and academic success. In fact, studies have shown that fine motor skills are linked to better handwriting, reading, and mathematical abilities.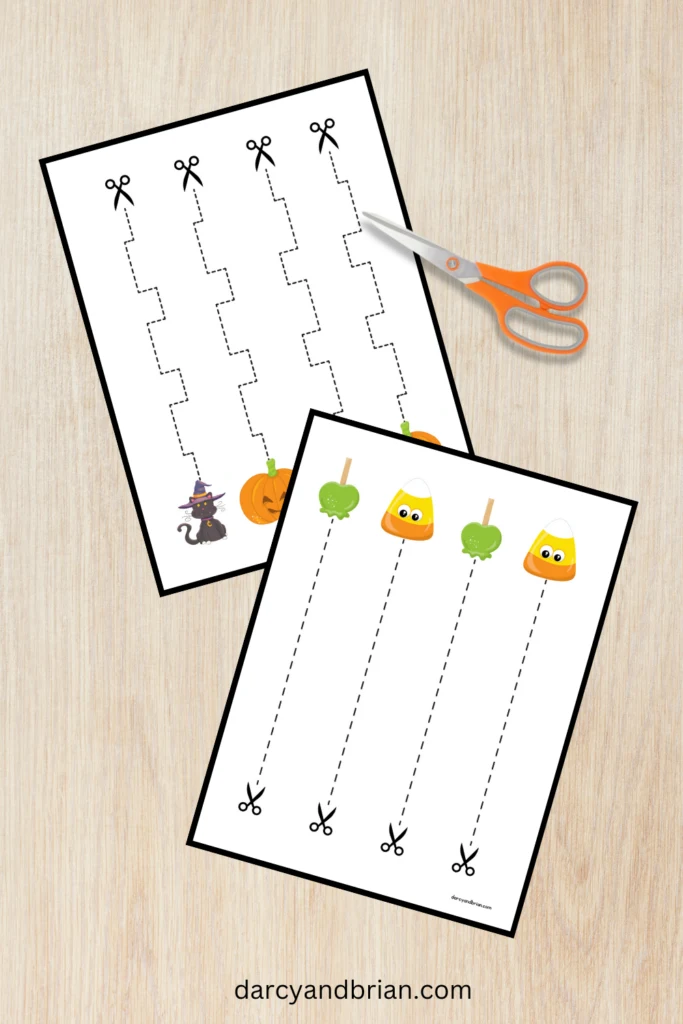 The Importance of Fine Motor Skills for Preschool Children
Fine motor skills refer to the small muscle movements that are used in tasks such as writing, drawing, and cutting.
These skills are essential for carrying out daily activities independently, from buttoning a shirt to tying shoelaces.
As children grow and develop, these fine motor skills become increasingly important, laying the foundation for future academic success.
This post contains affiliate links. As an Amazon Associate and a participant in other affiliate programs, we earn a commission on qualifying purchases.
Ticonderoga My First Short Triangular Wood-Cased Pencils
JuneLsy Pencil Grips for Kids Handwriting Pencil gripper Pencil Holder Posture Correction Training
The Pencil Grip Original Pencil Gripper, Universal Ergonomic Writing Aid For Righties And Lefties
Fiskars Training Scissors for Kids 3+ with Easy Grip
Scissor Skills Preschool cut & paste cats activity pad for kids: Cat Coloring Book & Scissor Activity Book
Ticonderoga Wood-Cased Pencils, Pre-Sharpened, 2 HB Soft, Yellow, 12 Count
Fine Motor Activities for Preschoolers
Offering a variety of fine motor activities for preschoolers is crucial for developing hand muscles and enhancing motor skills.
Activities that involve cutting and coloring are excellent for this purpose. They require the child to grasp and control scissors and coloring tools, working those tiny hand muscles.
Other activities, like squeezing objects or play dough, pinching small items, or rolling balls, are also highly beneficial, helping to build strength and dexterity in their fingers and hands.
Crafting activities that incorporate these elements not only improve motor skills but also stimulate creativity and imagination.
The act of playing, essential to a child's world, is the perfect vehicle for delivering these engaging, enjoyable, and growth-enhancing activities.
What's Included in the Halloween Cutting Activities Pack?
Our set includes six pages of Halloween cutting activities, each with different patterns to challenge young learners.
The designs range from straight lines to wavy lines and zigzag lines, allowing children to develop mastery over a variety of line styles.
With dashed lines for guidance, these printable worksheets are perfect for preschoolers who are just beginning to use scissors.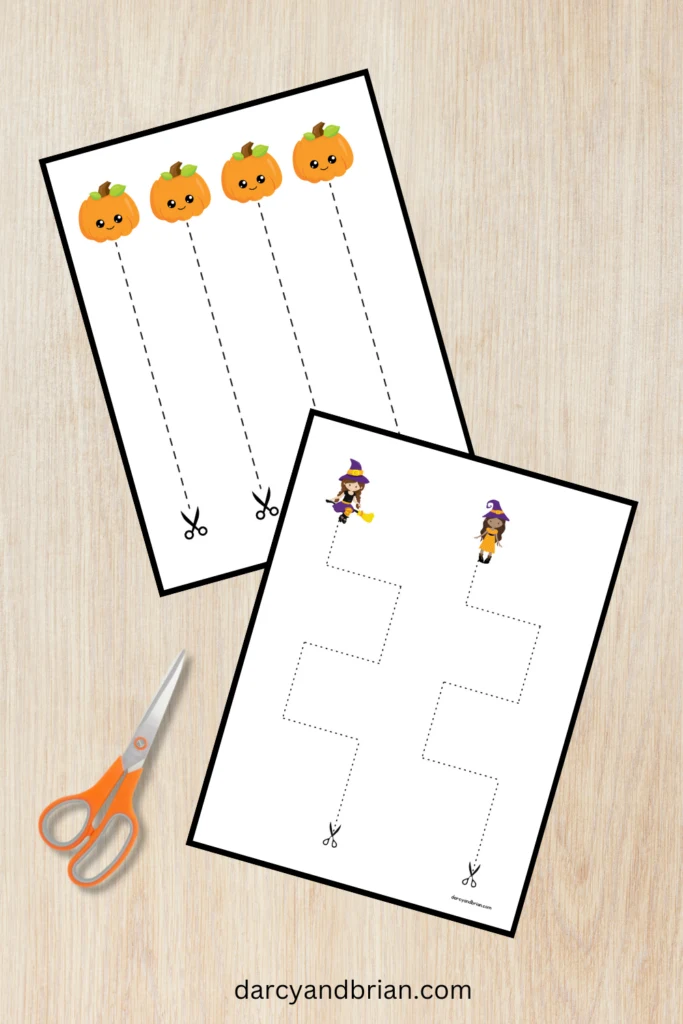 The Halloween cutting activities in this printable set are designed to create a positive learning experience for children.
By incorporating playful Halloween themes and colorful visuals, these activities make practicing scissor skills feel like a fun game.
Successfully cutting along the lines not only gives kids a sense of accomplishment, but also boosts self-confidence.
How Often Should Preschoolers Practice Scissor Skills?
While every child is different and may develop at their own pace, it is generally recommended that preschoolers practice scissor skills at least once a week.
This consistent practice allows children to build upon their previous learning and continue to improve their fine motor skills.
It's important to remember that like any skill, scissor skills require patience, encouragement, and support from caregivers.
By providing a safe and supportive environment for children to practice, they can develop confidence and independence in their scissor skills.
Incorporating Cutting Activities Into Your Child's Routine
Apart from using these Halloween cutting activities as standalone worksheets, you can integrate cutting activities into your child's daily routine in different ways.
Encourage them to independently cut out paper dolls or create a Halloween collage using the cutouts from these worksheets.
Cut and paste crafts not only enhance fine motor skills but also serve as a delightful break between other academic tasks.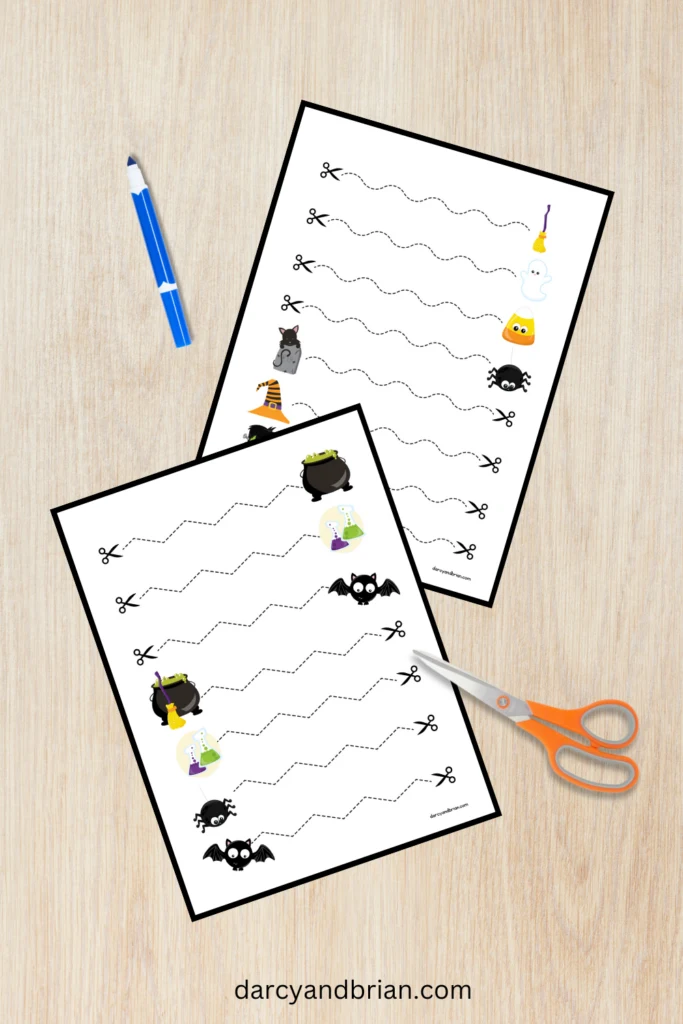 Line Tracing for Preschoolers
While these Halloween-themed worksheets are primarily designed to bolster scissor practice, their versatility extends beyond just cutting. They also serve as a valuable resource for line tracing activities that aid in improving handwriting skills.
The various patterns of dashed lines – straight, wavy, and zigzag – are excellent for children to trace over with a pencil.
This practice not only enhances their hand-eye coordination but also gradually builds up their hand strength and control, which are crucial for good handwriting.
Incorporating these tracing activities alongside cutting can thus offer a comprehensive fine motor skills workout for your preschooler!
More Preschool Halloween Learning Activities
Including these Halloween cutting activities in your preschool lessons adds an exciting holiday twist to the learning process. However, these worksheets are just one facet of our comprehensive Halloween-themed learning materials.
To complement these cutting activities, our printable Halloween sorting activity provides a fun and playful way to work on 0-10 number recognition. Using vibrant images and engaging tasks, these worksheets make number learning a breeze!
Work on coloring, counting, and handwriting practice with this Halloween printable book.
And for further fine motor skill practice and hand-eye coordination, our printable Halloween lacing cards are an excellent choice.
With these resources, you can create a comprehensive, themed skill-building session that your preschoolers will absolutely love!
Halloween Books
Adding Halloween-themed books to your preschool lessons is another delightful way to engage the little ones. Reading these enchanting stories aloud helps children develop listening skills, broadens their vocabulary, and fosters a lifelong love for reading.
Imagine their faces light up with joy as they listen to the adventures of a friendly ghost or the mischievous pranks of a little witch. These interactive read-aloud sessions make learning truly fun and immersive.
Pete the Cat: Trick or Pete
Froggy's Halloween
Monster Farts: A Funny Read Aloud Picture Book For Kids And Adults, A Rhyming Story For Halloween and Fall (Fart Dictionaries and Toot Along Stories)
Ten Timid Ghosts (Read With Me Paperbacks)
Five Little Pumpkins on Sesame Street: A Halloween Storybook Treat with Elmo, Cookie Monster, and Friends! (Sesame Street Scribbles)
Construction Site Gets a Fright!: A Halloween Lift-the-Flap Book (Goodnight, Goodnight, Construc)
Halloween Preschool Crafts
Crafting with preschoolers during the Halloween season is not only a thrilling and festive activity, but it also opens doors for creativity and learning.
Nothing beats the excitement and anticipation of creating spooky decorations, cute little pumpkin artwork, or even a handcrafted Halloween costume!
Below, you'll find a wide variety of Halloween crafts for kids to spark your preschooler's imagination and keep their little hands busy.
To wrap up, these Halloween-themed cutting activity sheets provide an engaging way for your preschoolers to hone their scissor skills and fine motor abilities.
By combining fun with learning, these printables will soon become a favorite part of your Halloween festivities. Let your little ones enjoy cutting along those dashed lines, strengthening their hands and enhancing their dexterity.
Remember, every zigzag, wavy, or straight line they cut brings them one step closer to mastering these essential skills. So, grab these free printable worksheets and a pair of scissors!