Since Rissa wanted to be Tinker Bell for Halloween and I decided to combine the kids' birthday parties this year, I attempted a fairy pirate theme. So, Xander was a pirate.
I had more ideas in my head than I was able to execute and opted for more simplicity a few hours before the party started. For example the pirate pasta bar was simplified by offering two types of noodles and marinara sauce with cannon balls (aka meatballs). I was also going to bake a smash cake for X but decided I'll save that for his actual birthday. Still, I wanted a pirate-y dessert.
I looked on Pinterest and saw an awesome Sand Castle cake, but that would have been overdoing it on birthday cake. I also saw something called Sand Pudding, so I adapted my Dirt Cake recipe to be… Sand Cake! For Rissa's first birthday I made a Cemetery Swamp Cake which was dirt cake made to look spooky for our party. (Complete with green layers and candy body parts.) I also adapted it to make Chocolate Abyss for a recipe contest (which I won! Woohoo!).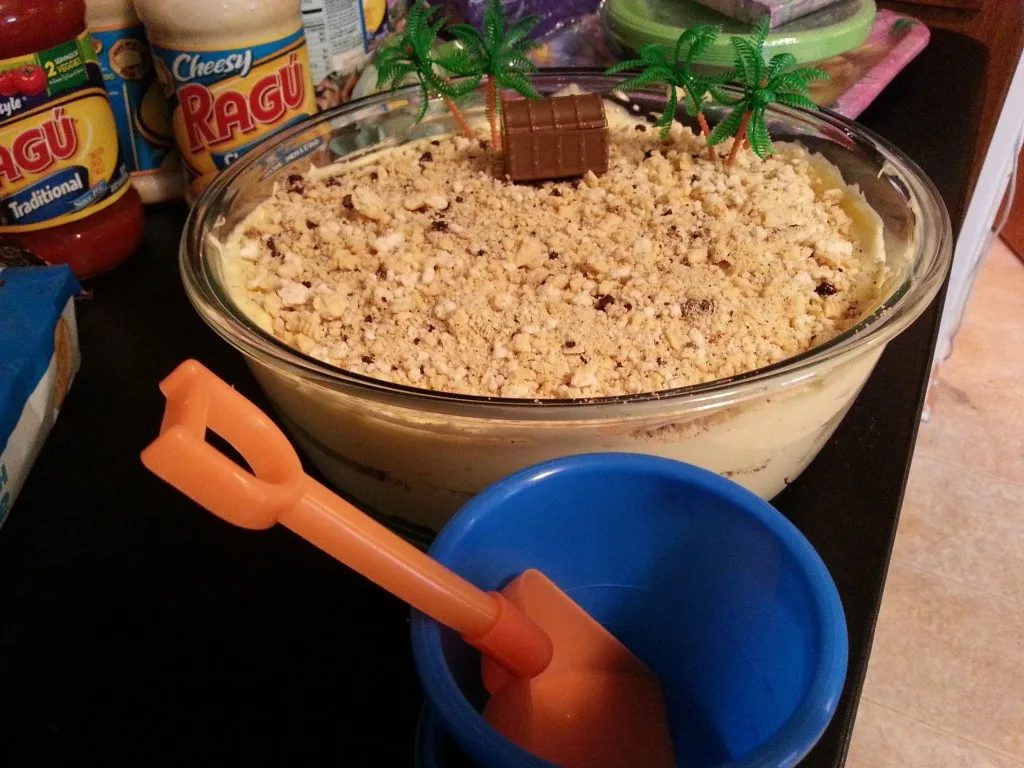 I got really excited about the Sand Cake idea so I ordered small party favor sand pails, palm tree cake decorations, and little treasure chests. My plan was to serve the Sand Cake in the pails and top each with a palm tree, treasure chest and a chocolate gold coin. Well, the shovels kept coming apart rendering them useless as spoons. The trees and chests were smaller than I thought… but it was still cute decorating the main bowl before everyone dug in.
We had nothing left by the time our final guests left. It was soooo good.
Sand Cake Recipe
You'll need:
Approx 24 Golden Oreos or store brand equivalent (first time I used Roundy's Golden O's from Pick 'n Save)
4 regular Oreos (need a little black mixed in for more realistic looking sand!)
8 oz cream cheese, softened
1/4 C butter, softened
2/3 C powdered sugar
2 small pkgs or 1 big pkg of French Vanilla pudding mix
2-3/4 C milk
8 oz Cool Whip, thawed
Assembly:
Put cookies in a Ziplock bag and crush them with a rolling pin. You could do that in a food processor, but I like to beat the cookies on the counter. It's therapeutic. Plus, it varies the size of your grains of sand more.
Zap butter in the microwave to get it soft enough to cream together with the cream cheese. (Start with 15-20 seconds).
Mix butter, cream cheese and powdered sugar in one bowl. (I used a hand mixer)
In a separate bowl whisk together instant pudding with milk. Let it stand and thicken a bit.
Now mix the pudding into the cream cheese mixture. (Used my mixer again)
Fold in whip cream.
Lick beaters. (Optional, I guess. Ha!)
Cover bottom of your bowl/dish with about 1/3 of the sand cookie crumbs. Layer half of pudding mixture over the sand. then 1/3 of sand, rest of pudding, and top with the rest of the cookie crumbs.
Chill until ready to serve, then dig in!