This printable Mother's Day card is perfect for kids to color and give to their mom.
It's a quick and easy homemade card to give along with a gift (such as this tissue paper photo frame), flowers, or breakfast in bed.
Looking for more Mother's Day card ideas for kids? Check out our colorful floral printable Mother's Day card and our Love You To Pieces Printable Card Craft.
This post contains affiliate links. As an Amazon Associate and a participant in other affiliate programs, we earn a commission on qualifying purchases.
Mother's Day Printable Coloring Card
I love receiving homemade cards from my kids. Over the years, they have made all sorts of little masterpieces. What they write and draw can be so sweet, cute, and funny.
And seeing how their writing and drawing changes year to year. Oh gosh, I'm getting teary just thinking about it.
While my kids often enjoy making handmade cards from scratch, sometimes starting from a blank piece of paper is too much.
They also love to color, so I designed this Mother's Day card so they could color in Happy Mother's Day and several roses.
My daughter used markers to color in the words and metallic crayons for coloring the roses. It's a simple project that even toddlers can have fun doing. Plus, coloring is a calming activity.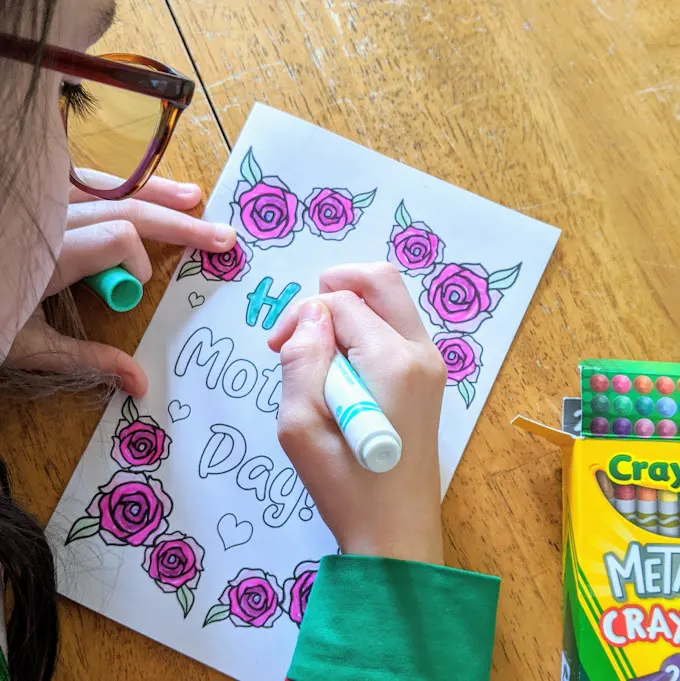 How to Print Out the Rose Mother's Day Card for Coloring
First you will need to download and print out our printable card template. (It is file #138 in our free printable resource library.)
Select "fit" when printing. If you leave it to print at the actual size, it will be quite a bit smaller and need to be cut out from the paper.
It looks best when printed on white cardstock paper, but can also be printed on regular paper.
If you don't want to print them out yourself, you may go some place such as a local print shop or Office Depot. I find it quite affordable to get a lot of my printables printed out that way, especially if I want a nicer thicker paper.
This printable Mother's Day card is for personal use only, but you can save and print as many as you need to give to your friends and family. If you are a teacher, you may print enough for the students in your personal classroom.
Once it is printed out, line up the edges and fold in half. Trim the edges if needed.
Then color in the roses and words using crayons, markers, colored pencils, or gel pens. Inside the card is room to write a message and sign your name. There is even plenty of room to draw a picture if you wanted!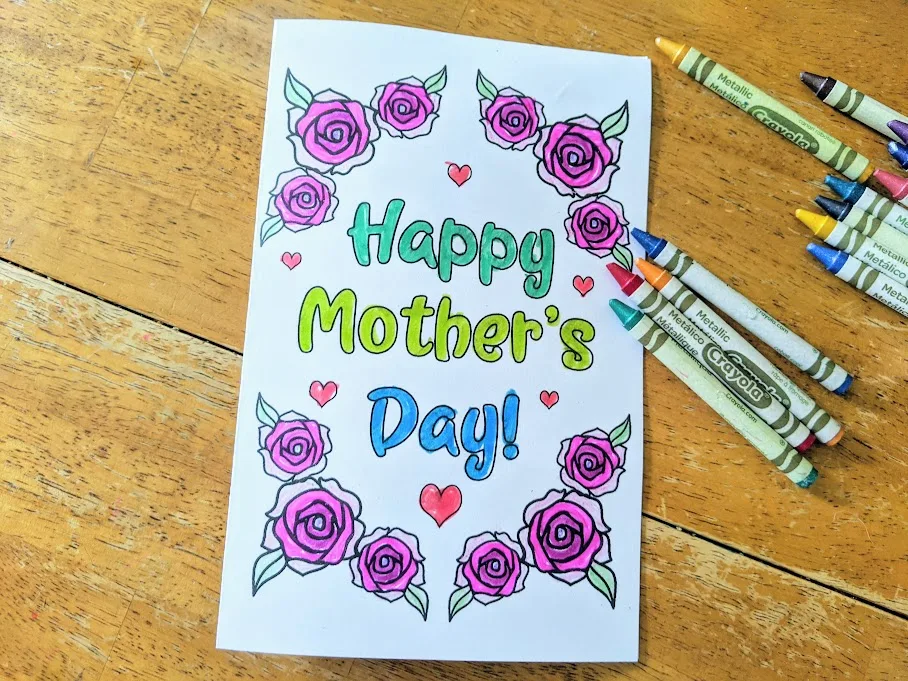 Get the Mother's Day Printable Card to Color
Fill out the form below for free instant access to our printable library if you do not currently have access to it. Mother's Day Roses Printable Coloring Card is File #138.
More Mother's Day Ideas: