This superhero themed charades is one of several printable games for kids perfect for a fun family activity. The charades game is such a classic and I love how easy it is to adapt for different ages and themes.
Plus, it's easy to start playing with minimal prep. It's also a great choice to play at birthday parties and even at school. Use these printable ideas for charades for a family game night or for added fun while watching a superhero movie marathon!
Want more activities like this? Check out our Superhero Themed Pictionary Game, Disney Themed Charades Game, and even more fun superhero activity ideas.
This post contains affiliate links. As an Amazon Associate and a participant in other affiliate programs, we earn a commission on qualifying purchases.
How to Play Superhero Charades Game
Kids can practice creativity and nonverbal communication skills while playing charades. It's an easy party game that can be played almost anywhere (including outside!).
My kids love superheroes. They like to read and write stories about them, watch superhero movies and shows, and pretend play that they have special powers.
Since they enjoy pretending to be superheroes, I thought they'd have a blast playing a game of charades with superhero related prompts.
Free printable download available at the end of this post.
What You Need to Play Superhero Charades
The main item you need (besides players) are clues!
To save you some time, we have a printable superhero charades word list with over 30 clues of superhero names, actions, and items.
You can easily make your own version of superhero charades using prompts from your family's favorite movies and comic book characters and write them on slips of paper instead.
Other helpful items:
Rules for Superhero Charades
The main rule of charades is no talking!
One person selects a card or slip of paper, secretly reading their clue. Then they act it out silently using gestures.
Players usually split up into two teams. One member of the team acts out the clue while the rest of the team tries to guess the answer.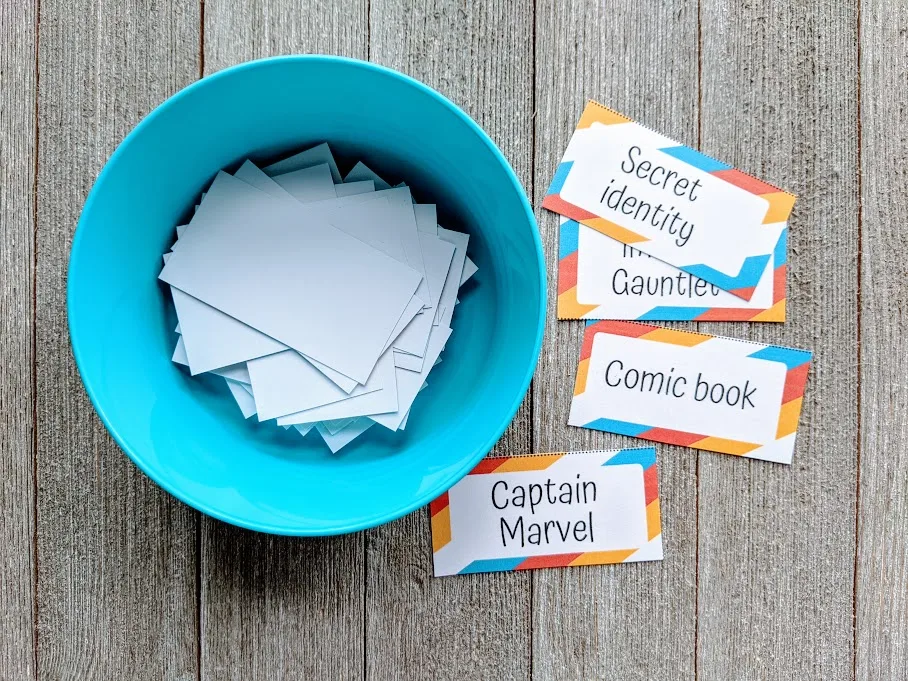 If needed, you can adapt the game for fewer players. For example, everyone can take turns acting out the prompt while the rest of the family makes guesses. This works well for smaller families or when the kids want to play together on their own.
You can choose whether or not to keep score. When playing with teams, the team scores a point when guessing correctly. If not using teams, the individual person who guessed right earns the point.
There is usually a time limit of 2-3 minutes, but again you may adjust that as needed.
More Charades Ideas for Kids: