Calling all mermaids! Make this easy mermaid wand craft for a fun pretend play prop. All you need are a few simple craft supplies that you can transform into your very own magical wand.
Kids will have fun making bright, colorful mermaid wands that they can use while playing pretend. There are so many great craft ideas for kids. These would also be great for a mermaid birthday party!
Don't forget to grab our printable mermaid wand template at the end of this post!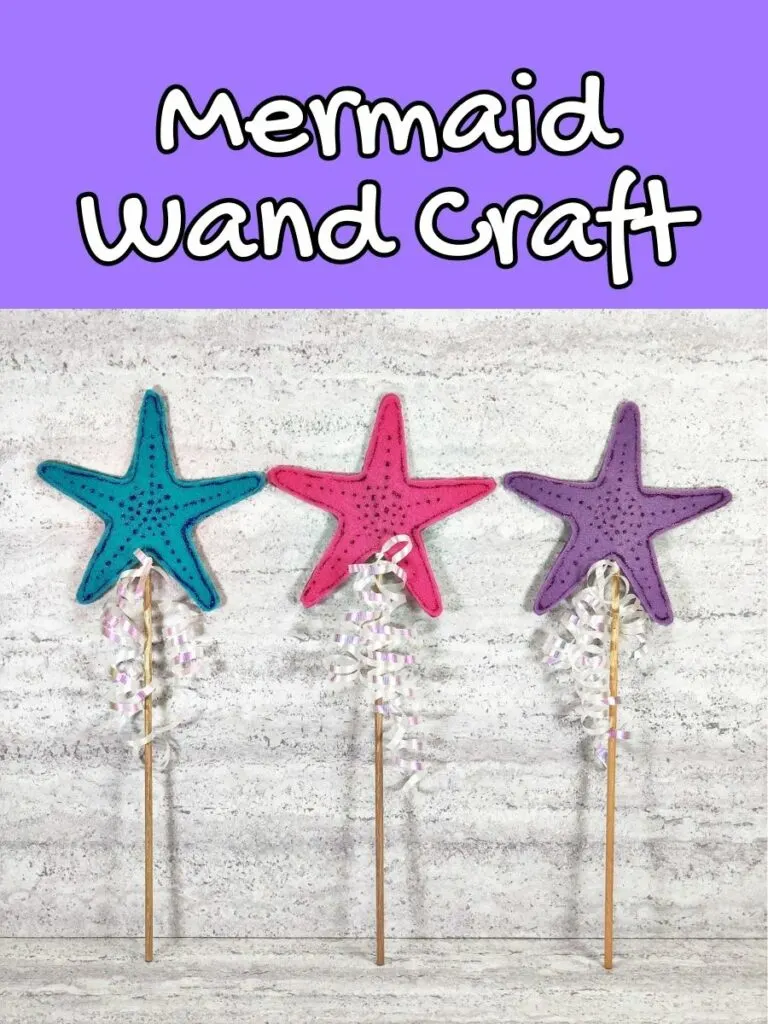 Have the kids assist with tracing, cutting, and decorating to work on their fine motor skills. You can also use this time to work on colors, shapes, and teaching how to measure items with a ruler.
This is the perfect summer camp at home activity to include in a mermaid or ocean theme week. So gather up your supplies and get ready to rule the seven seas!
More Mermaid Crafts
Mermaid Starfish Wand Craft Supplies
Using just a few craft supplies, you can make these wands in about 30 minutes. The printable craft pattern available at the bottom of this post includes both starfish and seashell shapes that you can use.
This post contains affiliate links. As an Amazon Associate and a participant in other affiliate programs, we earn a commission on qualifying purchases.
If you do not have craft felt, you could also use craft foam. Another option would be to cut out starfish and seashell shapes from cardboard and paint them.
For assembling the wands, I do not recommend using liquid school glue. A low temp glue gun works well to put everything together quickly and make it more durable.
However, you could also use a tacky craft glue (like this foam and felt glue) or even try permanent glue dots.
How to Make a Mermaid Wand
Print out the Mermaid Wand Craft Template (available at bottom of post). Cut out the starfish shape. (A seashell is also included so you can choose whichever one you want to create your wand.)
Trace starfish template on craft felt once and then flip the template over in order to trace it again on the same color of felt. This will reverse the shape (mirror image) so they will line up better during assembly.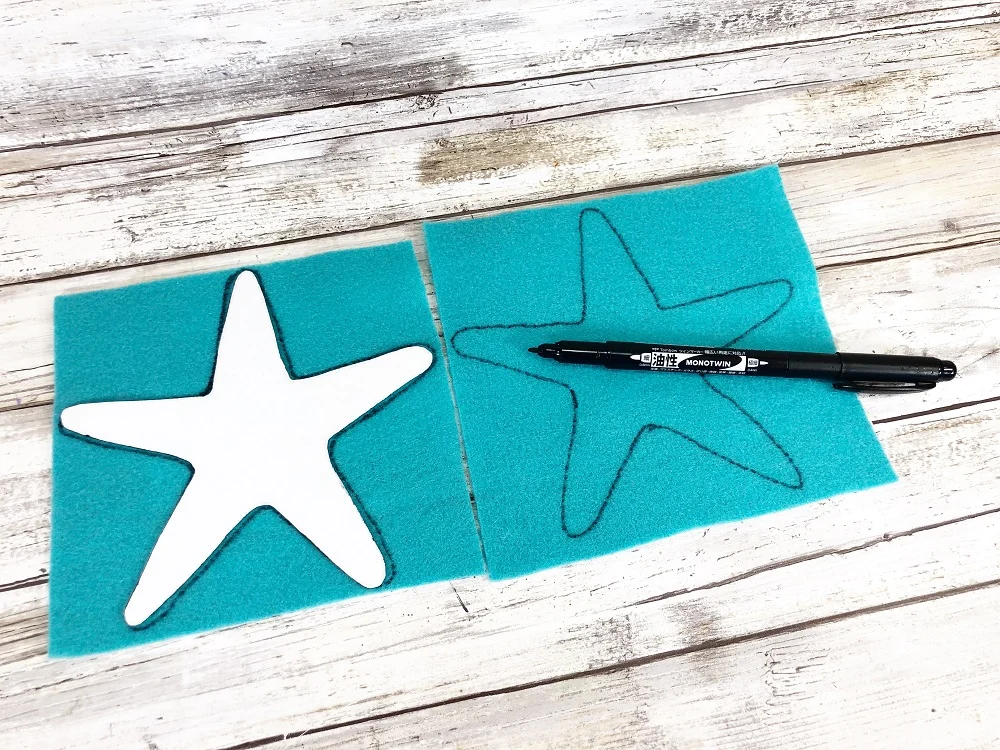 Tracing with a water soluble pen marker will make it easier to wipe away any visible lines afterwards. Otherwise try to cut along inside the lines. You may also be able to flip the pieces around so any marker lines face inward when gluing it together.
Using coordinating glitter glue colors, outline one of the starfish shapes for each wand. To add detail, make a cluster of dots in the center of the starfish and then a dotted row trailing out from the center down each arm. Set aside to dry.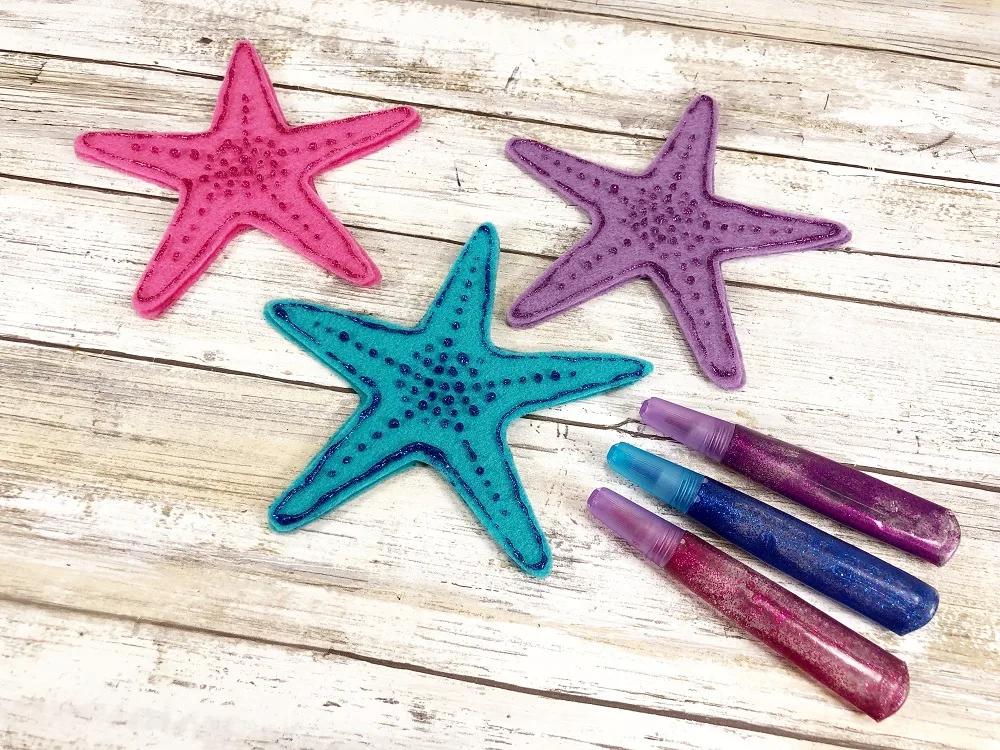 Now it is time to assemble your mermaid wand! Use a low temp glue gun (or other glue options as described above in the supply section) and apply a line of glue down the center of the plain felt starfish and attach the wooden dowel.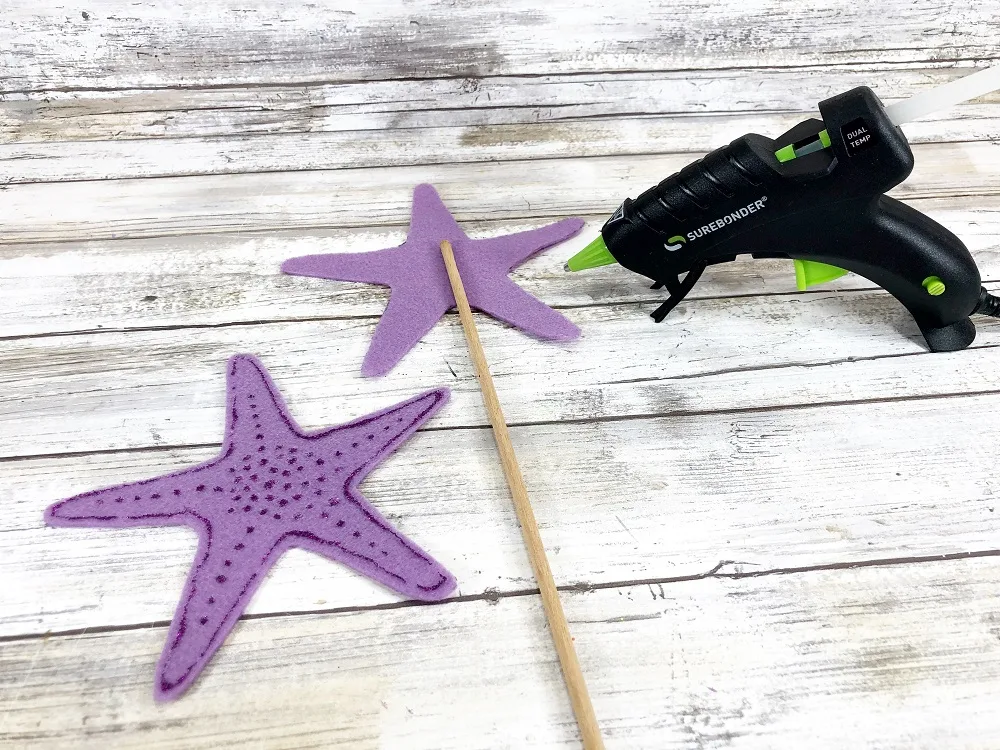 Next glue the decorated felt starfish on top. Set aside to dry completely if using liquid craft glue before doing the final step.
Measure and cut a 24 inch length and a 36 inch length of curling ribbon. Tie the ribbons in a knot at the top of the wand just beneath the starfish, then gently curl the ribbon ends.
How to Curl Curling Ribbon Without Scissors
While working on this mermaid wand with your child, you may want a way to curl the curling ribbon without using scissors. One option I've tested is to use a durable plastic knife.
A flimsy plastic knife may break in the process. You will hold the curling ribbon over the plastic knife blade with your thumb, similar to curling it with a pair of scissors. Scraping the plastic knife slow and steady along the ribbon will cause it to curl up.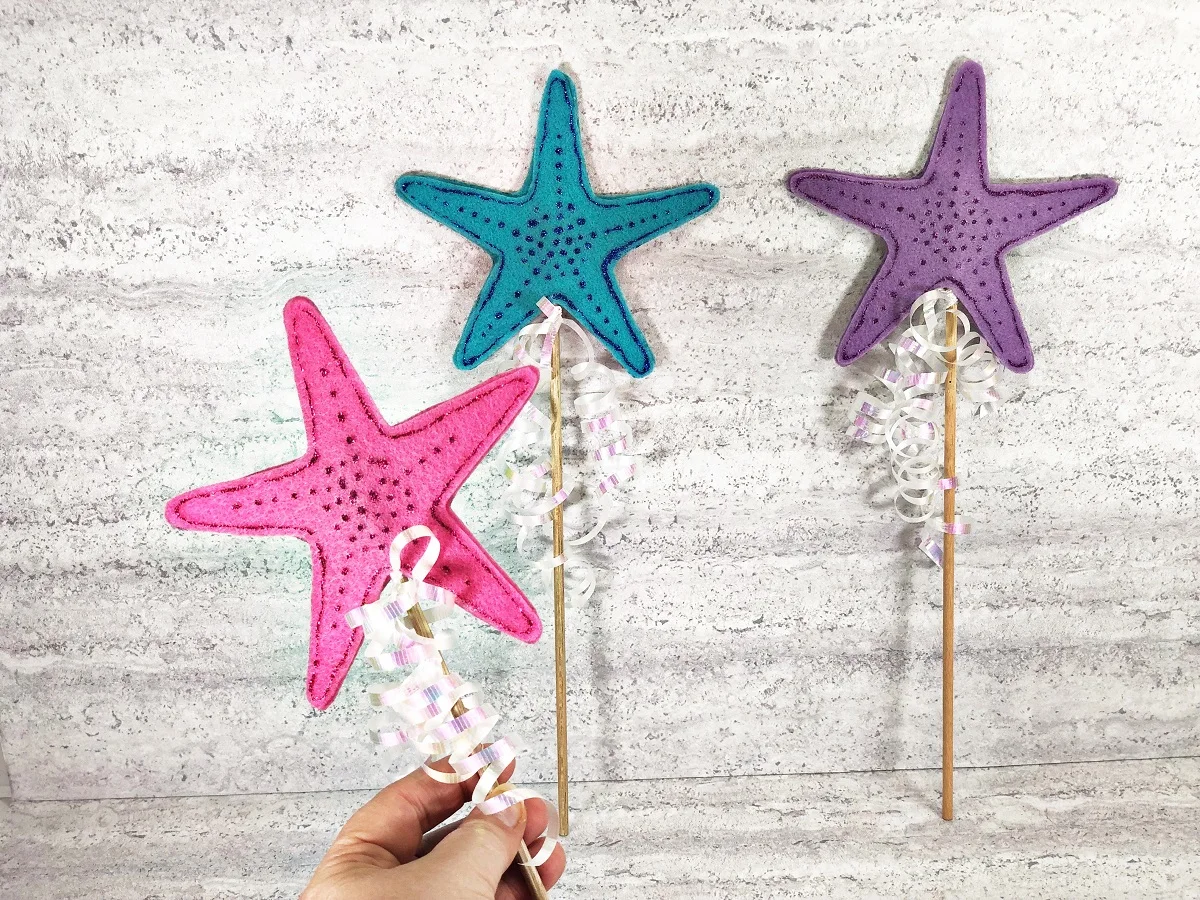 Ocean Activities for Kids
Ocean Zone Density Jar – This is a neat way for kids to see different layers of the ocean while also learning about density.
Moving Shark Paper Plate Craft – Super cute shark puppet craft activity!
Ocean and Sand Sensory Bin Kit – Everything you need for a fun ocean themed sensory bin! Includes sand, water beads, ocean animal toys, and sensory tools with a storage bin.
Shark Life Cycle Worksheets – Learn about the life cycle of sharks with these printable worksheets.
Coffee Filter Seashell Suncatcher – Create a vibrant seashell suncatcher to hang in your window using a coffee filter.
DIY Ocean Pop Up Book – Spark your child's creativity and encourage them to write a short story with the help of our printable ocean pop-up book pages.
More Wand Crafts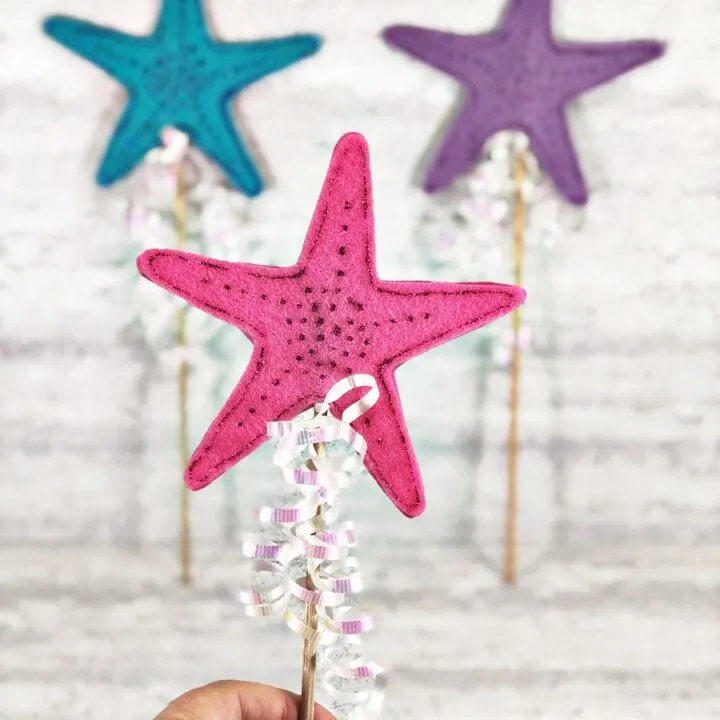 Mermaid Wand Craft
Estimated Cost:
$10 or less
Make this mermaid wand for a fun and easy summer craft for kids!
Materials
Mermaid Wand Craft Template (available at end of post)
Craft Felt in Mermaid Colors
Glitter Glue in Various Colors
Wooden Dowels
Iridescent Curling Ribbon
Tools
Fabric Marking Pen or Washable Marker
Low Temp Glue Gun or Craft Glue
Scissors
Ruler
Instructions
Print and cut out the Mermaid Wand Craft Template (available at bottom of post).
Trace starfish template on craft felt then flip over and trace a second time.
Decorate one felt starfish with glitter glue. Outline it, dot the center, and dot along the starfish arms. Let it dry.
Glue the wooden dowel to the center of the plain felt starfish.
Glue the decorated side on top. Set aside to dry if needed.
Measure and cut two different lengths of curling ribbon (24 inch and 36 inch). Tie with a knot near the top of the wand. Curl the ribbon.