Looking for superhero activities for kids to do at home or school? These printable superhero perler bead patterns are a great option to keep kids busy.
Have fun creating one or more of your favorite superheroes and turn them into a magnet, ornament, or something else when you are done.
Be sure to grab the free printable perler bead superhero templates at the end of this post.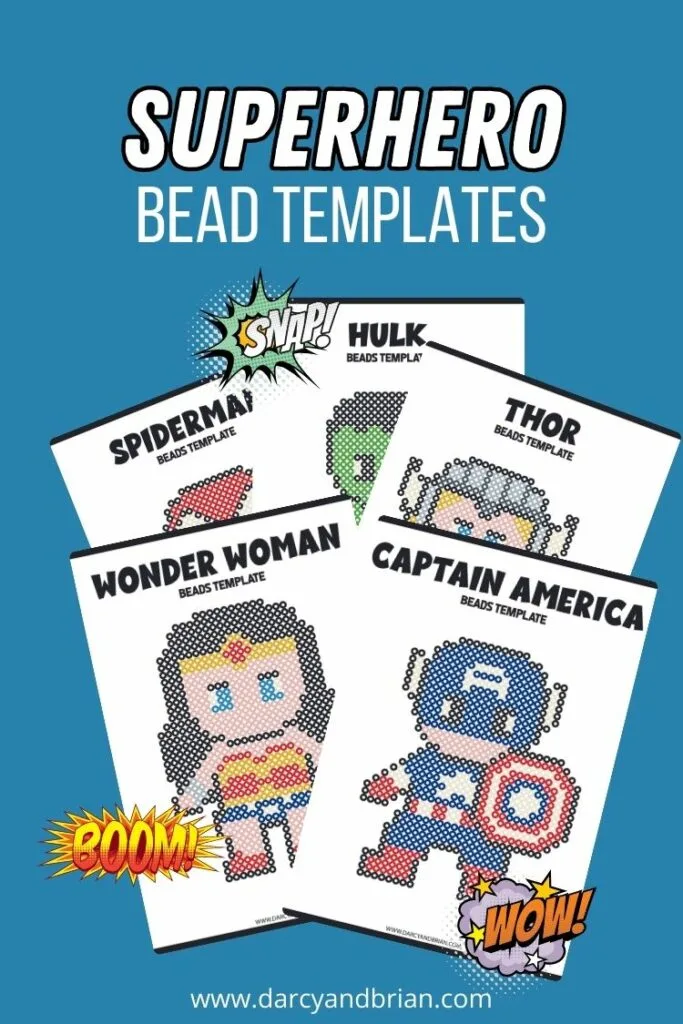 More Superhero Activity Ideas
This post contains affiliate links. As an Amazon Associate and a participant in other affiliate programs, we earn a commission on qualifying purchases.
What Ages Can Use Perler Beads?
In general, most children 6 years and older can use standard size Perler beads (also referred to as fuse beads). They are quite small, so it will depend on the child's fine motor skill development.
Younger children have less control over grasping, pinching, and manipulating objects that small. There are BIGGIE Beads, which are a larger size and designed for ages 4+ to use.
What Are the Benefits of Making Perler Bead Superheroes?
There are many benefits to crafting with Perler beads! It is a fun fine motor activity that will help kids continue to develop their fine motor skills.
Practicing patience is another benefit. It takes time to select beads and place them without disturbing the other beads on your pegboard. This can help children remember to slow down and take their time.
Following these superhero perler bead patterns can help kids focus and pay attention to details. Even if they decide not to follow it completely, it can provide a starting point for what they want to create.
Perler beads also allow kids to use their creativity when making their own designs as well as thinking of different ways to turn their creations into diy gifts. Keychains, ornaments, fridge magnets, jewelry, and 3D creations are just a few ideas of what kids can make.
How to Use Superhero Perler Bead Printable Templates
Our free printable pack available at the end of this post includes 10 superhero Perler bead ideas.
Here are the character designs included:
Spiderman
Iron Man
Captain America
Hulk
Thor
Wolverine
Superman
Batman
Robin
Wonder Woman
Each design is on its own page. You can print them out and place a large clear pegboard over the paper to help guide your design. (If you are looking for a new printer, I highly recommend an Epson EcoTank printer. We've had ours for a few years and I love it.)
If you want to make smaller ones, you won't be able to follow the pattern exactly. However, you can use it as a visual reference and adjust the number of beads used.
Just remember, like with pixel art, details are easier to see in larger designs. The smaller it is, the fewer details it will have.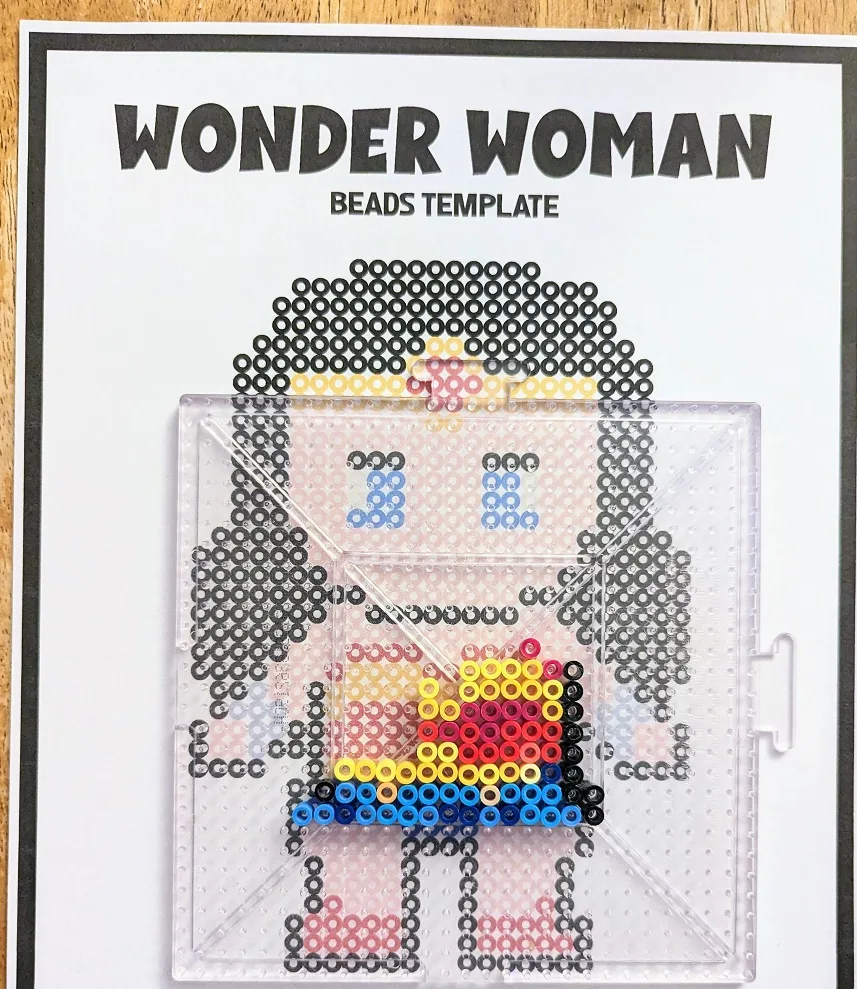 What Do I Need to Make These Superhero Perler Bead Designs?
You will need Perler beads in a variety of colors and large or extra large square pegboards.
Some of the design patterns work best with multiple interlocking square pegboards. The bigger design allows for clearer details in their face and clothing.
I also recommend these fuse bead tweezers. My kids prefer to use them because they are less likely to knock beads out of place on the pegboard.
Not sure what set of beads to buy? For these patterns, I suggest purchasing pre-sorted Perler beads.
I like the price of the big container of assorted beads; however, it's a lot of sorting when following a template. So, we use that more when creating freely or just randomly picking colors to fill a small pegboard shape.
You may also like this Marvel Avengers fuse bead kit or this Justice League fuse bead set.
More Fine Motor Activities
We hope you and your kids enjoy making these superheroes! Let us know who is your favorite one?