Do your kids like to leap off the back of the couch claiming they are a superhero fighting off bad guys? Or ask for a cup of water, which you think is to drink because being a superhero is thirsty work, but instead they decide to play with it, getting the living room carpet soaking wet?
Maybe that is just how Tuesdays go around here.
Unfortunately, I get stressed out when it feels chaotic while my kids run around and play like that. As we adjust to our new summer schedule, I've been gathering ideas of fun learning activities for kids like this Superhero Water game.
Both of my kids love superheros and playing with water, which makes this kids learning activity perfect! My son especially looks for any excuse he can to scoop and pour water.
We received a copy of this book to review. This post contains affiliate links.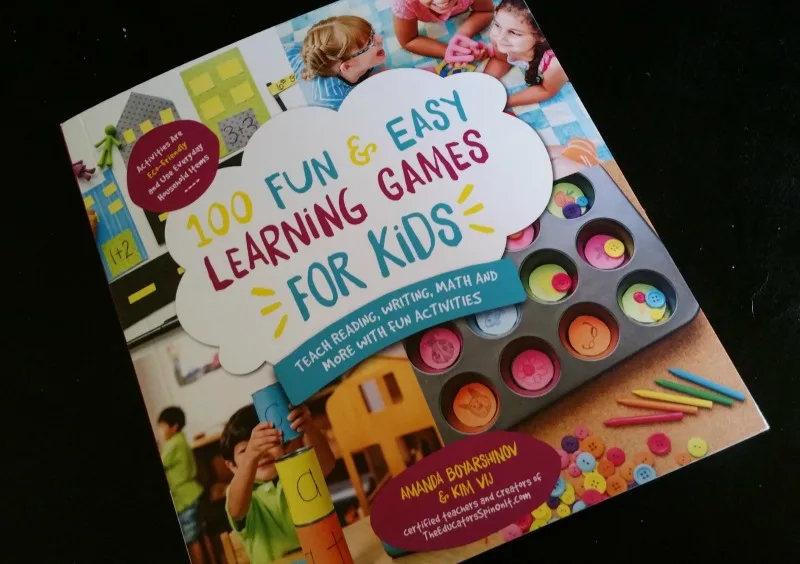 100 Fun & Easy Learning Games for Kids
Since receiving the book 100 FUN & EASY LEARNING GAMES FOR KIDS, my daughter and I have been looking through it and picking out activities to do. She loves learning and absolutely loves projects to work on. With school ending, I wanted to give her choices for things we can do together – her brother included.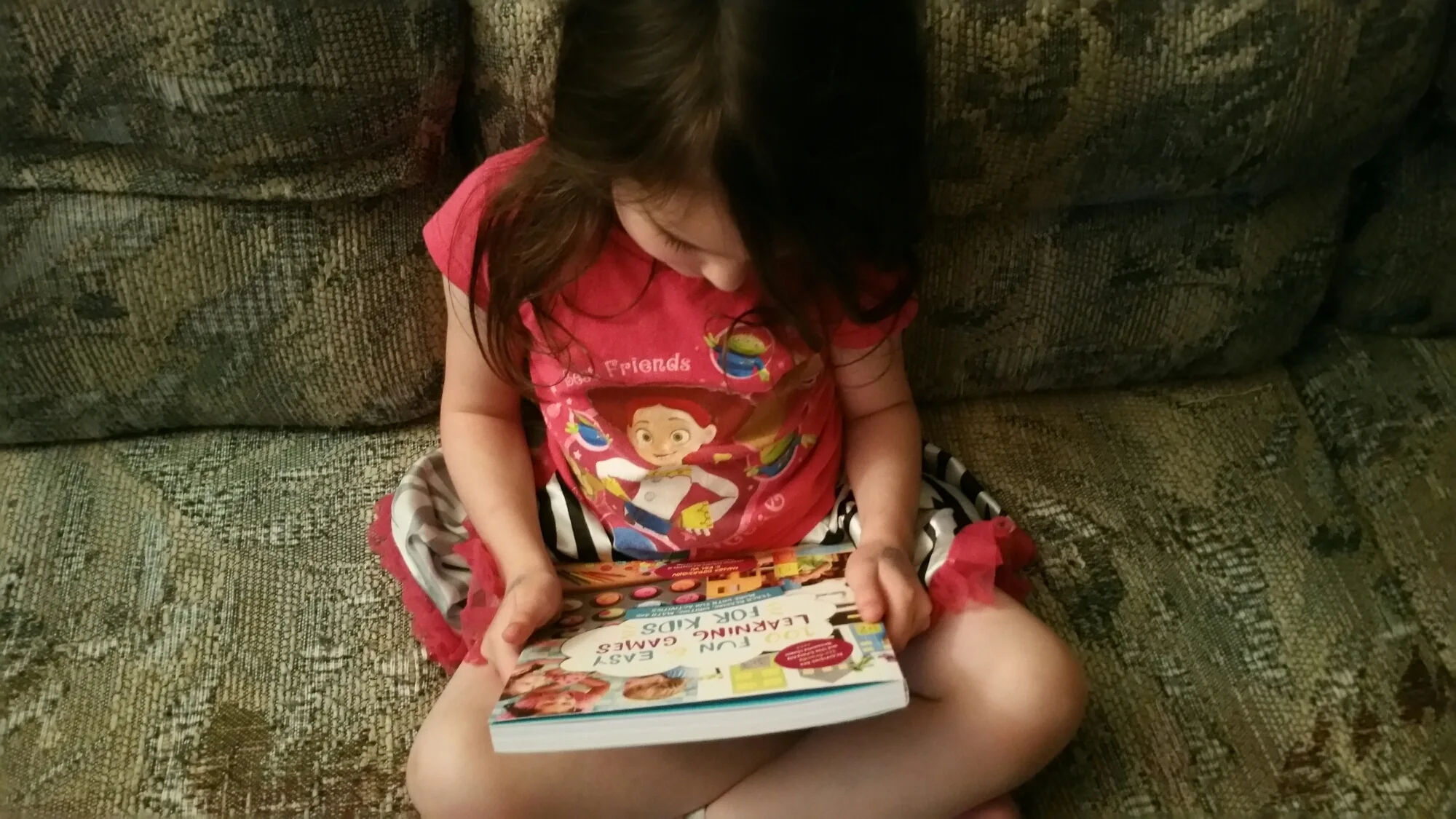 Sometimes when I ask for her input on what she would like to do, she has wonderful ideas that I'm not sure I can put together on short notice. Having her select activities from this book helps because I know these learning games are geared towards three to seven year olds (which means her little brother can participate too).
It also means I will likely already have all the needed materials on hand or at least they are fairly easy to set up. She definitely likes being in charge of picking out an activity. She tends to choose from the ones with pictures, but not all of the learning games include a picture.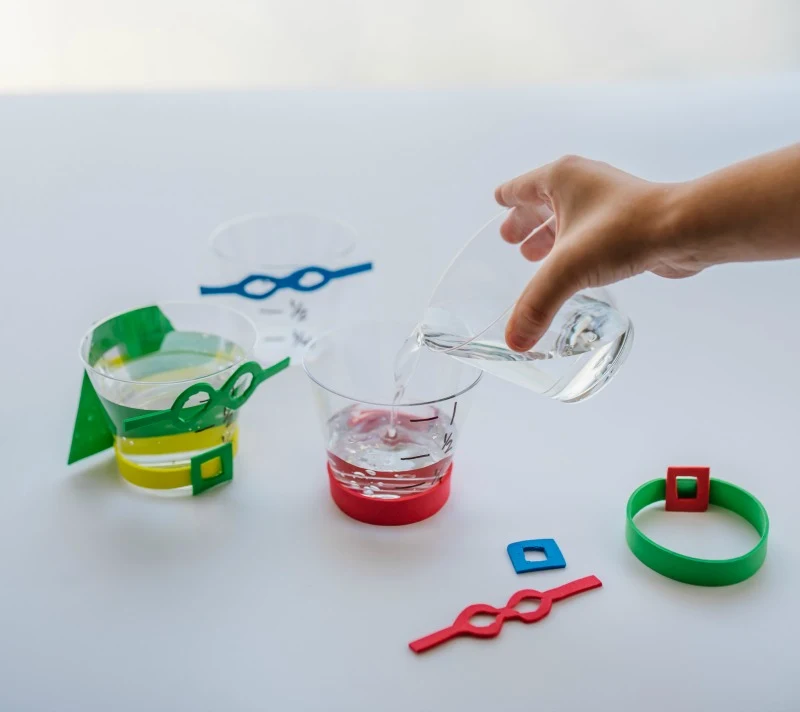 This activity has been reprinted with permission from the publisher from the book 100 FUN & EASY LEARNING GAMES FOR KIDS.
Superhero Water Learning Activity
Can you measure superpowers? In this activity, kids create their own superheroes by carefully measuring water into their superhero cups. They practice using standard measurement units as they build a superhero from the bottom up, adding a new feature at every ¼ -cup (60-ml) mark. See how fast you can build your superhero!
Focus Skill: identifying and using standard units of measurement
Materials
Craft Foam
Scissors
2 clear cups for each player
Black permanent marker
Bucket
Water
Directions to Make
Prepare a water-friendly area for the game.
Using the foam, cut out a set of superhero capes, masks, belts and belt buckles for each player. Vary the superhero designs if desired.
For each player, take one clear cup and use the black permanent marker to make small lines indicating ¼ cup (60 ml), ½ cup (118 ml), ¾ cup (177 ml) and 1 cup (237 ml). This will be the player's superhero cup.
Set another clear cup next to the superhero cup for each player. This cup will be used to pour the water.
Fill the bucket with water and place it where all the kids can access it easily.
Directions to Play
Players will dip their clear cup into the bucket of water then carefully pour "superpower water" into their superhero cup. When they reach a specific marking, they have to stop and add a superhero accessory. ¼ cup (60 ml) = belt, ½ cup (118 ml) = buckle, ¾ cup (177 ml) = cape, 1 cup (237 ml) = mask. The foam will stick to the measuring cup when you add water to the surface.
Players continue to pour the superpower water and build their superheroes. Race to see who is the fastest to make a complete superhero!
Game Variations
Create nonstandard units of measurement by using water bottles instead and pour to specific lined levels to create a superhero.

See which superhero bottle can fly the farthest when filled up with various levels of water.

Add different colors to the water to mix and create color superheroes.
We hope you enjoy playing this game with your kids too! The book has plenty of fun learning activities to keep the kids busy all year round. Order your own copy of 100 Fun & Easy Learning Games for Kids on Amazon!
Sometimes I wish we could do one of these activities daily, but even doing one a week is great. Visit the Educator's Spin on It for even more fun kids learning activities and games.
Don't miss these other fun kids activities: