If your child has a love of all things insect, this printable praying mantis life cycle lapbook is the perfect homeschool unit study activity.
Incorporate this lapbook into your spring unit studies as an engaging and fun way to learn more about backyard bugs.
This praying mantis life cycle lapbook can be used with multiple ages and adapted accordingly either by leaving off some activities for younger children or supplementing with additional material for older ones.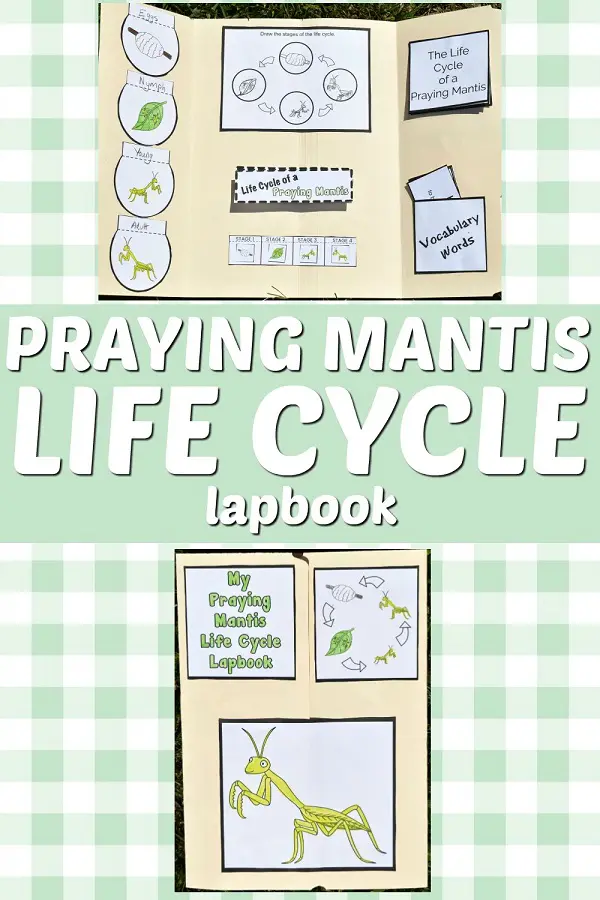 This post contains affiliate links. As an Amazon Associate and a participant in other affiliate programs, we earn a commission on qualifying purchases.
What is a lapbook?
Lapbooking allows your child to create a file folder booklet that incorporates all of the pertinent information they've learned about a particular topic.
This hands-on activity allows for research, discovery, and independence.
Created within the confines of a file folder, it's also easily accessible and thorough without being overwhelming to plan and implement; which is a significant positive for busy parents.
If you don't have a file folder available, construction paper works well too. Some families prefer to use composition books to create notebooking pages with lapbook page printables.
This is a great way to keep all of the unit studies completed, in one place. Simply cut out the lapbook activities and glue them to notebook pages rather than inside of a file folder.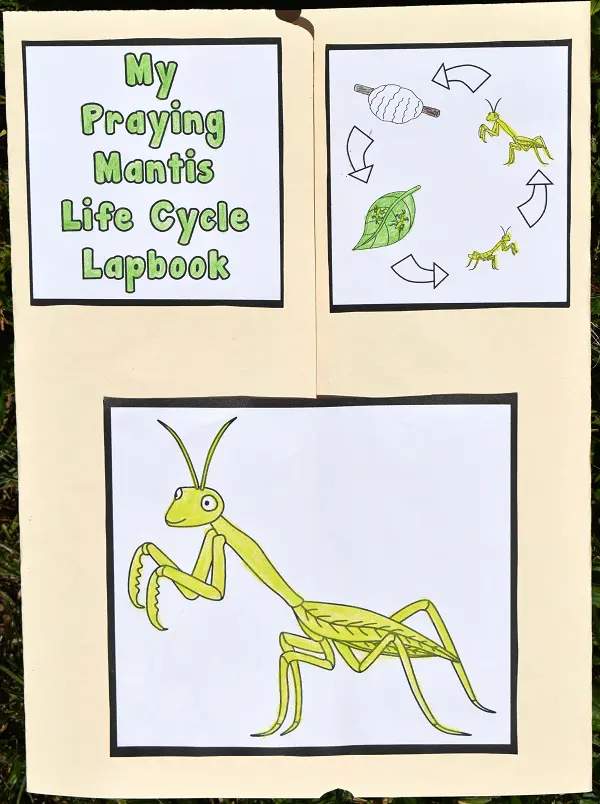 About the Praying Mantis Life Cycle
Your child will become familiar with the first stage of a praying mantis' life, which occurs right before winter and results in 100 – 400 eggs laid after fertilization.
Older children will appreciate learning about the stages of a nymph praying mantis life called instars where their exoskeleton is shed before the third stage in the life cycle begins.
Younger kids may enjoy coloring the life cycle pages while your older students are left to do further research or watch a YouTube video about the life cycle of a praying mantis.
In the third stage of the praying mantis life cycle, the adolescent mantis sheds its exoskeleton. It lays low for a while before moving on to the fourth and final stage.
In the fourth stage, an adult praying mantis goes on to feed on mice, small birds, lizards, tree frogs, and small insects.
Praying Mantis Life Cycle Lapbook Supplies:
Crayons, markers, colored pencils
Scissors
Glue
Praying Mantis Life Cycle Lapbook Printable PDF File #129 (our free printables are available in the free printable resource library – get the password by filling out the form at the bottom of this post)
How to Make and Use the Praying Mantis Lapbook
Directions for putting your lapbook together are included in the printable packet. Start by opening the file folder and folding the sides in towards the middle.
Kids can color the praying mantis life cycle cover page before or after gluing it to the front of the lapbook. Each of the activities can be assembled and glued to the inside of the file folder.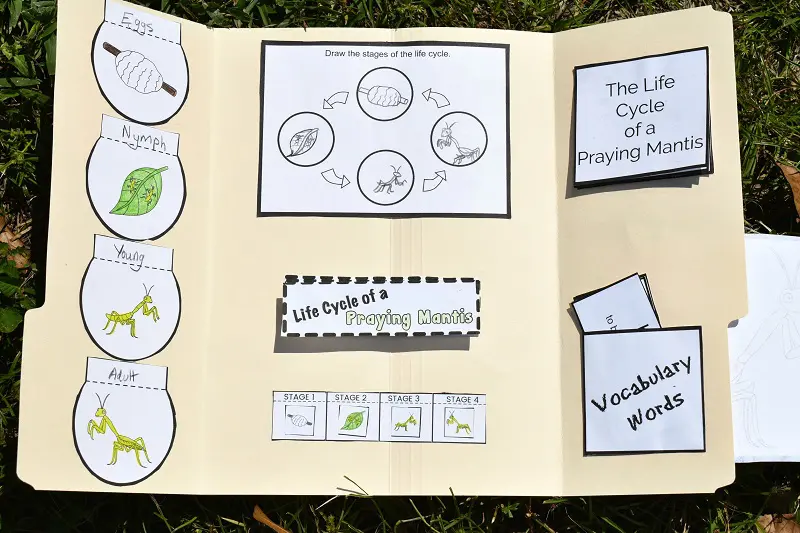 The four vocabulary words; prey, exoskeleton, hatch, abdomen, fit right into the 'vocabulary word' pocket that will be adhered to one side. Your child can refer to it again and again as they learn the new vocabulary.
They'll learn the life cycle stages of the praying mantis by arranging the stages in the proper order with a cut and paste activity.
Your child also gets to both draw and label the praying mantis life cycle. This is a fun hands-on activity that will help solidify the stages of a praying mantis' life.
It also acts as a chronicle or portfolio of their work and art project all rolled into one.
Additional Praying Mantis Resources for Kids
The Bugs Top Trumps Card Game is a fun, quick, and educational trivia game that offers a wide variety of information about various bugs and is easy to learn to play for all ages.
If you really want to bring science to life for your kids, the Praying Mantis Egg Case with Hatching Habitat Cup brings the praying mantis to your home or classroom.
Your kids will love raising their own mantis and following along with their praying mantis life cycle lapbook.
Kids will also love the book, My Awesome Summer by P. Mantis, written by Paul Meisel. The book offers readers a view into the life cycle of a praying mantis.
Written in nature diary form, it follows P. Mantis through her summer and kids will learn about the praying mantis life cycle in a fun and engaging way.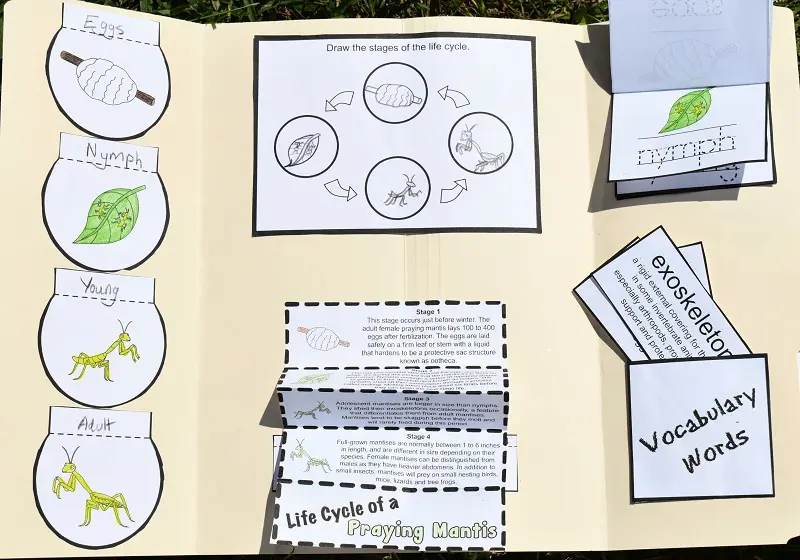 Extension Activities When Using Lapbooks
Looking for additional extension activities to incorporate alongside this praying mantis life cycle lapbook?
Consider having older children write a short story or paragraph using the vocabulary words.
Print a few extra copies of the printable page depicting the eggs, nymph, adolescent, and adult mantis and have younger children color them.
They can then glue the images onto popsicle sticks. This allows your child to tell a story or recreate the life cycle in their own words.
This retelling is a great way to reinforce what your child has learned. It also gets them thinking about the topic at hand in out-of-the-box ways.
Incorporating lapbooks into your homeschool is a great way to get kids learning in a hands-on way, creating their own educational materials and engaging with the content in a way that helps them retain it.
Plus it gets them excited about sharing the new things they learn with others; which is how you can be sure that true learning is happening.
Get the Praying Mantis Lapbook Printable Activities
More Life Cycle Activities for Kids: