If you're looking for ideas for preschoolers for Black History Month, a morning basket may be the way to go.
These Black History Month morning basket ideas for preschool and kindergarten-aged kids make creating a unit study easier.
Here are some ideas and resources to help you get started.
Looking for more preschool learning resources? Check out our 30 Day Science Activity Planner.
This post contains affiliate links. As an Amazon Associate and a participant in other affiliate programs, we earn a commission on qualifying purchases.
What is a Morning Basket?
Created by Pam Barnhill, a morning basket is simply a basket of books and activities. They can be used by homeschoolers in the morning, or quite frankly any time of day.
Centered around a common theme, they make homeschooling multiple ages easier. Many morning basket theme ideas come from child-led learning.
This means taking your child's interests and seeking out books and resources around the interest.
Morning baskets allow all ages and grade levels to come together to learn about a particular topic.
Learn more about using morning baskets on the Pam Barnhill homeschooling website.
Black History Month Morning Basket Printable Color & Trace Cards
Be sure to download the printable Black History Inventors color and trace cards (file #125) for your preschoolers to include in your morning basket. It is available for free in our printable library.
A great way to extend the lesson is to incorporate hands-on activities related to each notable person in the printable set.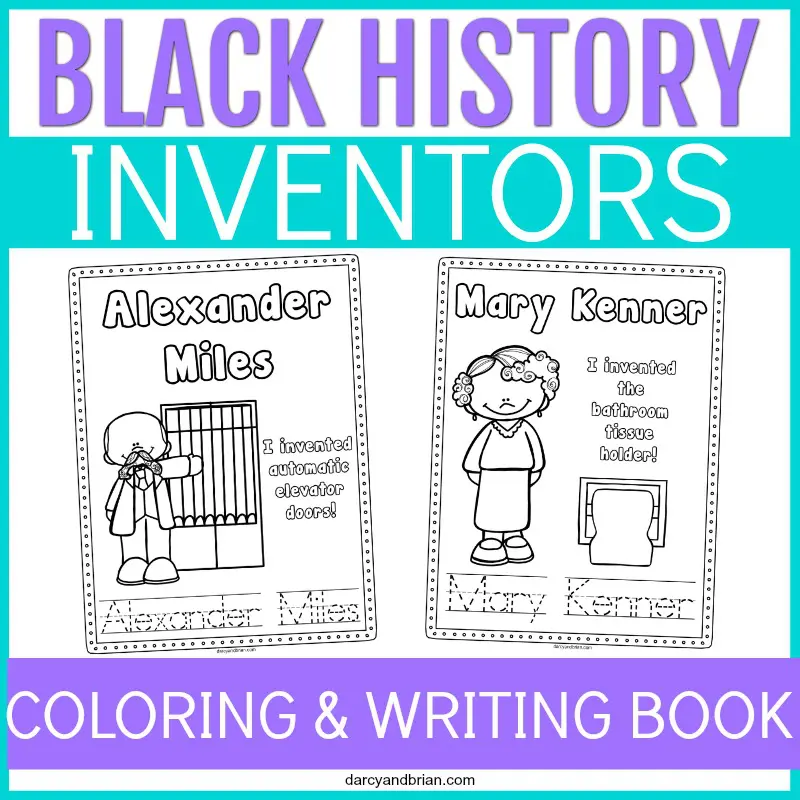 The following morning basket ideas for preschool during Black History Month include books, resources, and activities your kids will enjoy.
If you're homeschooling with preschoolers and older kids, check out the notable people in Black History trivia/matching cards from The Simple Homeschool Lifestyle to also include in your basket.
A few other items to consider including in your morning basket are a set of multicultural skin tone crayons, colored pencils or markers and A Kids Book About Racism.
10 Black History Inventors and Learning Ideas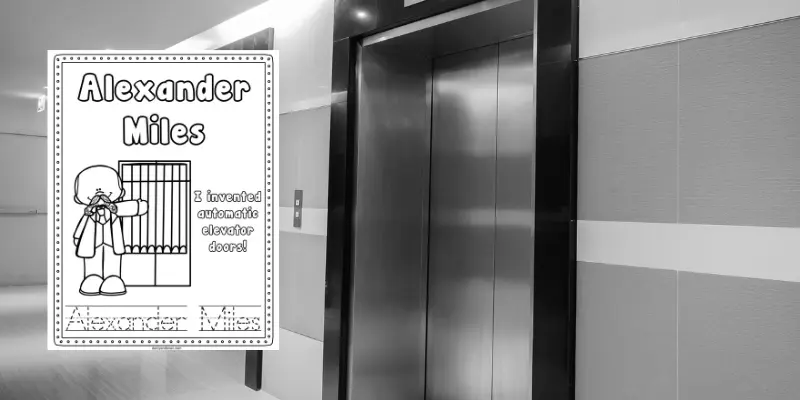 Alexander Miles
Alexander Miles invented automatic elevator doors. Try incorporating hands-on play alongside the printable color and trace worksheet. Young children learn best through play.
A pretend elevator is a great way to teach numbers and simple math. You can also teach opposites like 'up, down, open and close,' by creating a pretend elevator at home.
Sarah Breedlove Walker
Sarah Breedlove Walker, also known as Madam C.J. Walker, was the first female self-made millionaire in the United States.
Walker created beauty products for Black women. She opened beauty schools that catered to Black hair.
Madam CJ Walker Builds a Business, by Rebel Girls may be a good book to read with your child. It's geared toward ages 6 and up.
Consider incorporating some 'hair salon dramatic play ideas' from Pinterest, into this portion of the unit study.
Dr. Patricia Bath
Dr. Patricia Bath was an ophthalmologic surgeon and inventor. She invented a tool that minimized cataracts in 1981. The LaserPhaco Probe has been widely used overseas.
Discussing cataracts may seem like a big topic for preschoolers. Consider focusing on eye-health. The picture book, Douglas You Need Glasses!, by Ged Adamson is a great start for young readers.
You can also recreate an eye-exam at home for preschoolers who haven't yet had an eye appointment but may need to know what to expect when they do.
Sarah E. Goode
Sarah E. Goode was the first African-American to earn a United States Patent for her cabinet bed invention.
Goode owned a furniture store and answered the call of her customers who had small apartments and needed to maximize space.
Sweet Dreams Sarah is a picture book for kids by Vivian Kirkfield, that chronicles her life from slavery to entrepreneurship.
Marie Van Brittan Brown
The inventor of the closed-circuit television system better known as CCTV, Marie Van Brittan Brown is credited with creating the first home security system.
The system included a camera, television monitors, and microphones and revolutionized surveillance. You can take creative liberty with this topic.
Incorporate some spy or detective activities to go along with the Black History Inventors trace and color printable.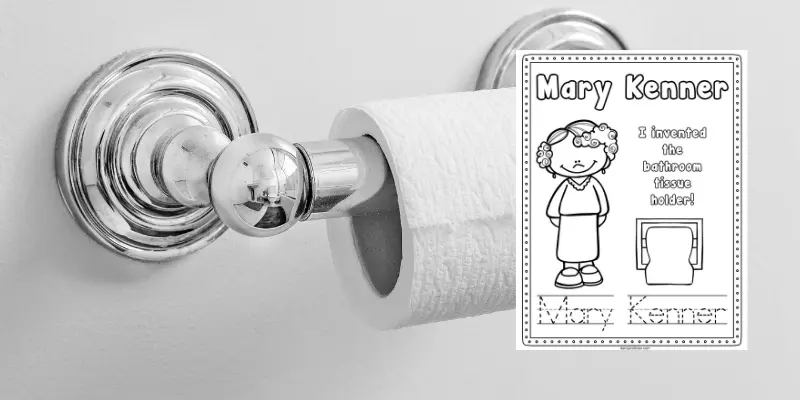 Mary Kenner
Mary Beatrice Kenner held many patents, including one for the all-important toilet paper holder. Consider reviewing this video about Mary Kenner's inventions and sharing the information learned with your young children.
What's interesting is that Kenner and her sister held the official patent for the toilet paper holder in 1982.
Save up those toilet paper rolls and get to crafting. If your preschoolers love Frozen, they'll enjoy making these adorable Frozen paper roll bracelets.
Elijah McCoy
Elijah McCoy invented the steam engine lubricator. He was a mechanical engineer whose patent helped save time and money for steam locomotive engine crews.
Some train depots offer nostalgic steam engine train rides. This would be a great option for an extension if you live near one.
Otherwise, a fun hands-on activity using the classic, "Little Engine That Could," by Watty Piper is a great option.
This fun craft uses upcycled paper towel rolls, toilet paper rolls, and an egg carton to fashion a steam engine.
George Washington Carver
Your preschoolers will enjoy the beautifully illustrated book, In the Garden with Dr. Carver, by Susan Grigsby.
It follows George Washington Carver in his early years with his wagon and mule teaching members of the community how to garden and learn about how nature helps plants grow.
Couple the picture book with the printable page for younger children.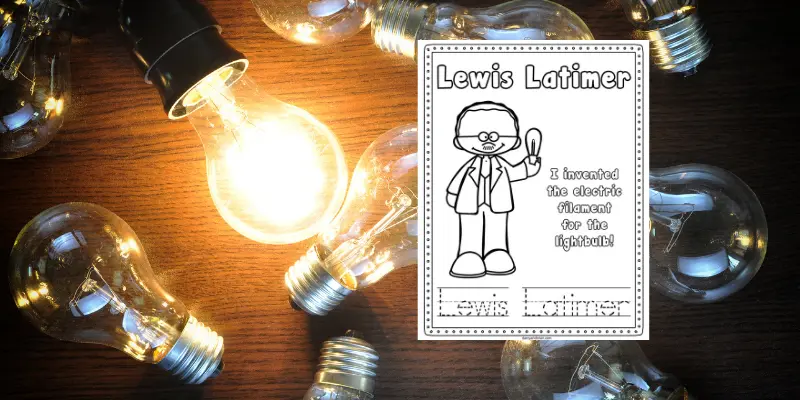 Lewis Latimer
Lewis Latimer invented the electric filament found inside light bulbs. Introduce your preschoolers to this engineer with the book, How I Met Lewis Howard Latimer, by Ramon Robinson.
For a fun hands-on project, try powering a lightbulb with potatoes. Your young children are sure to love this fun science experiment.
You can do all of the set-up ahead of time. Young children can perform the final connection. The resulting potato-powered bulb is sure to delight.
Jan Ernst Matzeliger
Matzeliger invented the shoe-making machine. If you're fortunate enough to find a copy of the currently out-of-print book, Shoes Got Soles, by Dr. Dorothy J. Sims, this is a great book for younger children.
Share a bit of Matzeliger's life with your children with info gleaned from this video.
For a shoe-themed book, Pete the Cat: I Love My White Shoes, is always a good choice. For older children, the book, "Shoes for Everyone: A Story About Jan Matzeliger," is a great option for additional reading.
Don't expect young children to learn and remember the names and contributions of these pioneers in Black history.
Simply introducing names, ideas and inventions now will light the way for future connections they make as they learn more about their world and the people in it.
More Black History Learning Resources:
Get the Free Black History Inventors Trace and Color Printable Pages