Online education is booming, which means there has never been a better time to look for websites that will support your child's interest in learning science.
We strongly believe STEM (science, technology, engineering, math) based learning is important as well as encouraging kids to pursue STEM based careers.
Try these 30 science experiments for kids and then use the educational resources below to learn more information about the reactions they observed!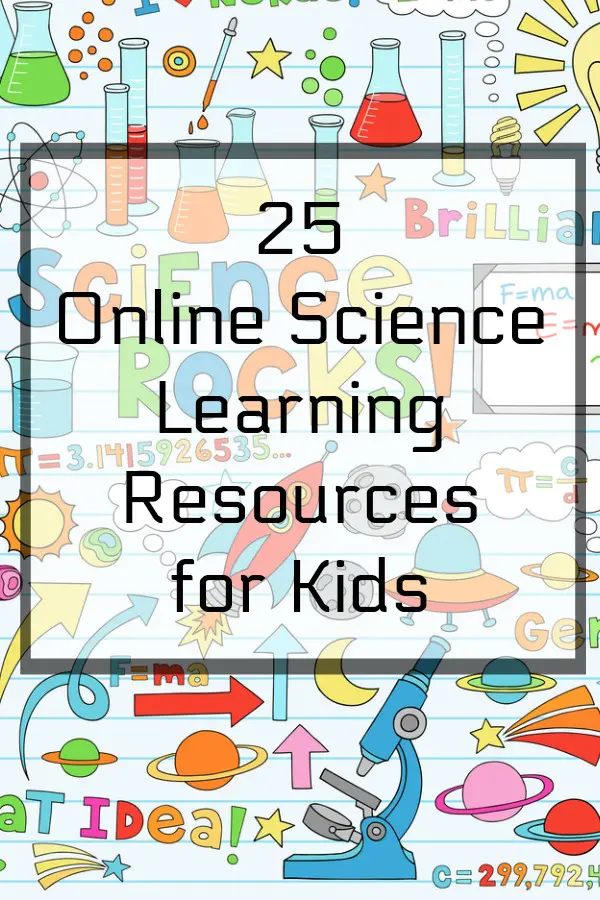 This post contains affiliate links. As an Amazon Associate and a participant in other affiliate programs, we earn a commission on qualifying purchases.
25 Great Online Science Learning Resources for Kids
There are lots of online resources and educational websites with STEM activities to choose from, but these are some of our top picks.
These are perfect for supplementing your child's science education outside of traditional schooling and for deep diving into areas of interest, such as space exploration.
These are also wonderful resources to use as part of your homeschool science curriculum.
Science Made Simple This site has information and science project ideas for children of all ages.
Animal Planet Students can learn more about their favorite animals and enjoy the critter cams bringing them live action at various zoos.
Bill Nye offers a lot of science demonstrations you can do at home in space science, physics, and more.
Teachers Try Science has dozens of experiments in areas such as chemistry, biology, math and engineering that can be done online and offline. You can take a virtual field trip to a museum and view animals via a critter cam. Students just have to click on one of the icons to start digging deeper.
Science News for Kids helps young people stay up-to-date on the latest scientific news. Articles can help students understand important topics like climate change, loss of habitat and why chocolate is so hard to grow.
How Stuff Works covers a wide range of fascinating topics, such as UFOs, tornadoes, lunar exploration, and more. It's a fascinating site students are sure to enjoy.
Science Activities at Life With Darcy & Brian You may have tried a few of our science experiments for kids and we will continue to add more resources for you.
SciShow Kids provides entertaining and educational videos answering questions kids have about science and how the world works.
STEAMsational provides a lot of great hands-on learning activities for kids that you can easily do at home.
Hour of Code offers online coding activities and other computer science resources.
The Exploratorium in San Francisco tries to create a hands-on experience of the world around us. They've produced an online version with various activities and a set of teaching resources parents can use with their children. Search for "accidental scientist" to see a range of microsites they have created on topics like gardening and music.
NASA for Students offers activities for students K through 12. Students interested in space will love learning more and even helping with NASA's ongoing research.
iGameMom offers a lot of STEM learning activities and resources for kids and families.
Education.com This site offers a range of free worksheets and activities for K through 5.
U.S. Department of Education, Helping Your Child Learn Science This handy resource pages offers some fun and age-appropriate science work you can with children from Pre-K up to Grade 5.
The Smithsonian Institute offers a range of activities for elementary and middle school children, including tracking migratory birds and learning more about habitats.
The Dictionary of Units of Measure This will teach students all they need to know about weights and measures around the world.
Little Bins for Little Hands has a long list of chemistry science experiments younger children can do at home with adult supervision.
Wonderopolis allows students to explore the world and answer their many questions about science. It also offers interesting exploratory activities, such as what you would pack for a trip into space.
National Geographic Kids offers a range of interesting activities for younger children, related to animals, dinosaurs, space and more.
Funbrain offers a range of activities and videos for grades K through 8. Click on the grade you want on the top navigation bar to get started.
Help My Kid Learn Select your child's age range from the top of the page, 0 to 12, and explore the range of activities available in math, science and other subjects.
Steve Spangler Science has a variety of science experiments as well as fun science kits for kids.
SciGirls is an excellent resource for girls 8-12 with videos featuring female role models and educational activities.
How to Smile is an excellent resource where you can search for over 3500 free science and math activities available from science museums, public TV stations, universities, and more!
There's a wealth of science resources for kids on the internet. Try these to start with!