Need Halloween activities for kids that help them work on fine motor skills? These printable Halloween lacing cards make an excellent quiet time activity for toddlers and preschool age children too.
It's important to offer kids a variety of skill building activities. They learn through play, hands on activities, and repetition. Practicing fine motor skills is important, but it doesn't have to be boring!
Keep it interesting by changing things up with different holiday and seasonal activities, like these lacing cards featuring Halloween themed pictures.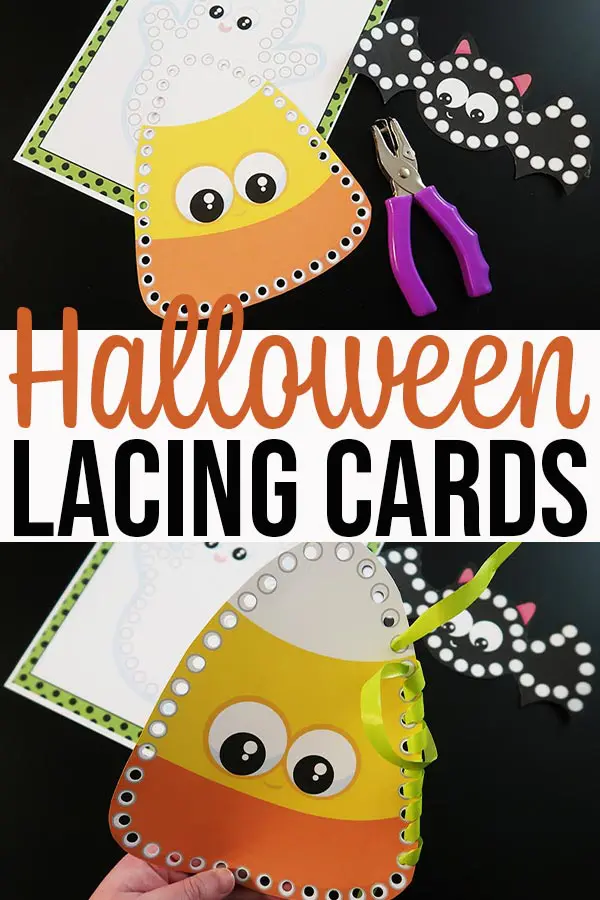 Also, don't miss our Spooky Learning Fun Halloween Printable Packet and even more Halloween printables for a variety of family activities.
What benefits do lacing cards have for kids?
I love lacing cards for kids because it is such a simple activity, but it provides a lot of benefits for toddlers and preschoolers.
Working on lacing cards helps little kids strengthen their fine motor skills by improving their pincer grasp and hand-eye coordination.
They help kids to button and zip clothes, hold a pencil for writing, feed themselves, and more.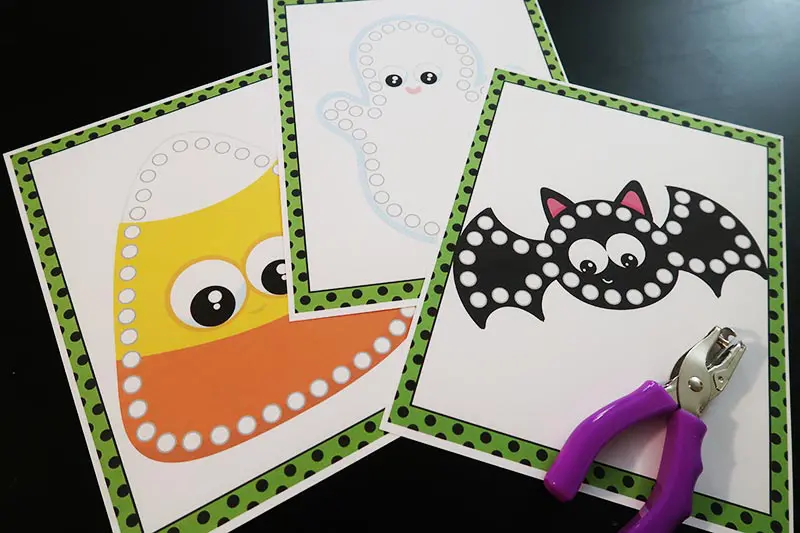 Looking for more fine motor skill activities? Check out our Popsicle Stick Fine Motor Color Match Game and Button Towers Activity.
How to Use Printable Halloween Lacing Cards
These Halloween lacing cards are super cute and come with a ghost, bat, crescent moon, and candy corn.
They have cute little faces on them similar to these Kawaii Halloween Clay Flower Pots Craft.
After downloading and saving the printable lacing card set at the bottom of this post, you can print them out at home or at a local printing place.
I recommend printing the lacing cards on cardstock paper so they are more durable. Regular printer paper will rip too easily.
You can also laminate them. This is a great option if you plan to use them in a classroom setting.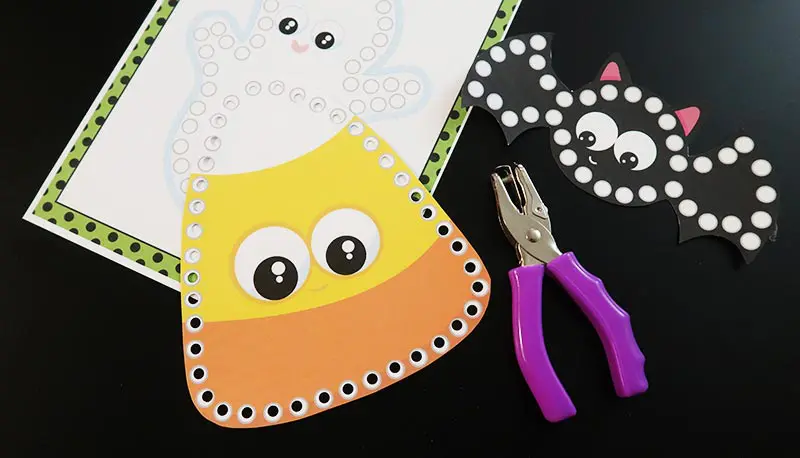 After printing and laminating, cut out each of the lacing cards and then use a hole punch on the circles.
This post contains affiliate links. As an Amazon Associate and a participant in other affiliate programs, we earn a commission on qualifying purchases.
Helpful Supplies:
It's great to prep the Halloween lacing cards ahead of time for little kids to make this a low prep quiet time activity. Children should be supervised throughout this activity.
For added fine motor skill practice, kids can use the hole puncher to make holes around the border of the cards.
Once all the holes are punched out, use a shoelace or a piece of yarn with tape around one end to weave in and out of the holes. I like using shoelaces, but you could even use ribbon.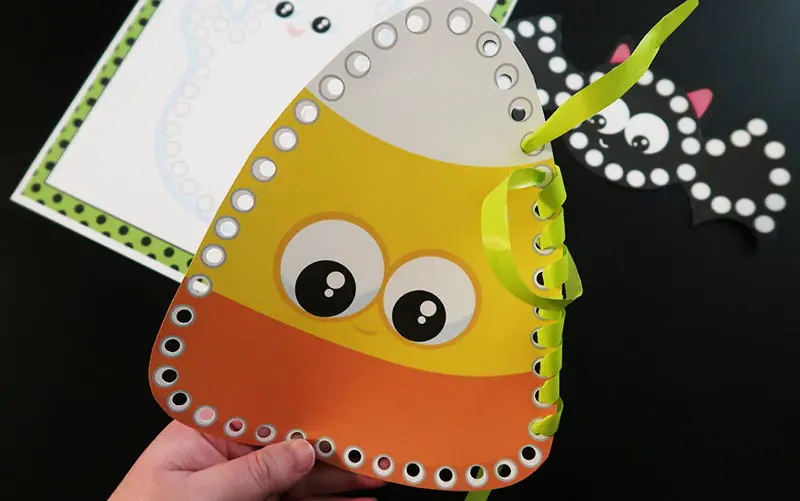 The kids can make different patterns with the shoelace or yarn. You can also show them different sewing stitches.
Take these along for an easy road trip activity or even while waiting at a restaurant.
More Fall Activities for Kids
Halloween Lacing Card Printables
Fill out the form below to receive your printable set of Halloween lacing cards. These printables are provided for your personal use at home or in your classroom only.
Share this post with someone you know who would love their own set!