Are you looking for a fun, family-friendly game night? Get the kids ready for some laughs while playing Disney Movie Charades with 85 different movie titles as well as blank cards to create your own. Plus, it's the perfect mix of animated and live action films plus old and new films that will keep everyone guessing!
Enjoy hours of entertainment in your home with our easy to use printable games for kids. This activity is one that all ages can enjoy together – from little ones to grandmas and grandpas – making memories that last a lifetime! And no need to worry about keeping score–the fun is just in playing together as a group.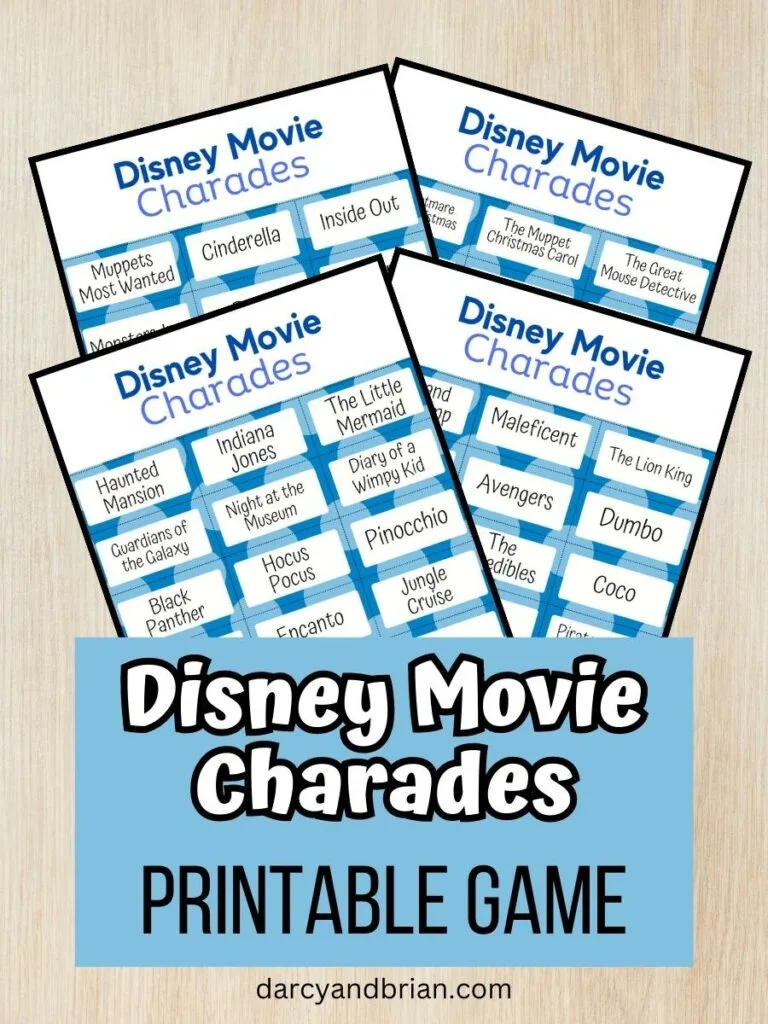 More Disney Printables
If you're looking for more ways to enjoy the magic of Disney in a screen-free manner, you're in the right place. Be sure to check out these additional Disney printables for kids!
Benefits of Charades for Kids
Charades offers immense benefits for kids far beyond just entertainment. It is a fantastic way to stimulate creative problem-solving skills. Children are encouraged to think creatively and quickly, transforming abstract thoughts into understandable gestures.
Additionally, it enhances their non-verbal communication skills, as they learn to express themselves without the use of words. This is particularly beneficial in improving their observational skills and understanding of body language.
And let's not forget about the social interaction aspect. Playing charades in a group setting promotes teamwork, cooperation, and understanding of others' perspectives.
It's an excellent tool for building empathy and social cohesion among children, providing essential skills that will be beneficial in their future interactions and relationships. All while being a fun, screen-free activity that keeps them actively engaged!
What's Included in the Disney Movie Charades Printable
Our Disney Movie Charades printable is designed to offer plenty of family-friendly fun. The set includes 85 cards, each with a unique title of a Disney movie that ranges from classics to contemporary favorites.
This mix of animated and live action movies, from the enchanting tale of "The Little Mermaid" to the hilarious family adventure in "Night at the Museum," ensures that there's something for everyone.
But that's not all! We understand that fans might have their particular favorites or want to include other movies in the fun. Therefore, we've also added blank cards to the set.
These cards give children the chance to express their creativity and engagement with the game by writing down their own movie or character choices.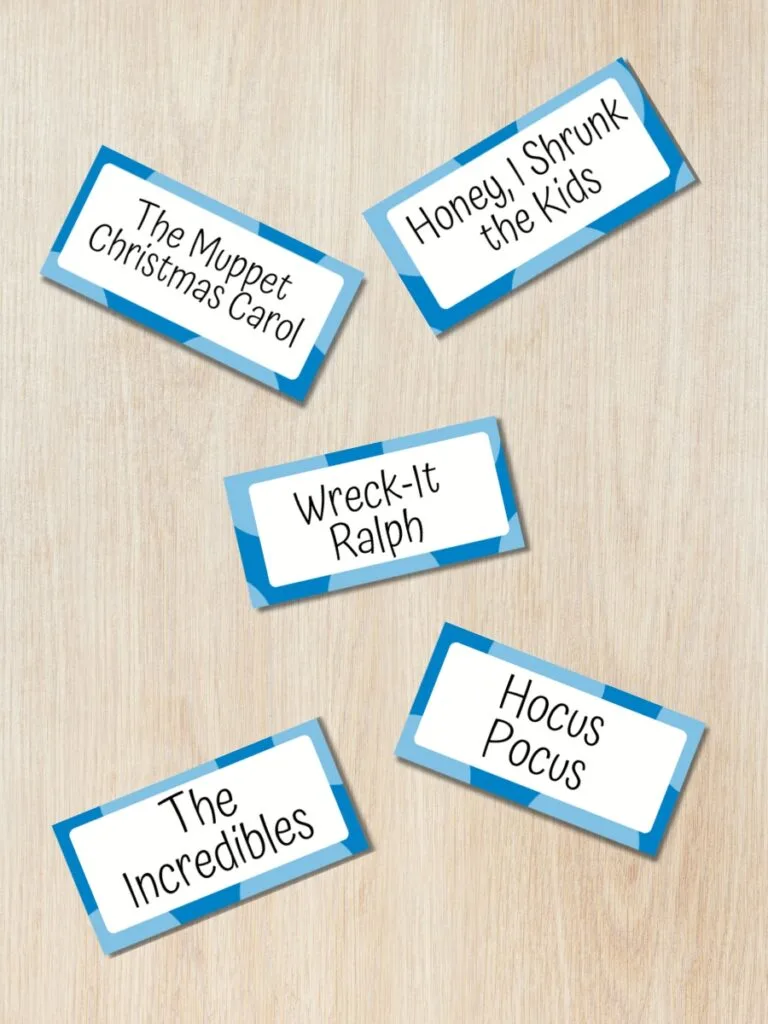 This post contains affiliate links. As an Amazon Associate and a participant in other affiliate programs, we earn a commission on qualifying purchases.
Recommended Items for Playing Charades
One of the best things about charades is that it requires very little in order to play. However, these are a few items we suggest because they are helpful.
How to Play Disney Movie Charades
So what are the rules for charades? Charades is a classic game that's been around for generations. Players take turns acting out clues without talking to their team members. It's an excellent way to practice communication skills, spur creativity, and just have some fun!
To play Disney Movie Charades, the rules are simple:
Divide into two teams (or a single player if needed).
Pick a card and act out the movie without talking.
Let your team members guess the title of the movie.
Score a point for each correct answer and move on to the next card!
Playing Disney Movie Charades is an ideal activity for family game night or any time that you're looking for a fun, screen-free option – including in the classroom. So gather all the Disney fans, get out your cards, and prepare to have a great time!
What to Act Out in Charades?
Has this ever happened to you? You just selected a charades card and are staring at it, wondering how exactly you're going to act out this movie title. Fret not, here are a few tips to help you out (which will help you guide the children if they need assistance too).
For starters, you can use action for animated movies and miming for live-action films. For instance, if you have "Mulan" or "The Incredibles" on the card, you can act out some of the characters' signature moves or scenes.
If it's an older classic like "Cinderella," mime the stepsisters ripping up the dress or Cinderella running off with her fairy godmother.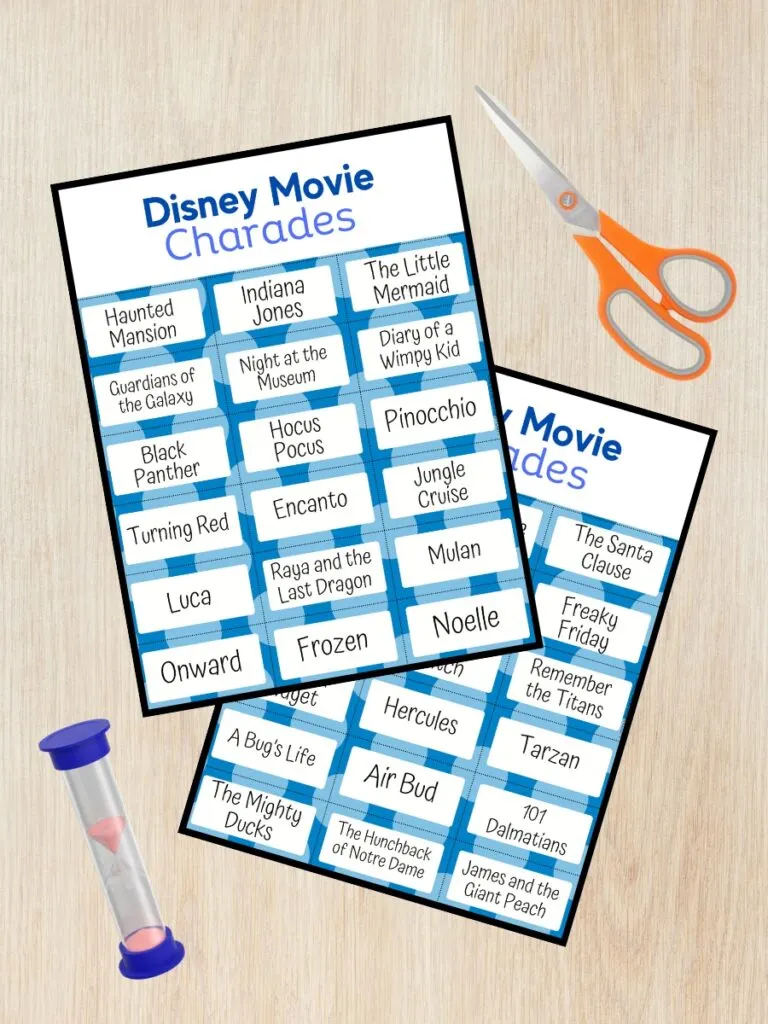 You can also try to use props – like a phone for "Toy Story," an arrow for "Robin Hood," or a broom for "Fantasia." Or, if you're feeling creative, you can utilize facial expressions and sounds to act out what's happening in the movie (just no talking!).
Picking an iconic scene to act out or a specific character to mimic is bound to help your team get on the right track with their guesses. Whichever technique you choose, remember to be creative and have fun with it! Ready. Set. Charade!
How to Play Disney Movie Charades in Teams
You can divide the players into two teams or have multiple smaller teams. Each team will take turns having one person pick a card and acting out the movie title without speaking. The other players on the team must guess what movie is being acted out. The team with the most correct guesses wins!
To keep things interesting, make sure to rotate turns between members. For example, if one person acts first in Round 1, then pick a different player from that same team for Round 2. This way everyone gets to participate and act out their favorite movies.
Spice up the game by adding even more challenges. For example, set a timer for each team to make their guesses or come up with bonus points for guessing movies quickly. Another option is to allow other teams to steal the point with a single guess after time runs out and the actor's team hasn't figured it out.
How to Play Charades With 3 Players
If you only have three players, then the game of charades can still be a lot of fun. The only difference is that each player takes turns picking a card and acting out for the other two players to guess. As with any game of charades, you can make it as simple or as creative as you want such as using props or sound effects.
To help keep things fair, rotate turns between players so no one person has all the advantage. Decide if the winning point goes to the person who guessed correctly or to the player who acted it out well enough for the others to know the movie title.
Recommended Disney Games for Kids
Whether you're planning a family game night, searching for an engaging activity during a screen-free week, or organizing a themed party, Disney games never fail to bring laughter, excitement, and a healthy dose of competition to your gathering.
Below, we've curated a list of Disney games that not only promise a fun-filled time but also cater to diverse age groups. These games will enable your children to step into the world of their favorite Disney films, fostering imaginative play and delightful interactions. Enjoy the magic of Disney in a whole new way!
Pictopia-Family Trivia Game: Disney Edition
5 Second Rule Disney Edition — Fun Family Game About Your Favorite Disney Characters — Ages 6+
Disney Colorbrain, The Ultimate Board Game for Families Who Love Disney
Ravensburger Disney Villainous Strategy Board Game for Age 10 & Up – 2019 TOTY Game of The Year Award Winner
Additional Unique Uses for the Disney Movie Charades Cards
Discover a world of fun and creativity beyond just charades with the Disney movie charades cards! These versatile cards can also be used in a variety of other ways:
Disney Movie Trivia: Test your family's Disney knowledge! Use the cards as prompts for movie trivia questions. The person who can provide the most details about the selected movie wins the round.
Creative Storytelling: Encourage your children to pick a card and craft a new story or a sequel for the movie. This not only sparks their imagination but also improves their narrative skills.
Memory Game: Print out two sets and flip all the cards facedown to play a Disney-themed memory game. Participants take turns flipping over two cards at a time, trying to match movie titles.
Movie Night Selection: Not sure what to choose for family movie night? Randomly select one from the printable cards.
Disney Movie Draw & Guess: Turn it into a drawing game. Have one person draw clues about the movie on the card they picked, while others try to guess the movie based on the drawing. This helps to foster creativity and teamwork.
Movie Discussion: Use the cards as a prompt for movie discussions. Ask what they liked or didn't like about the movie, their favorite character, or what they would change. This can help improve critical thinking and articulation skills.
Alphabet Game: Try to name a Disney movie for every letter of the alphabet using the charades cards. This can be a fun literacy tool and a great way to revisit old and new Disney films.
Remember, these are just a few possibilities! The magic of Disney offers infinite possibilities for fun and learning.
Fun Disney Crafts for Kids
Let's keep the Disney magic going even after the game with some enchanting Disney-themed crafts for kids! These creative projects not only provide a fun and creative experience, but they also allow kids to connect further with their favorite Disney characters.
Fostering creativity and learning can be as simple and fun as integrating Disney into your family's activities. With these printable games and activities, you can bring the magic of Disney right into your home, providing endless off-screen entertainment and learning opportunities.
From charades to discussion prompts, these resources are a great way to encourage creativity, critical thinking, and literacy skills. Moreover, they are a wonderful tool for family bonding and creating unforgettable memories.
So why wait? Dive into the enchanting world of Disney, one movie at a time. Remember, the magic is in your hands!