This cute printable spring matching game is ideal for toddlers, preschoolers, and kindergartners. It's a low prep printable game for kids to play.
Learning through play, which includes games, is a great way to keep kids engaged. They won't even realize all of the skills they are learning and practicing.
You can use this printable spring memory game at home, in the classroom, or even take it along with you somewhere.
Looking for more things to do? Check out our Saint Patrick's Day sorting activity as well as these spring activity ideas for kids.
Spring Memory Matching Printable Game
This printable spring themed matching game is a quick and easy activity that's perfect during spring because of the pictures of flowers, frogs, bees, ladybugs, rainbows, etc., but it can be used any time of the year.
It's a nice quiet time or rainy day activity for younger children to do at home or at school. I love that it is a low prep game option (it's practically no prep). Just print, cut, and play!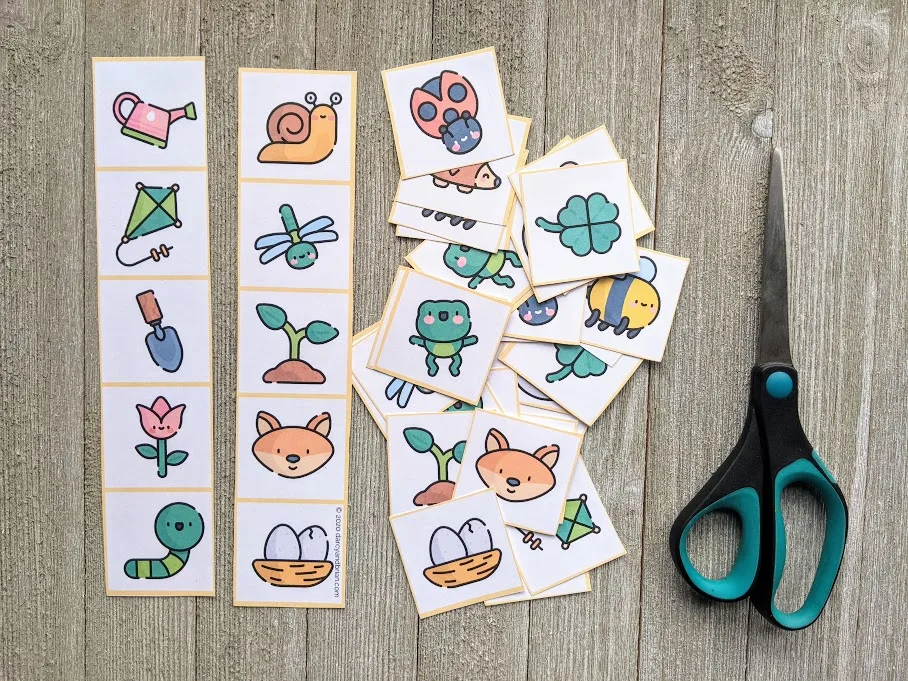 Memory matching games provide several benefits for kids, so don't overlook them as an educational game option.
Playing this spring memory game provides kids with the opportunity to improve pattern recognition, visual recognition, concentration, focus, critical thinking, and problem solving skills.
Even children as young as two years old can begin to match pictures together and recognize matching pairs.
Kids develop connections and learn while playing. They also learn from repetition, which is why it is helpful to engage them in similar activities with different themes.
This post contains affiliate links. As an Amazon Associate and a participant in other affiliate programs, we earn a commission on qualifying purchases.
Supplies for Spring Memory Matching Game:
How to Play Spring Matching Game:
Print out the spring matching game on card stock paper. You can use regular paper, but it is thinner and easier to see through when the pieces are upside down.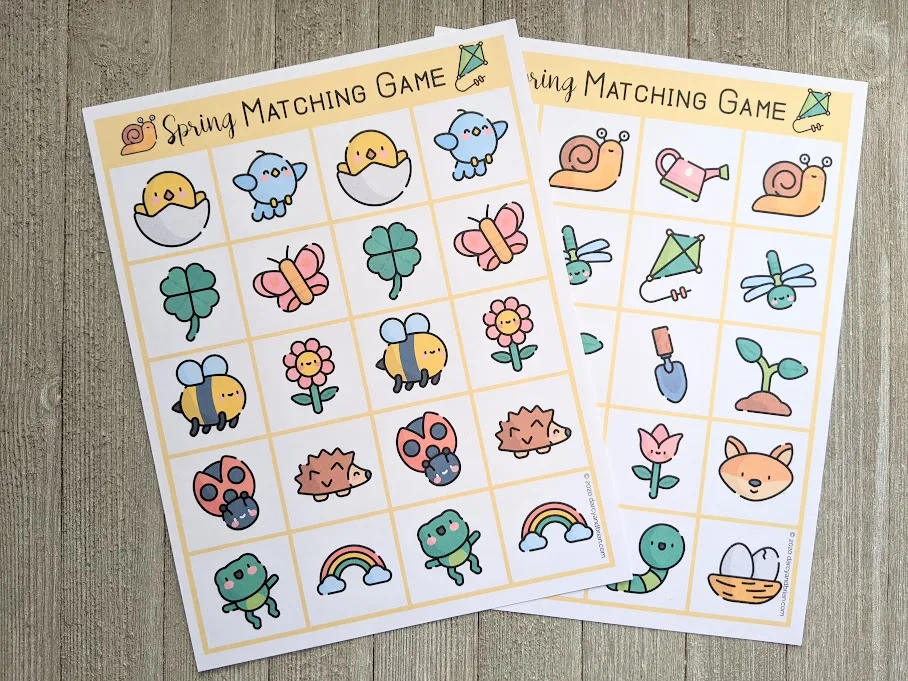 If you do not have card stock paper, you can glue a blank sheet of paper to the back of the matching game before cutting the squares apart.
To make the game pieces more durable and reusable, laminate the pages before cutting them apart.
Use only one page for a smaller, shorter game with toddlers. Use both pages for a bigger memory game with preschool and kindergarten children.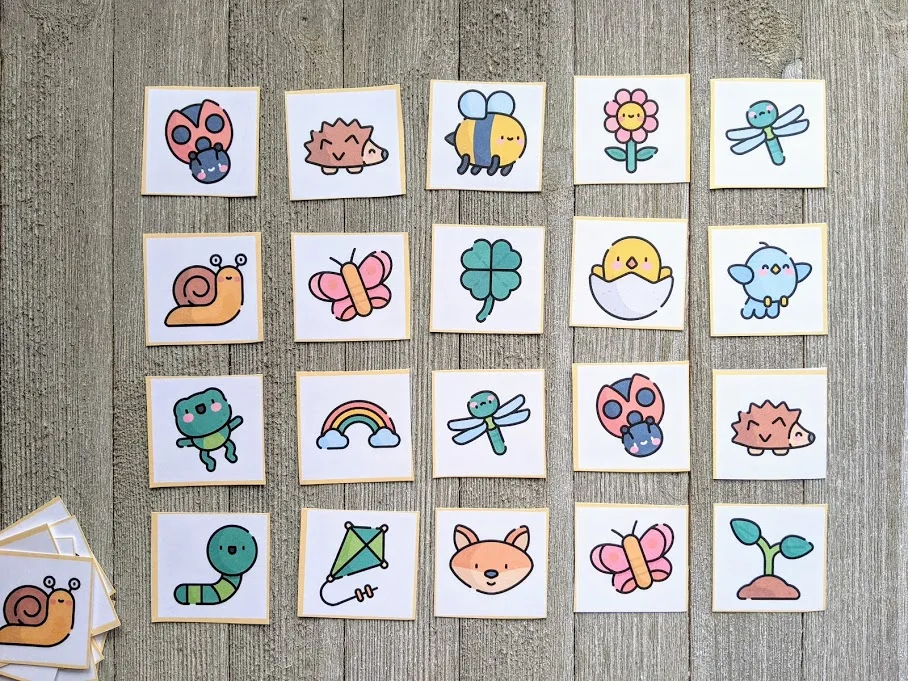 For younger kids, you can start playing with all of the cards laid out picture side up in a 4×5 rectangle. Have them focus on finding matching pairs.
For older kids, place all of the cards face down in a large rectangle. Take turns flipping over two cards. If those cards match, remove them and flip over two more. If they are not a matching pair, flip them back over and try to remember them.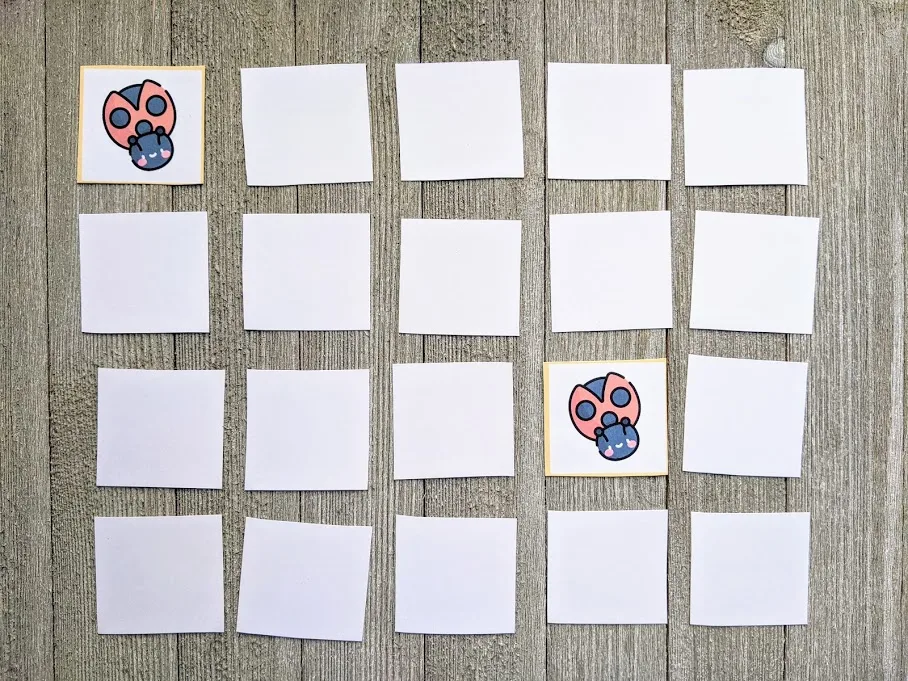 You can also choose to leave cards face up if they are not a match and your child is still learning how to play the memory game.
There are other creative ways you may decide to use this game as well. For example, you could write the name of the object on the back of one of the matching pairs and have kids find the matching picture.
Get the Spring Matching Game Printable
Fill out the form below for free instant access to our printable library if you do not currently have access to it. Spring Matching Printable Game is File 144.
More Spring Activities for Kids: