Keep your kids from bouncing off the walls and maintain your sanity by getting ready with these spring break activities!
I can hardly believe it's almost time for spring break.
It feels like winter just barely ended here in Wisconsin.
I'm so glad the snow is finally melted and there is sunshine nearly every day, but I know spring break means summer break is right around the corner.
Do you usually go on vacation for spring break? We aren't traveling anywhere this year, but may fit in a few day trips.
Whether you are enjoying a vacation, staycation, or just hanging out at home, use these ideas to keep spring break activities fun for you and your kids.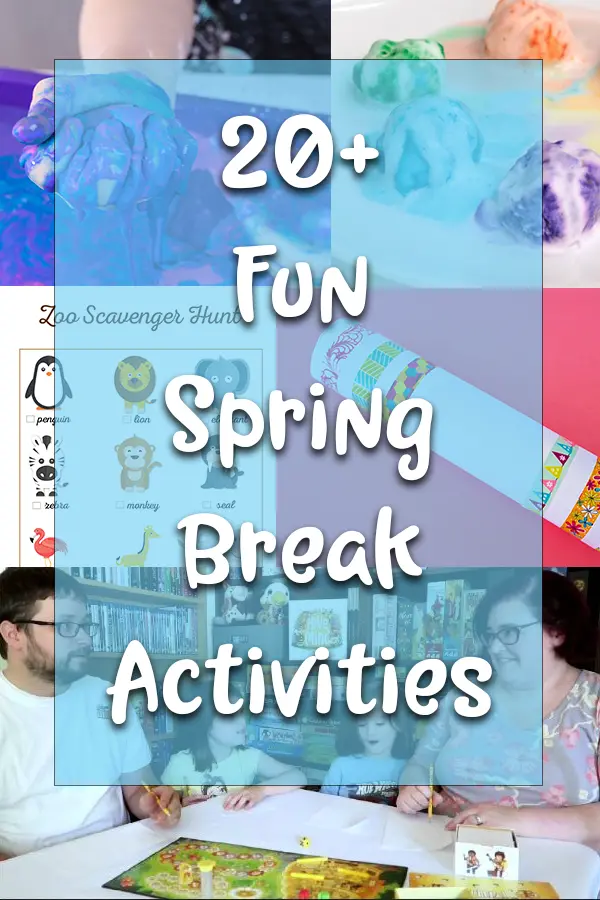 20 Spring Break Activity Ideas for Kids
I love my kids, but they can drive me crazy during school breaks.
They get used to the routine throughout the school day and I get used to my daily routine while they are gone.
And, of course, being siblings they have the ability to drive each other crazy with so much togetherness.
These are some ideas I use to make the break enjoyable for all of us and help my kids stay busy while I get stuff done too.
Go to the park
Go to the zoo (use this printable zoo scavenger hunt)
Plan a family movie night
Play board games! Here are several FUN games that you can play in 20 mins or less with your kids. (No Candy Land or Monopoly on this list). Here are a few board game options if your kids are feeling stir crazy.
Plan a themed family game night and play Disney charades or superhero pictionary.
Ride a bike or scooter
Go for a walk
Do science experiments like melting rainbows or candy science.
Play with slime
Start an indoor garden
Play video games together
Camp out in the living room
Paint kindness rocks and hide them around town
Do crafts like making soda bottle blossoms or a kaleidoscope.
Do printable activities (word searches, mazes, coloring, etc). I recently created the Extraordinary Adventure Printable Activity Book on my other site.
Go to the library
Pick a chapter book to read aloud together
Have a LEGO building competition
Go to the museum
I hope these ideas help you maintain your sanity or inspire you to think of other ideas on how to keep your kids busy during spring break.