This printable secret message from Santa is a fun arrival letter to use with your scout elf on the shelf.
If your family doesn't have an elf, it can also be sent straight from Santa to your child. It's a decoding puzzle your child will enjoy figuring out!
Interested in more Christmas printables? Check out our Christmas scavenger hunt printable clues.
This post contains affiliate links. As an Amazon Associate and a participant in other affiliate programs, we earn a commission on qualifying purchases.
Elf Arrival Idea with Secret Message Printable
Having an Elf on the Shelf or another kind of scout elf has become a family holiday tradition for many families at Christmastime.
Some families prefer having Kindness elves, Santa's lazy gnomes or even a Hide and Hug Olaf hanging out in their homes.
If your elf only visits during the holidays, then you may be looking for interesting elf arrival ideas. Some elves pull pranks on their first day, while others bring arrival letters. Another idea is to print out these elf puns, jokes & riddles to hide with your elf.
My kids enjoy decoder puzzles, so I thought it would be fun to give them one from Santa. This free printable secret message is a super easy arrival letter to use with your elf!
When Does the Elf on the Shelf Arrive?
If this is your elf's first year visiting, they can arrive anytime throughout the holidays. Bringing a letter from the North Pole is an excellent way to introduce themselves too.
Most scouting elves return to their families between November 23rd and December 1st. To make it easier to remember, a lot of families (myself included) plan for the elf's return on December 1st.
Then they hang out in your family's home, often getting into a bit of silly, harmless mischief, until they return to the North Pole on Christmas Eve with Santa.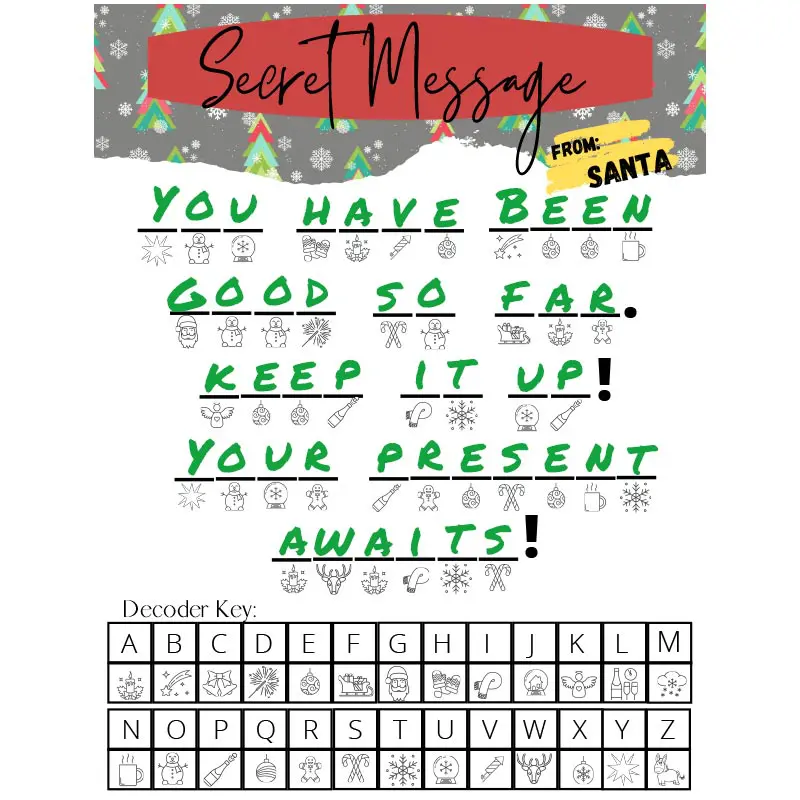 How to Use Printable Secret Code Message
This printable secret message letter is perfect for your elf on the shelf to have when arriving. You can fold it for them to hold or have them sit or lay down next to it.
If your elf has already returned to your home, then it can place this secret message printable anytime before Christmas.
If you do not have an elf, you can pretend Santa sent it to your child after receiving their Christmas wish list.
Or, you can simply use this decoder puzzle from Santa as a fun Christmas activity!
You will need to download this free printable secret Santa message using the button below. It is for your personal use and personal classroom use only. Just save and print it out at home.
More Christmas Ideas for Kids: