Looking for fun Christmas activities for kids? Kids can create their own magical story with this printable Christmas pop up book.
Making a custom pop up book encourages creativity, storytelling, and writing practice. It's perfect for children to work on at home or at school.
Children can illustrate their story as well as add in the pop up holiday scenes. It can be a book describing their Christmas morning or be a fictional story.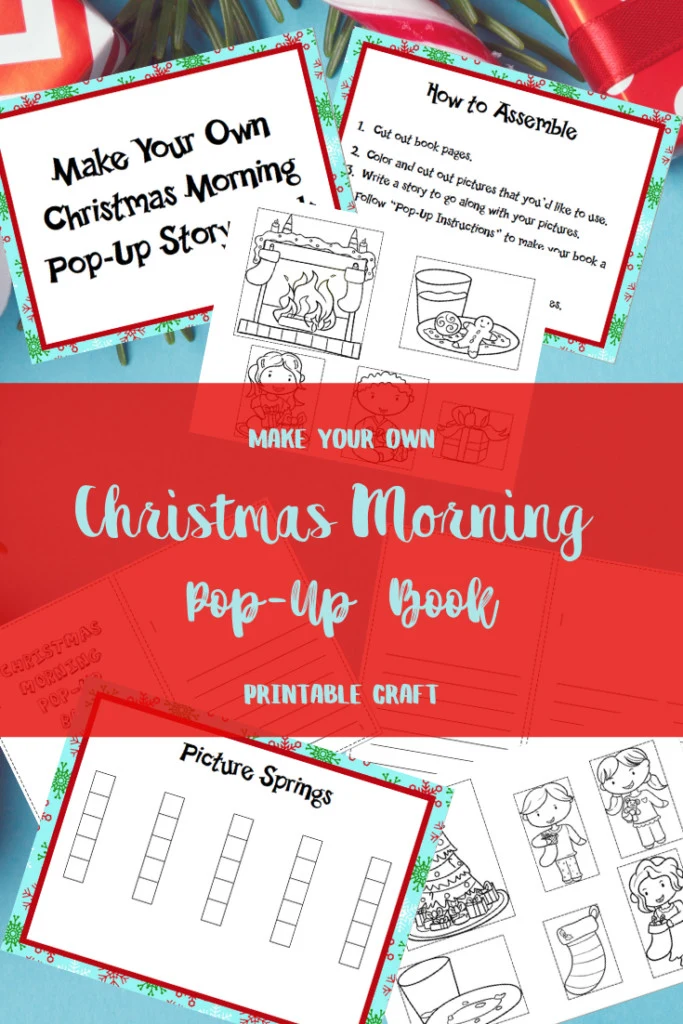 DIY Pop Up Christmas Story Book
The Christmas pop up book printable template includes book pages and a variety of pictures to color and make pop out with paper springs.
The images include a Christmas tree, presents, a fireplace, as well as different children.
It's a great story writing activity for upper elementary students (3rd grade and up), but younger students will also enjoy working on it.
Make it a fun family activity with your child's illustrations and coloring the pop up pictures while you write out the words.
If you enjoy this writing activity, check out our DIY Ocean Animals Pop Up Book. Make this project part of an afternoon of reading Christmas books!
How to Make a Christmas Pop Up Book
This homemade pop up book template can be printed out at home or you can use a printing service.
It's available for your personal or classroom use only and can be used as many times as you'd like.
Cut out the book pages (grab your printable below).
This pack includes a cover and five pages to write your story on. If you need more pages, you can print as many as you need.
Cut out the pictures you need.
Write your story on the lined pages.
Illustrate your story and color the pictures you cut out.
To make your book a pop-up book, use two strips of card stock paper to fold back and forth across each other to create a spring.
Tape or glue one end of the spring to a picture and the other end to the book page.
Assemble pages and staple along staple lines.
Share this post with someone else who would love to use these printables with their children or students so they can download their own set!

More Christmas Printables: