This easy butterfly life cycle sensory bin is an excellent option when you need rainy day activities for kids.
It's a fun way for children to explore and learn about the life cycle of butterflies. We'll show you items you can include in your sensory bin as well as additional activities kids will love.
Sensory bins are such a fun way to engage preschool and kindergarten children in learning. It is a great way for kids to visualize the butterfly life cycle too.
More Sensory Play Ideas
This post contains affiliate links. As an Amazon Associate and a participant in other affiliate programs, we earn a commission on qualifying purchases.
Butterfly Life Cycle Sensory Bin Supplies
To put together a sensory bin, you will need a variety of items that fit within the theme. Items should have different textures, colors, and sizes – things that will delight the senses as kids look and play with the objects.
Children learn a lot through hands-on exploration, which is why sensory bins are so enticing. They can't resist touching the items inside!
You will need a bin to put everything in. Things to consider when choosing a sensory bin container:
Pretty much any type of box or plastic bin works for sensory play, but some options will be better depending on the contents of the sensory activity.
For example, if any of the sensory items are liquidy or wet, you would stick to plastic bins with higher sides to help prevent spills and leaks.
Planning to reuse the sensory bin and its contents? We recommend selecting storage bins like these. They are stackable containers that come with a lid in order for easy storage.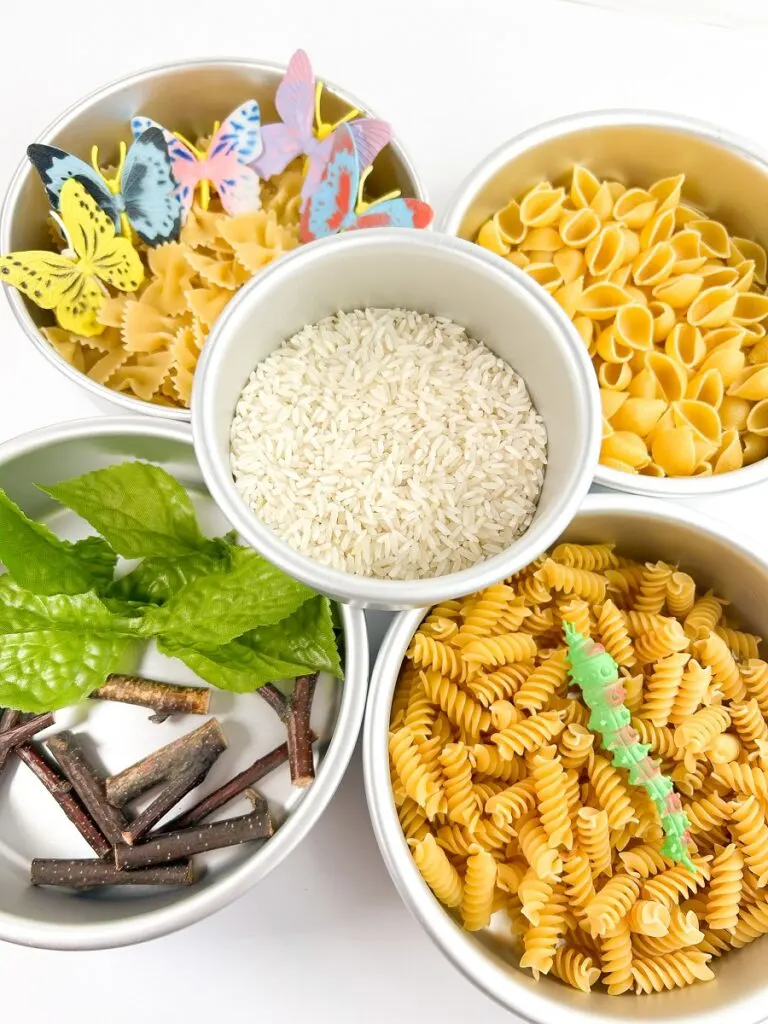 If you don't want to set up an entire bin, you could put together a sensory jar, sensory bottle, or sensory bag instead.
Here are items you can include to represent the life cycle of a butterfly:
How to Make a Butterfly Life Cycle Themed Sensory Bin
Gather everything you've chosen for this themed sensory bin. Start by adding uncooked white rice and pasta to the bin. You'll want at least a handful or two of each, but ideally they will cover the bottom.
The rice will represent the egg stage of the life cycle. Rotini (caterpillars), shells (chrysalis), and farfalle (butterflies) will represent the other stages.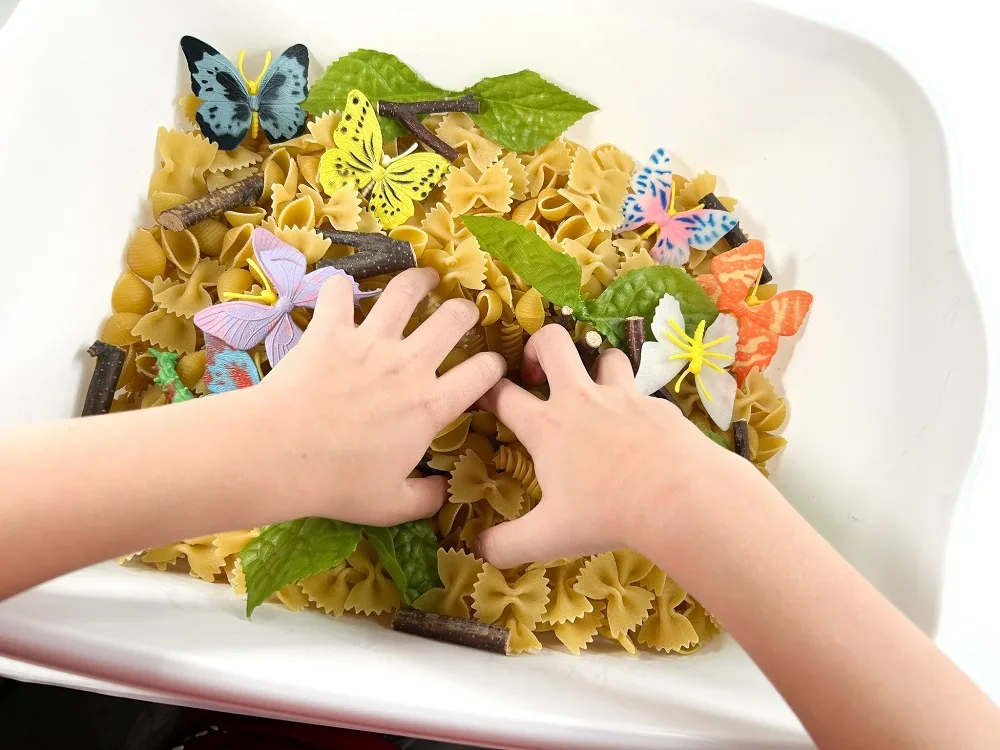 Next add the caterpillar and butterfly toys, faux leaves, and small sticks on top of the rice and pasta.
Finally, provide kids with an invitation to play. You can ask them to come take a look or leave it out on the table where it will pique their curiosity.
While they play in it, you can discuss the different life stages and use items in the bin to demonstrate. Then you can ask your child to show you what each stage looks like.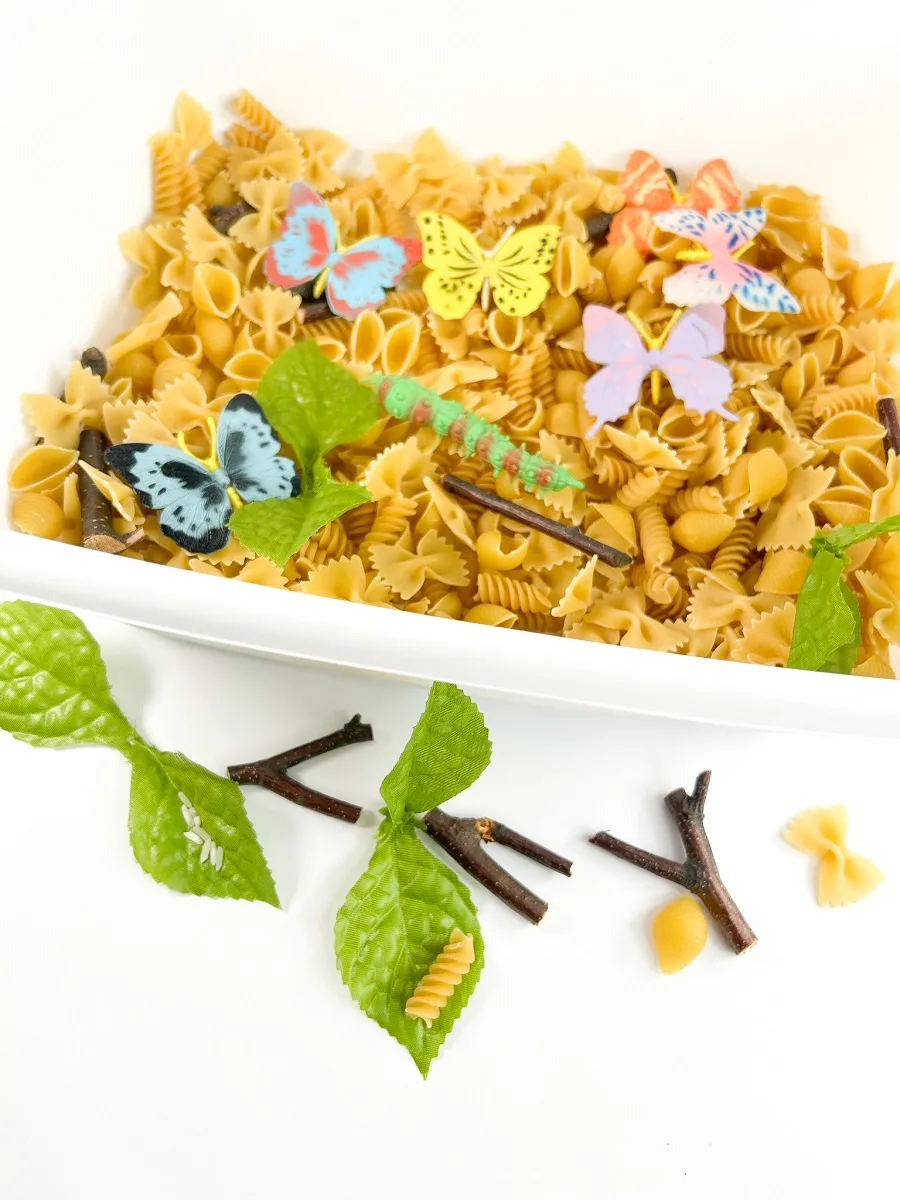 To further enhance sensory play, you can dye the dry pasta different colors as well as add in fuzzy pom poms, faux flowers, and various sensory scoopers.
Butterfly Activities for Kids
You can introduce the butterfly sensory bin before or after learning about their life cycle to help reinforce what they are learning.
Play helps create connections and offering a variety of activities, such as crafts, toys, and books, keeps learning fun.
Butterfly Books
The Little Butterfly That Could – This little butterfly isn't sure how they are going to fly so far away. It's an amusing and encouraging story about facing challenges and butterfly migration.
Ten Magic Butterflies – Love that there is a math lesson within this story! Kids will learn different ways to group numbers in order to make ten.
My, Oh My–A Butterfly!: All About Butterflies – Learn interesting facts, the life cycle, and information about how monarchs migrate.
Butterflies for Kids (A Junior Scientist's Guide) – Learn about the complete life cycle of a butterfly, stats, facts, and information about 32 different butterflies.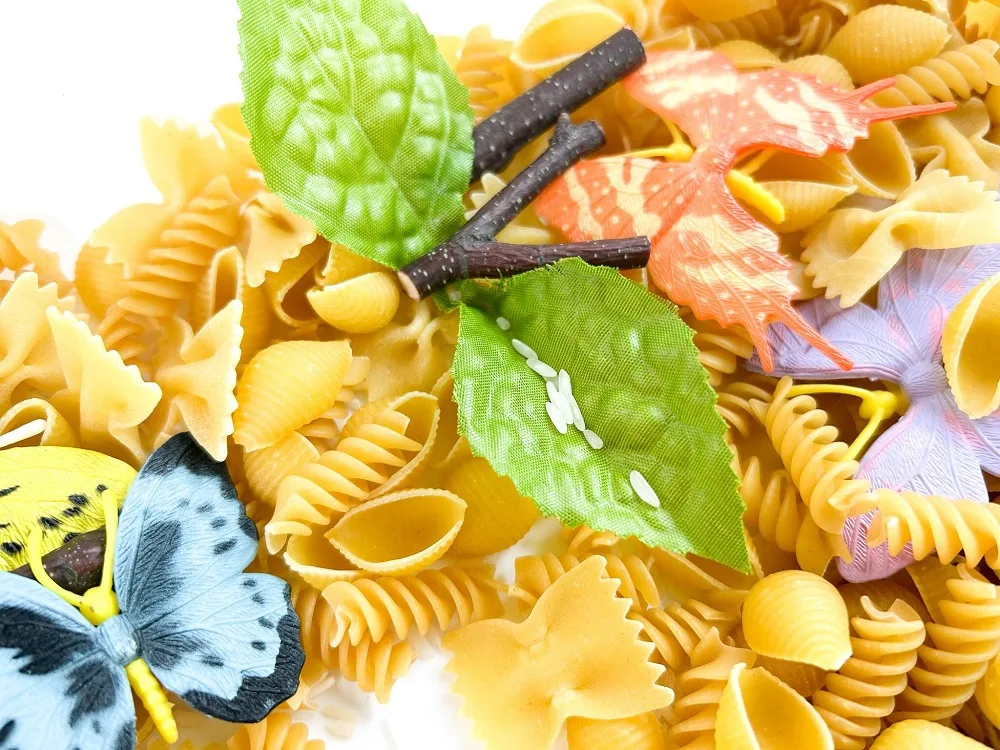 Butterfly Toys
Butterfly Color Sorting Set – This set of butterfly math manipulatives are a fun way for toddlers and preschoolers to practice counting, color matching and sorting.
If your child is a fan of The Very Hungry Caterpillar book by Eric Carle, then they will love this caterpillar to butterfly reversible plush toy. They can transform the caterpillar into a butterfly and vice versa.
These realistic looking butterfly life cycle figurines can be used in the sensory bin too or as models to look at while working on a butterfly unit study.
More Insect Life Cycle Activities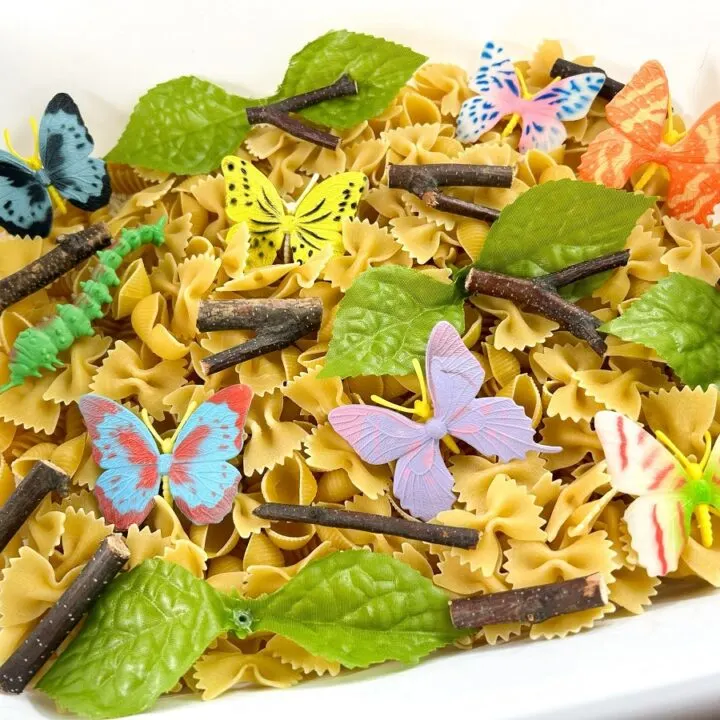 Butterfly Life Cycle Sensory Bin
Estimated Cost:
$20 or less
Provide fun and easy hands-on learning with this butterfly life cycle sensory bin for kids.
Materials
Bin
White rice
Rotini pasta
Shells pasta
Farfalle (Bow tie) pasta
Butterfly toys
Caterpillar toys
Fake leaves
Small sticks
Instructions
Put rice and dry pasta shapes in the sensory bin.
Add butterfly toys and caterpillar toys.
Add fake leaves and small sticks.
Invite children to play!