These ladybug life cycle printable activities are designed to familiarize young children with the life cycle stages of ladybugs.
The beauty of these worksheets is that they are adaptable for a wide variety of ages and speak to various learning styles.
Whether your child enjoys writing or counting, drawing or cutting and pasting, they're perfect for a variety of learners.
Include a fun art activity with your child with this ladybug coffee filter craft.
To further extend the learning, consider incorporating this activity into an insect unit study. This butterfly life cycle printable is also ideal for young learners as is our praying mantis lapbook.
This post contains affiliate links. As an Amazon Associate and a participant in other affiliate programs, we earn a commission on qualifying purchases.
Life Cycle of a Ladybug Worksheets
Our ladybug life cycle printable packet includes four worksheets. These worksheets are available in our free printables library (file 128). Fill out the form at the bottom of this post to receive the password if you do not already have access.
In the first worksheet, your child will fill in the missing letters of each stage.
They will then use those terms on the second worksheet to fill in the word that correlates to each particular stage in the proper order.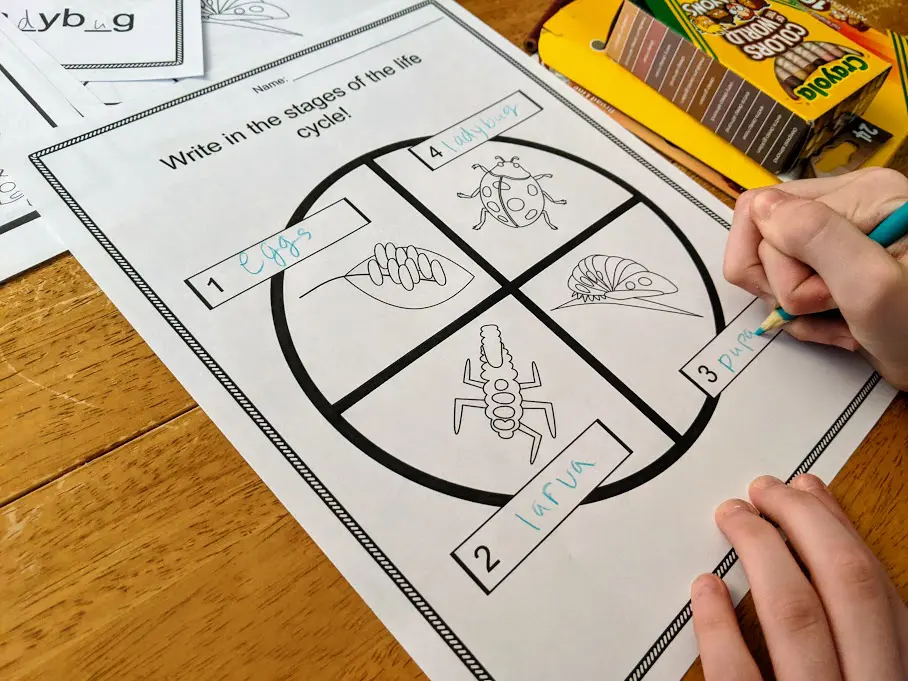 The next worksheet is a cut and paste activity. Young learners cut the stage out and glue it in the correct order.
Finally, rounding out the ladybug life cycle ladybug worksheets is a coloring page and printable counting cards to four; representing each stage of the life cycle.
Ladybug Life Cycle Stages
If you're looking for a short and sweet condensed version of the ladybug life cycle to share with your children, the following summary will give you just enough information needed to facilitate the learning.
You can then easily supplement the lesson with our ladybug life cycle printable worksheets, books, and other hands-on activities.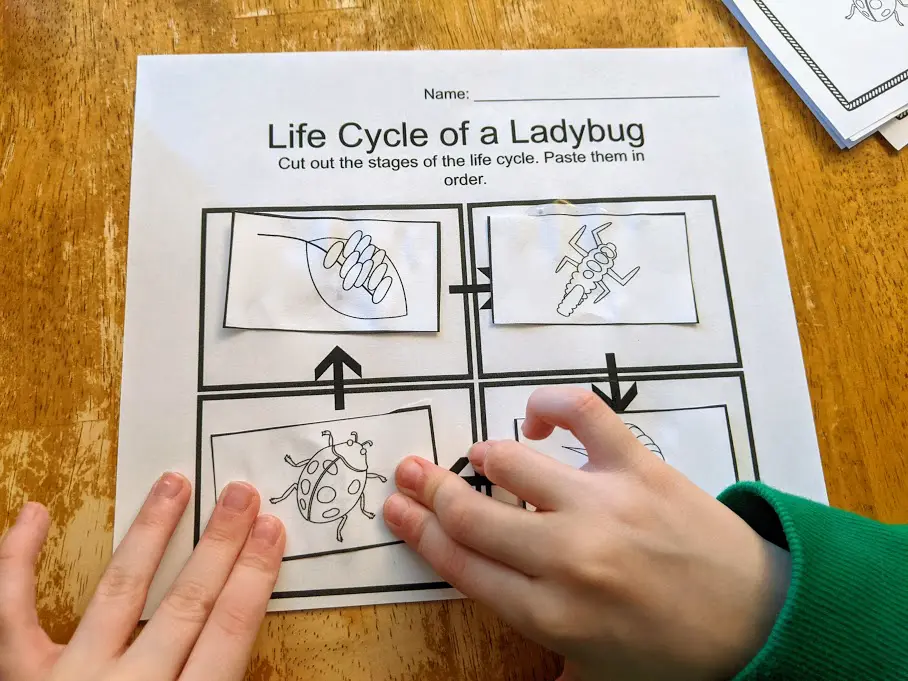 A female ladybug lays between five to 30 eggs at one time on a plant leaf. The ladybug chooses a plant that is home to aphids, which will become food for the larva once it hatches.
Within about ten days, the larvae will hatch from the egg and eat continuously; approximately 400 aphids in a short two-week span.
Soon the larvae will attach to a leaf to prepare for metamorphosis; this is the pupal stage which lasts between one and two weeks.
So much is happening during metamorphosis and an adult ladybug emerges.
Adult ladybugs will feed on insects, hibernate during the winter and emerge again in the spring months to begin the ladybug life cycle all over again.
Additional Ladybug Life Cycle Resources for Kids
The fun doesn't have to stop there! There are several other ways to make learning about ladybugs and the ladybug life cycle fun for your kids.
Whether you choose to make the ladybug theme a quick one-day activity or wish to extend the learning over a few days or weeks, the ladybug life cycle worksheets are fully customizable and you can use them in whichever way works best for you and your child.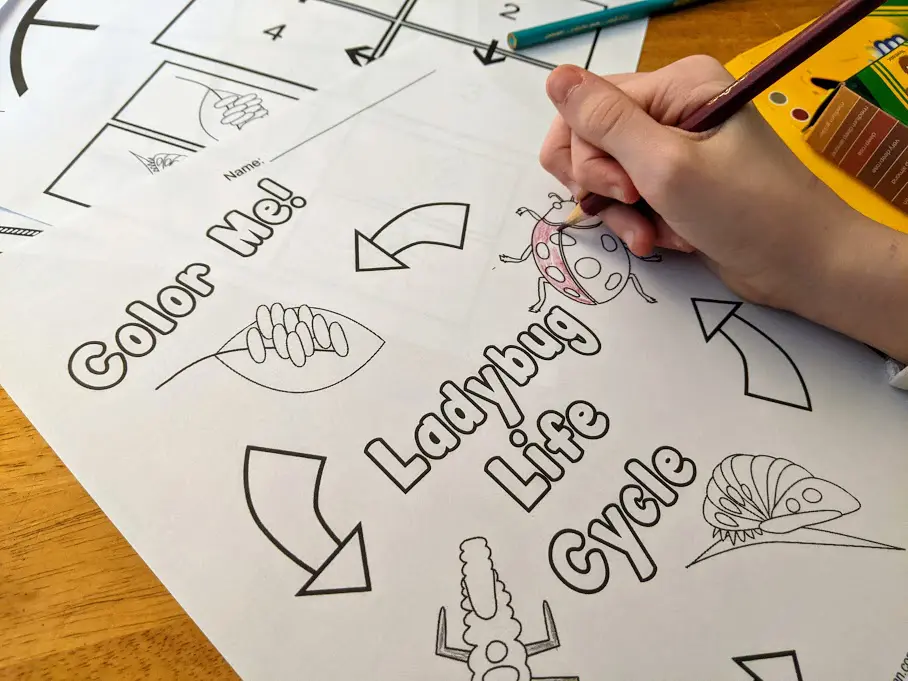 Books About Ladybugs
A Ladybug's Life by John Himmelmann is geared for ages 5 through 7 and depicts beautiful watercolor illustrations, the ladybug activities, habitat, and life cycle.
Forever a classic, The Grouchy Ladybug by Eric Carle is a fun way to introduce telling time to young children and of course, the familiar, beautiful illustrations will be treasured for years to come.
Extend the lesson with these science readers from Scholastic Science Vocabulary Readers. The insect set includes life cycle vocabulary books for butterflies, frogs, horses, sunflowers, chicks, and ladybugs.
Ladybug Lifecycle Games and Activities
The Ladybug Land Growing Kit is suitable for children ages 4 and up. It allows you and your child to raise your own ladybugs and features a special habitat that makes it easy to see what is happening inside, up close, and personal.
The kit does not include live ladybugs. Once purchased, you'll receive a voucher to mail off to get 10-13 ladybug larvae sent to you.
Another fun way to learn about ladybugs and other insects and life forms is through poetry. Consider incorporating a poetry tea time into your days.
Poetry tea time is simply a fun way to enjoy poetry with your children while enjoying your favorite treats and beverages.
The Random House Book of Poetry for Children features poems about ladybugs and hundreds of other fun topics. It's a great resource for kicking off poetry tea time festivities in your home.
Finally, incorporate tangible figurines into your lesson with these plastic life cycle bug figures. This set includes life cycle figurines for ladybugs, honey bees, flies, and bees.
If you'd rather keep it budget-friendly, make your own ladybug life cycle figures with polymer clay or playdoh using the ladybug life cycle worksheets as a guide.
Teaching life science in the early years, especially life cycles of familiar insects and animals is a great way to foster a love of science in young learners.
These lessons help children make connections to the world around them.
It also allows you to begin expanding on things they already know. can encourage children to want to learn more and keeps them engaged in the lesson at hand.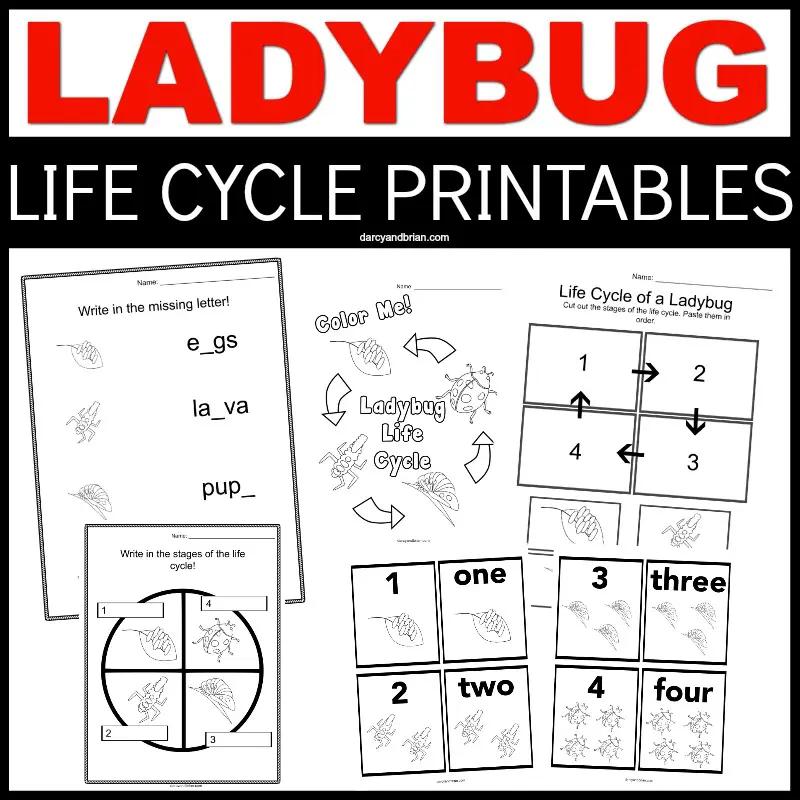 Get our Free Ladybug Life Cycle Printables
More Science Activities for Kids