This butterfly life cycle addition ten frame printable worksheet is perfect for kindergarten math.
Learning with ten frames is also part of preschool and first grade math. Use this worksheet for a no-prep math center activity or for morning work at home or in the classroom.
It is a great companion to our butterfly life cycle activity. Then continue the butterfly learning theme with our colorful coffee filter butterfly craft.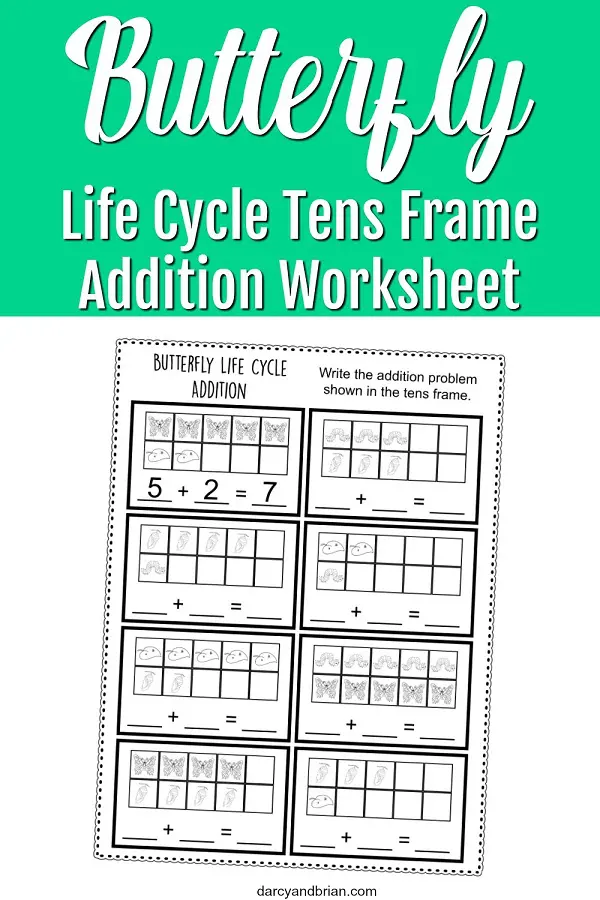 This post contains affiliate links. As an Amazon Associate and a participant in other affiliate programs, we earn a commission on qualifying purchases.
Butterfly Life Cycle Ten Frame Addition Printable
Kids learn through repetition and continuously practicing skills, but changing the themes can keep learning activities fresh.
Butterflies work well for incorporating into spring units.
Use this butterfly ten frame to take number recognition a step further by adding single digits together with sums less than 10.
How to Use 10 Frames Math Worksheets
Using tens frames is a great way to help children develop strong number sense.
Ten frames teach early math learners to subitize (recognizing the number of items in a group without counting them individually).
It also gives kids a way to visualize numbers and work with them rather than simply memorizing.
Each tens frame in this activity uses two different pictures to represent two different numbers. This creates a visual addition equation.
Children will also practice writing out the numbers represented by the pictures in the equation along with the answer.
Free Printable Butterfly Life Cycle Ten Frame Worksheet
Download and save the printable butterfly ten frame addition worksheet for your personal use at home or for your personal classroom only.
You can print it out on regular printer paper as many times as you need. You may also laminate the page or put it inside a dry erase page protector to use with dry erase markers.

More Math Activities for Kids: