Are your kids curious about animals and nature? We have just the thing for them! Our free printable Animal Scavenger Hunt game is the perfect fit for an exciting and educational adventure.
It's designed to keep your little ones engaged while they learn about the wide range of animals right in their backyard or nearby reserves. And that's not all! We have a whole collection of printable games for kids to turn their playtime into a fun learning experience.
Ready to play? Download our Animal Scavenger Hunt today using the form at the end of this post and start your adventure! It's educational and fun for kids of all ages.
Introducing our Animal Scavenger Hunt as a group activity is not just entertaining, but also a wonderful way to foster teamwork among kids. Whether it's homeschooling families or classroom students, this game is an excellent tool for interactive learning.
The beauty of our Animal Scavenger Hunt is its versatility. With three diverse pages, it caters to a wide range of age groups. Preschoolers can delight in the visual hunt, identifying and checking off animals they recognize, while older children can engage with the A to Z animal hunt and clue-based tasks.
This ensures that everyone, regardless of age, gets to participate and learn. Truly, this scavenger hunt is more than a game—it's an adventure filled with fun and knowledge!
More Educational Printables for Kids
If you loved our Animal Scavenger Hunt, you're in for a treat! We have an array of other educational printables that are sure to keep your children engaged while boosting their knowledge. Here are a few of our favorites:
Free printable available at the end of this post.
What's a Scavenger Hunt?
A scavenger hunt, also known as a treasure hunt, is an exhilarating game where participants seek to gather a list of specified items, or complete certain tasks, within a given time limit. This game is a thrilling mix of problem-solving and adventure, as it encourages exploration, observation, and critical thinking.
While some scavenger hunts involve finding and checking off items on a list, other treasure hunts have players follow a series of clues or hints leading them from one item or task to the next. These variations making it not just a fun activity, but a fantastic educational tool as well.
Benefits of Scavenger Hunts for Kids
Scavenger hunts hold immense benefits for children's development and education. They stimulate a child's natural curiosity, encouraging them to observe their surroundings carefully and absorb details they may have otherwise overlooked.
As children search for items or answers, they refine their problem-solving and critical thinking skills, learning to think creatively and independently. Scavenger hunts also help improve children's literacy and comprehension, especially when they involve reading clues or writing down animal names.
In a broader sense, these games can promote teamwork, foster a healthy competitive spirit, and instill a sense of achievement when children find the items or solve the clues. All these benefits combined make scavenger hunts an engaging and effective tool in a child's learning journey.
Moreover, scavenger hunts are a fantastic screen-free activity. In an increasingly digital age, it's important to provide children with engaging alternatives to electronics while learning how to balance their usage.
They are a brilliant way to combine play, learning, and physical activity — all while cutting down on screen time. This adds another layer to their educational value and fostering a greater appreciation for the outdoors.
What's Included in the Animal Scavenger Hunt
Let's explore the three pages of our Animal Scavenger Hunt printable game:
Visual scavenger hunt – a picture and name for each of the 16 animals to be found, examples include raccoon, squirrel, frog, duck, horse, rabbit.
A to Z animal scavenger hunt – writing an animal for each letter of the alphabet
Clues page – there are 10 one sentence hints and children write an animal that fits the clue, such as "find an animal that lays eggs."
How to Play Animal Scavenger Hunt
Playing the Animal Scavenger Hunt is both easy and fun. For the visual scavenger hunt, children are set the task of spotting the 16 animals illustrated on the page, which might be found in a backyard, on a hike, at a nature reserve, or on a farm. Each time they spot an animal, they should check the box provided.
The A to Z game encourages children to write down the name of an animal for each letter of the alphabet, promoting literacy skills. The clues page provides an extra challenge, with children given one sentence hints, like "find an animal that lives in a tree," and they need to write down an animal that fits the clue.
This post contains affiliate links. As an Amazon Associate and a participant in other affiliate programs, we earn a commission on qualifying purchases.
In all three games, children are actively engaging with the world around them, learning, and having fun at the same time. Playing this scavenger hunt doesn't require a lot of materials, but it can be helpful to have clipboards and some little prizes.
Set of 6-12.5 x 9 Inch Multi Color Plastic Clipboards 6 Pack
828pcs Party Favors for Kids
72 Pcs Kawaii Squishies
60Pcs Animal Erasers
Ways to Use the Animal Scavenger Hunt Worksheets
The Animal Scavenger Hunt worksheets can be utilized in a myriad of ways to add value to children's educational and social development:
Family Activity: Turn a weekend or vacation into a thrilling learning adventure by bringing along these worksheets. Be it your backyard, a local park, or a family trip to the farm, these sheets will add an exciting twist to your family outings.
Homeschool Unit Study: Incorporate these worksheets into a homeschool unit study about animals. Kids can research animals from reference books or the internet to find answers, encouraging independent study and research skills.
Classroom Activity: Teachers can use these worksheets to add interactive fun to their lesson plans. These could serve as a great precursor to a new lesson about animals, or a fun recap after the lesson.
Field Trips: These worksheets can be an excellent companion on homeschool or school field trips to zoos, farms, or nature reserves, making the outing more interactive and educational. We also have an easy zoo scavenger hunt and a simple farm scavenger hunt.
Reference Book Look-up Game: Turn finding animals into a fun look-up game. Provide children with a couple of reference books about animals. For the A-Z game, they can look for animals starting with a specific letter. For the clue game, they can find the animal that meets the hint. This enhances their independent research skills while making learning fun.
Whatever the context, these worksheets are sure to provide an engaging and educational experience, fostering a love for nature and wildlife in children.
Books About Wildlife Animals
Exploring the world of animals is an adventure that can be made even more enriching with the right books. We received a copy of the National Geographic Kids Almanac 2024, which was one of the places the kids could look up animal facts and information.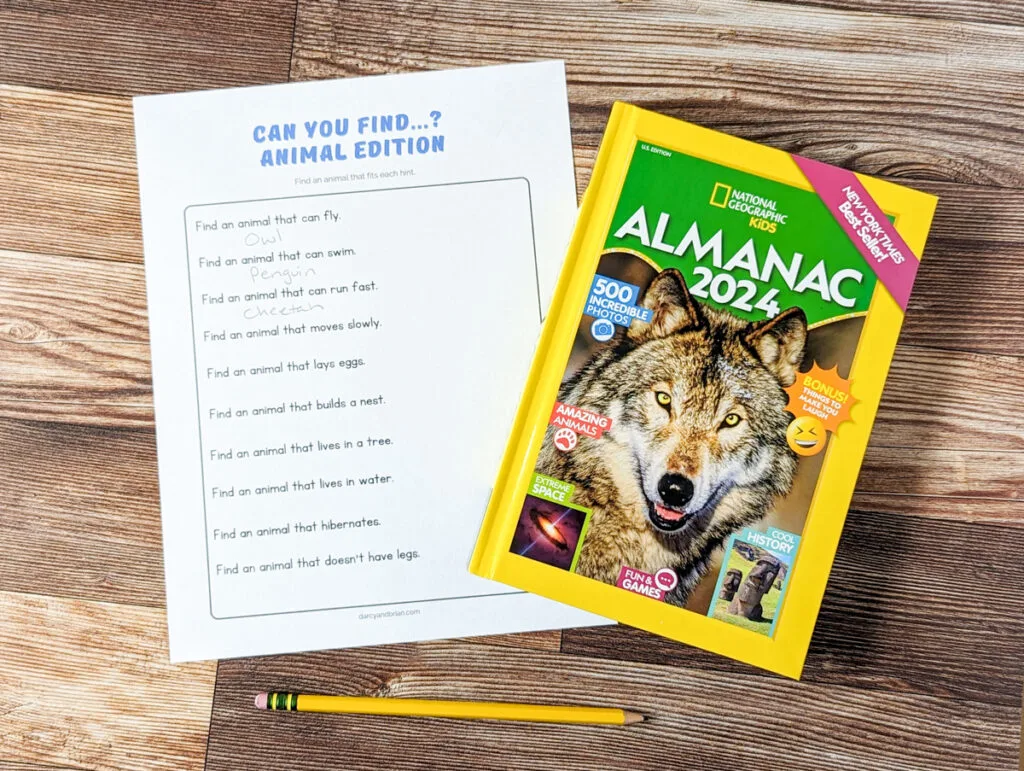 We've also compiled a list of both fiction and non-fiction wildlife books that will captivate your child's interest and expand their knowledge about the animal kingdom.
Discovering the World of Nature Along the Riverbank (Happy Fox Books) Exciting Board Book for Kids Ages 2 to 5 to Learn About Animals Living In, Near, or Under the Water, plus Fun & Educational Facts
Weird But True Animals
The Hike: (Nature Book for Kids, Outdoors-Themed Picture Book for Preschoolers and Kindergarteners)
The Fascinating Animal Book for Kids: 500 Wild Facts! (Fascinating Facts)
Backpack Explorer: On the Nature Trail: What Will You Find?
The Backyard Bug Book for Kids: Storybook, Insect Facts, and Activities (Let's Learn About Bugs and Animals)
From beautifully illustrated picture books to fascinating factual guides, each book is a treasure trove of intriguing information and delightful stories about wildlife. Engage your child's curiosity and nurture their love for nature with these educational and entertaining reads.
Additional Wildlife Animal Activities
Expanding on the fun and learning doesn't have to stop at the pages of our worksheets or books. Dive deeper into the fascinating world of wildlife with the additional activities listed below.
Each activity is designed to be interactive, engaging, and educational – serving as an extension of the knowledge gained from the worksheets and reading materials.
These activities will not only foster a deeper understanding of wildlife, but also instill in children a profound love and respect for the natural world.
Storytelling Assignment
Encourage children to write a short story or draw a comic strip using the animals they've found during their scavenger hunt. They may even enjoy using our ocean DIY popup book printable for their story.
This activity can stimulate their creativity while helping them learn more about the behaviors, habitats, and characteristics of different wildlife animals.
Create a Wildlife Journal
Kids can document their findings in a wildlife journal. They can sketch the animals they spot, write down interesting facts about them, and note their observations.
This journal can serve as a keepsake and a tool for future learning. Learn more about how to start a nature journal from my friend Megan at Education Possible.
Presentation Time
Turn the scavenger hunt into a presentation project. Each child can present one or two animals they've found, sharing facts, their personal observations, and why they found that animal interesting.
Our shark research worksheets can help them organize their research if they chose to study this fascinating animal. Presenting their research can boost their public speaking skills and deepen their understanding of wildlife.
Animal Habitat Diorama
Using materials available at home, kids can make a diorama of an animal's habitat, showcasing where it lives, what it eats, and how it survives. This project can provide a deeper understanding of the ecosystem and the importance of each animal in it. For younger children, we also have biomes printable coloring pages.
Cooking Activity
Parents and teachers can organize a themed cooking activity where children can create animal-shaped cookies or other recipes like these cute farm animal snacks. This fun exercise can teach kids about different animals and also encourage them to try new foods.
These activities are not only educational but also engaging, and they ensure that the learning doesn't just stop after the scavenger hunt is over.
Animal Crafts for Kids
Get ready to spark your child's creativity with some incredible animal crafts! These fun and easy projects will not only keep the little ones entertained, but also provide a fantastic way to learn about different animals.
In conclusion, engaging the kids with the natural world around them can be an exciting and educational journey. Our creative, hands-on activities like the animal scavenger hunt, the animal research project, and the fun animal crafts, are designed to foster curiosity and make learning about animals an entertaining experience.
Whether it's a day at the farm, a hiking trip, or just exploring the backyard, we hope these activities provide your children with a deeper appreciation for the animals around us. Remember, education can be as much about having fun as it is about learning!