Learning letters is an important skill for any young kid, but some kids prefer more hands-on activities. For kids who love sensory and kinetic input during their education, try this super-fun fishing for letters magnetic sensory bin!
This letter activity will keep kids entertained for hours, and they will have a blast learning the names of each letter and the sounds they make all at the same time.
Fishing for Letters Magnetic Sensory Bin
This post contains affiliate links.
This fun sensory bin is a blast for kids and teaches them the basics of letter names and sounds all at the same time. Don't be surprised if your kids ask to go fishing over and over!
Please note: Children should be supervised throughout this activity.
Materials:
Directions:
Before letting your kids play with this activity, a little set up is required. If you have a magnetic wand, simply wrap the pipe cleaner around it to make a fishing rod. If you don't happen to have a magnetic wand, use these steps to make your own.
Glue a small magnet to the tip of a clothespin. Glue the pipe cleaner to the other end of the clothespin.
Glue the other end of the pipe cleaner inside the straw. The straw is the handle of the fishing rod and the clothespin is the hook.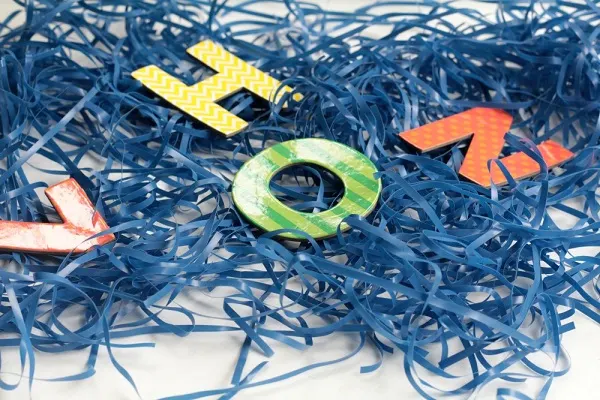 Spread out the magnetic letters and Easter grass in a plastic tray or bin. If you don't want to use Easter grass, you can try blue crinkled paper, or strips of tissue paper. Use what you have to make it look like the letters are in water for the kids to fish out!
Give the fishing rod to your child.
Ask your child to fish for letters.
Once a letter is "hooked," ask your child to make the sound that the letter makes, or the name of the letter. Older kids can still have fun with this activity by naming words that start with the letter they fished out of the Easter grass "lake."
After creating the fishing rod, this hands on learning activity is quick and simple to set up!
We love how easy it is to involve multiple kids of different ages in this fishing letters magnetic sensory bin activity. Along with letter recognition and letter sounds, this game promotes turn taking as well. This is an important social skill for little kids to practice in a fun way too.
More kids activities you may enjoy: