Looking for fun and educational printable games for kids? Animal Charades is just what you need! Our printable game cards feature a variety of different animals to act out, from pandas to dogs. Not only is this an interactive way of learning more about wildlife, but they come with blank cards so you can create your own too!
So grab your free printable at the end of this post and let imaginations run wild as everyone guesses which animal each person is acting out—hilarious moments await you! Educational yet loads of laughter guaranteed, Animal Charades will be the hit at any gathering or school day activity.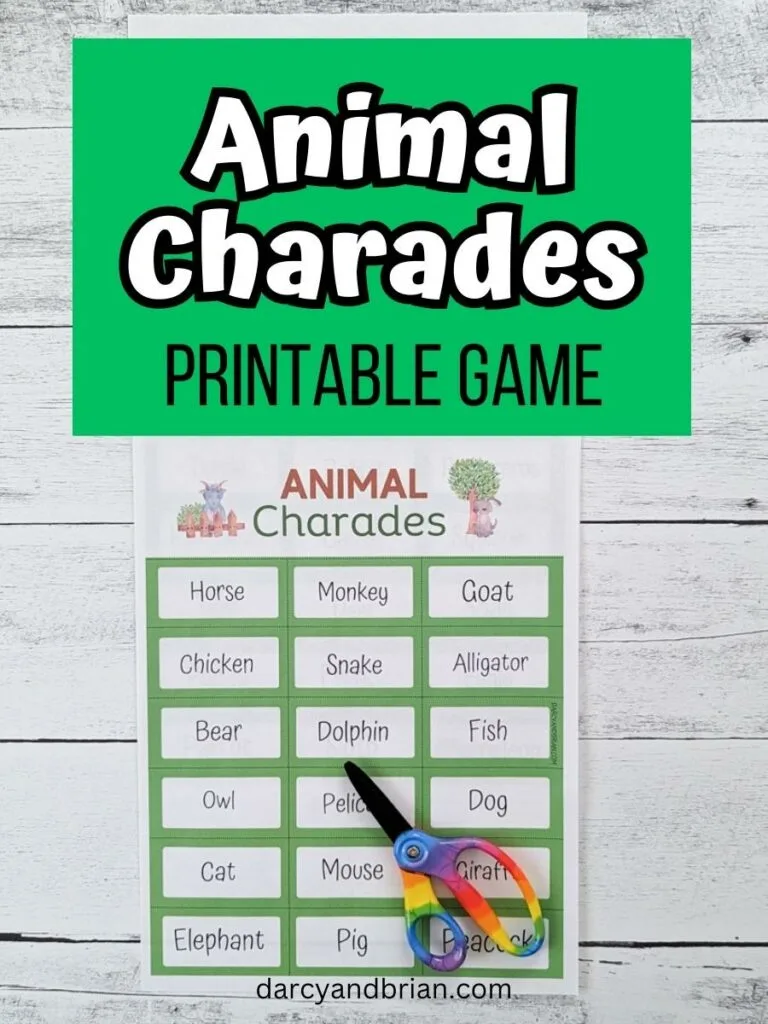 Charades is a classic game that has been around for decades, and it's just as much fun now as it was back then! It's an excellent way to encourage creativity in your kids, allowing them to express themselves without the use of words.
Plus, this printable game of Animal Charades is also great for teaching them about different animals and nature. It's the perfect screen-free activity for any occasion, so get playing!
Entertaining Games for Kids
We love to use games to get kids excited about learning. They are a fantastic way to foster creativity, develop cognitive abilities, and nurture social skills in children.
Benefits of Charades for Kids
Have you ever considered the game of charades as more than just a fun pastime? Well, believe it or not, this lively and entertaining game is packed with educational benefits for young learners.
First off, charades is a fantastic way to bolster creative problem-solving skills. It involves thinking on their feet and finding innovative ways to communicate. These quick decisions and creative solutions are the cornerstone of problem-solving.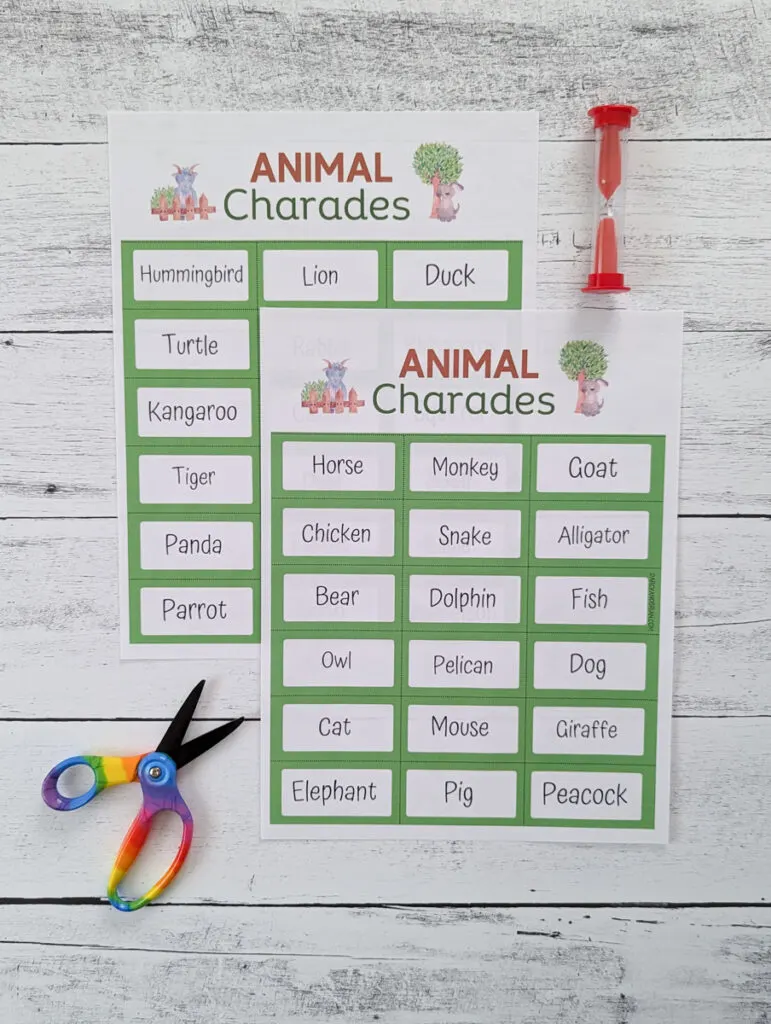 Plus, charades is a masterclass in non-verbal communication. Without uttering a single word, children learn to express complex ideas using their body language, facial expressions, and gestures. This not only enhances their understanding of non-verbal cues but also sharpens their interpretative skills – an essential aspect of effective communication.
And let's not forget about the wonderful opportunities for social interaction. Charades is all about teamwork, cooperation, and understanding others' perspectives. It helps children develop empathy as they try to comprehend the other person's point of view. Plus, it's a great way to foster a spirit of healthy competition and mutual respect among peers.
So, next time your kids are bored or you're looking for a productive classroom activity, why not suggest a round of charades? It's fun, it's engaging, and it's a stealthy way to learn.
Meet the Animal Kingdom in Charades
Animal Charades is an excellent game for kids, as it helps them to learn about animals and their attributes in a fun way. You can start by introducing the printable word cards and talking about each animal's features one by one. Then you can ask questions related to these animals such as:
What color are pandas?
How do snakes move?
Which type of animal is the fastest?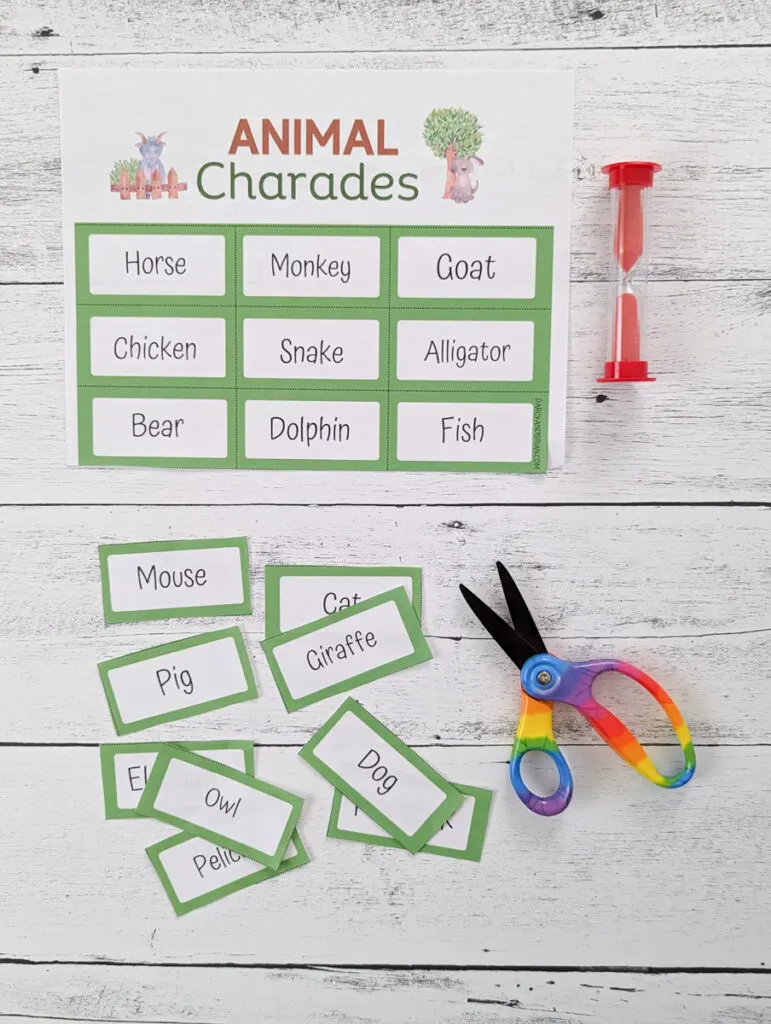 These questions will help your kids learn more about each of the animals and build their knowledge on the topic. You can spend time learning animal facts then play the game to help reinforce what they've learned in an interactive way.
This post contains affiliate links. As an Amazon Associate and a participant in other affiliate programs, we earn a commission on qualifying purchases.
Books About Animals
Books about animals are an exciting and enriching way for children to learn about the diverse species that inhabit our world. They delve into the fascinating behaviors, unique habitats, and various characteristics of animals, sparking curiosity and fostering a deep-rooted appreciation for both domesticated animals and wildlife in young minds.
National Geographic books for kids are some of our favorites. They are filled with gorgeous photos and interesting facts.
We received a few of their books for review, including Can't Get Enough Dog Stuff, which is great for kids who love dogs! The National Geographic Kids Almanac 2024 also includes lots of information about animals and nature – perfect for fact-loving kiddos.
5,000 Awesome Facts About Animals
Forest Book for Kids: We Are the Forest Animals: 24 Forest Animals Introduce Themselves and Tell About Their Life in Nature
Butt or Face?: A Hilarious Animal Guessing Game Book for Kids
Odder
These books not only serve as a gateway to the enchanting world of animals but also subtly instill valuable life lessons, making them a perfect addition to any young reader's library.
What's Included in These Printable Animal Charades Cards?
Our Animal Charades includes printable word cards with 36 different animals, including pandas, squirrels, rabbits, dogs, owls and snakes. Plus, there are blank cards where your kids can create their own unique charades from their own wacky imaginations.
How to Play Animal Charades
Animal Charades is not only an entertaining game, but also a great way to help build vocabulary in young children while they're developing their problem-solving skills. Additionally, it teaches them how to use the power of movement and language together.
To begin playing, simply print the cards out and get started. Have everyone divide into teams. Then each child will take turns acting out a word or phrase, while others eagerly guess what it could be.
Recommended Items For Playing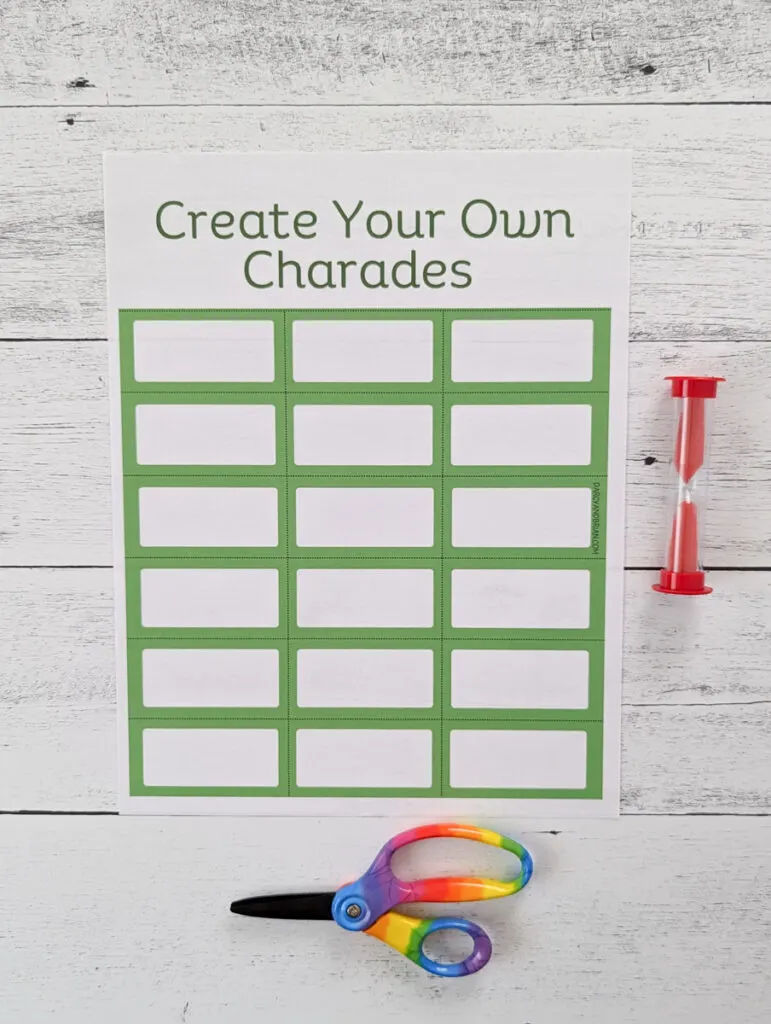 More Animal Learning Activities for Kids
Keep young learners engaged with educational activities about animals. You can use ideas to create animal unit studies in your homeschool or classroom.
Improve fine motor skills with Australian animals printable coloring pages and trace each animal name. It's relaxing and educational at the same time.
Learn about the concept of food chains with these food chain worksheets at Living Life and Learning. This teaches kids about the relationships between different animal species.
Use these biomes printable coloring pages to discuss different animal habitats. This activity can help kids understand various ecosystems and the types of animals that live in each.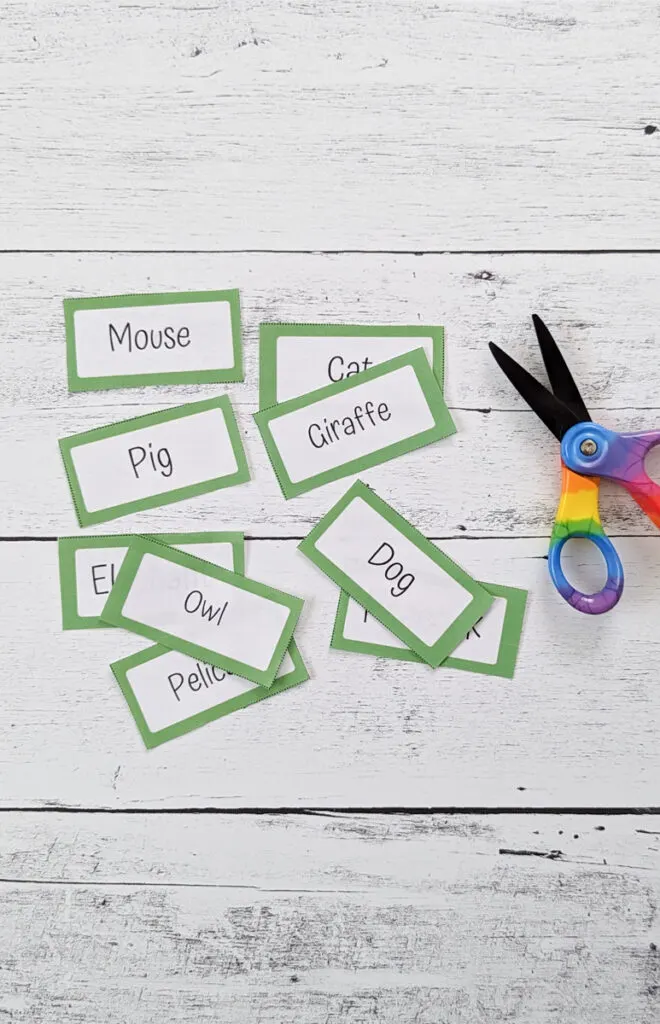 Animal Crafts for Kids
Now, let's extend the learning and fun even further with animal crafts for kids! This exciting section offers hands-on activities that not only stimulate creativity but also deepen children's understanding of the diverse animal kingdom. It's a wonderful way to supplement the interactive learning from animal charades, transforming knowledge into tangible creations.
So, there you have it – endless adventures and opportunities to learn about the animal kingdom in a fun, hands-on manner, right from the comfort of your home! Whether it's through playing charades, coloring pages, or creative crafts, these activities are designed to cater to various learning styles, ensuring everyone can participate and enjoy.
So go ahead, dive in, and let your children explore and appreciate the wonders of wildlife. Remember, every creature counts, and understanding this diversity is the first step towards fostering respect for all forms of life. Happy exploring!