If you're looking for art gifts for kids, you've come to the right place. These easy gift ideas are perfect for birthdays, holidays, or any special occasion when you want to spark joy and inspire creativity in your little artist.
Not only do these presents offer an alternative to traditional toys, but they also provide a wonderful means for children to express themselves, develop their skills, and explore the world of art.
From art supplies to sketchbooks and kits, there's something to ignite the imagination of every young artist. So let's discover the perfect gift that will make their next masterpiece possible.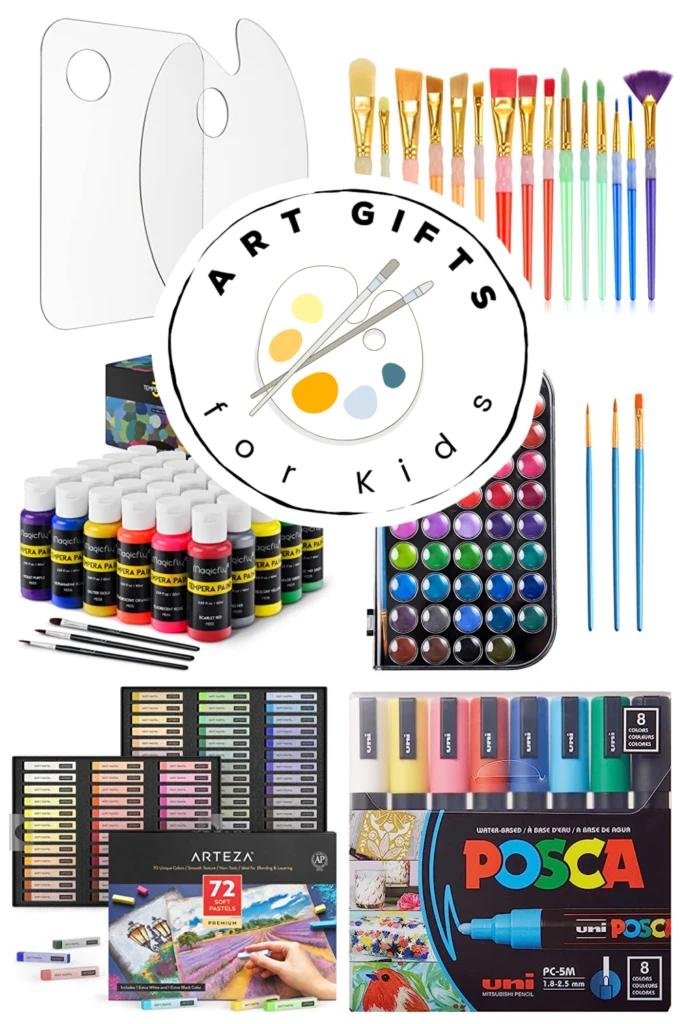 Gifts for Kids Who Love Art
If you're a parent with a budding artist at home, you know how important it is to encourage their creative spirit.
It's not always easy finding the right gift that supports their interest, especially for extended family members or grandparents looking for non-toy gift ideas.
This guide is especially for them, offering a range of art-related gift solutions to inspire and nourish your child's artistic pursuits.
Whether for Christmas, a birthday, or just because, these items are perfect for injecting excitement and wonder into their artistic journey.
Knowing your child's hobbies and interests is key to selecting the perfect present, and what could be better than a gift that allows them to explore their passion for art even further?
This post contains affiliate links. As an Amazon Associate and a participant in other affiliate programs, we earn a commission on qualifying purchases.
The Story of Paintings: A History of Art for Children
How to Draw 101 Animals (1)
Beautiful Oops!
Art Lab for Kids: 52 Creative Adventures in Drawing, Painting, Printmaking, Paper, and Mixed Media?For Budding Artists
The Arts: A Visual Encyclopedia (DK Children's Visual Encyclopedias)
Busy Little Hands: Art Play!: Activities for Preschoolers
Benefits of Kids Making Art
The act of children making art offers an array of benefits that extend far beyond simple enjoyment.
Engaging with different art mediums and materials allows kids to develop their creativity, as they explore and experiment with colors, shapes, and textures.
This exploration can even spark an interest in art history, as they learn about different artistic styles and periods, and connect with the stories and cultures behind each piece.
Furthermore, their experiences with art can lead to interests in tangential fields such as fashion design, architecture, or graphic design.
Art is not just about product; the process itself can be a source of immense joy and self-expression, allowing kids to communicate their thoughts, emotions, and experiences in a non-verbal way.
It serves as a positive emotional outlet, helping them to navigate their emotions, relieve stress, and promote mental well-being.
Encouraging kids to make art is a gift that goes beyond the tangible – it's about nurturing their spirit, fueling their imagination, and inspiring them to see the world through an artist's lens.
Fun Arts and Crafts for Kids to Make
The world of arts and crafts can be a delightful journey for children, filled with vibrant colors, textures, and creative expression.
From paper mache sculptures to hand-crafted greeting cards, there's a treasure trove of projects waiting to be explored.
Here are some fun and easy craft ideas that will not only keep your little artists engaged but also help them discover new artistic skills and techniques.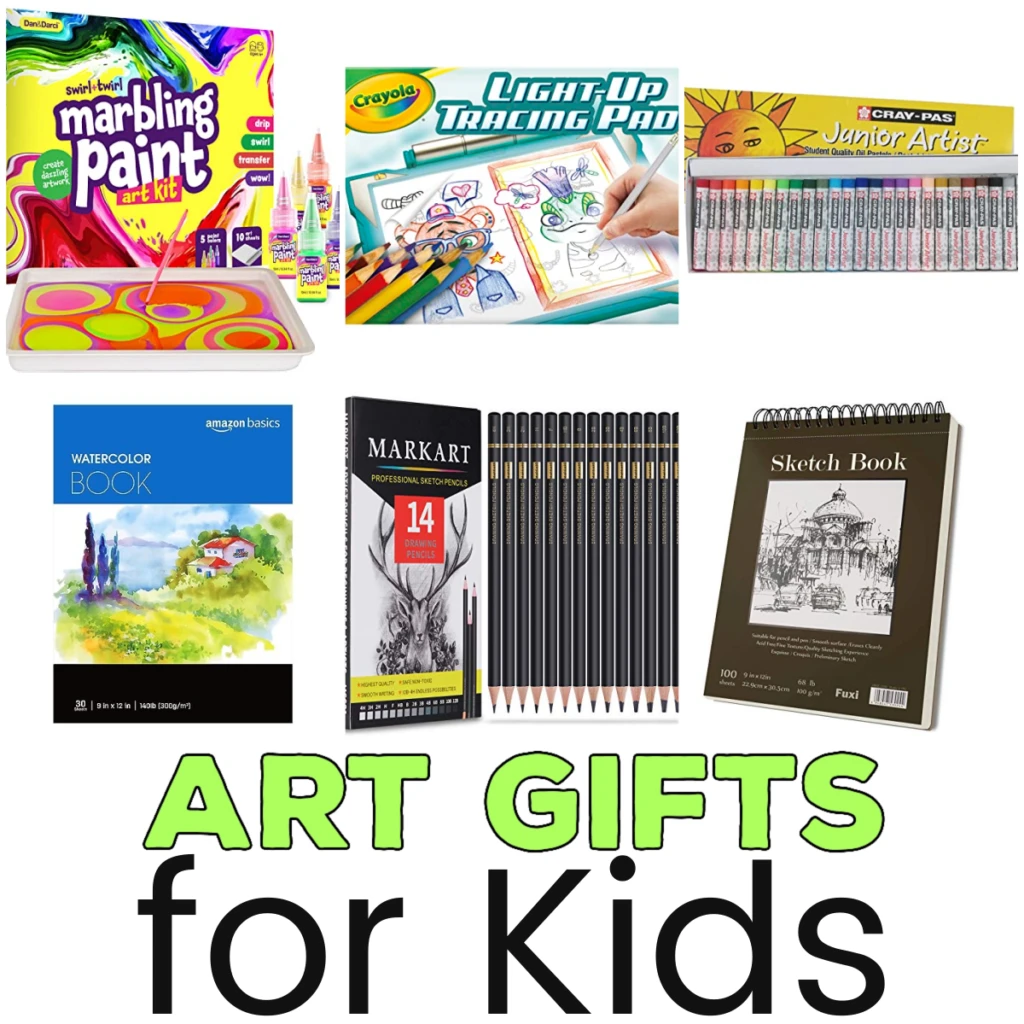 Ways to Give Art Gifts
When gifting art supplies, there are plenty of creative ways to present them. For the holiday season, consider using smaller items like paint tubes, sketch pens, or miniature sketchbooks as stocking stuffers.
Alternatively, bundle together a variety of art supplies like sketchbooks, colored pencils, and quality erasers into an inspiring art gift basket.
This approach works wonderfully for birthdays or other special occasions too. To make the gift even more special, pair it with an experience.
For instance, tickets to an art museum can be given along with a sketchbook and drawing pencils, inspiring kids to draw what they see.
Another idea is to present a set of paints and brushes, along with enrollment in an art class or pencils with an online drawing class.
This way, the child not only receives a tangible gift but also the opportunity to learn, grow, and express their creativity.
NATIONAL GEOGRAPHIC Pottery Wheel for Kids – Complete Kit for Beginners
B Me Felt Sewing Kit for Kids
Fashion Design Studio – Sewing Kit for Kids
Creative Kids Spin & Paint Art Kit – Spinning Art Machine
More Gift Ideas for Kids
For kids whose interests extend beyond the arts, don't worry, we've got you covered! We have a range of gift guides tailored to various hobbies and passions.
Whether your child is a budding scientist, an aspiring chef, or a devoted bookworm, we've curated an array of unique and thoughtful presents that are bound to ignite their excitement and nurture their curiosity.
Art Gifts for Kids
This curated list of art gifts for kids is brimming with an array of ideas that cater to various art forms for kids of all ages to explore.
These gifts stimulate their creativity and imagination as well as provides an engaging and fun way for kids to express themselves.
Each gift idea is carefully selected with the intention of inspiring creativity, encouraging self-expression, and nurturing an appreciation for art from classic drawing and painting to contemporary crafts such as sewing and sculpting.
After all, the joy of creating something with one's own hands is a uniquely satisfying experience that kids absolutely love.
So, whether you're looking for a birthday present or a special Christmas gift, consider one of these art gifts to spark the creative genius in your little one.
As an Amazon Associate and member of other affiliate programs, I earn from qualifying purchases.