Use this printable summer screen time checklist to help your kids understand the house rules and when they may ask to use devices.
Having this information posted where they can see it helps remind kids of expectations.
It may not stop the dreaded, "I'm bored!" but it can reduce the number of times they ask for tablets and other screentime devices.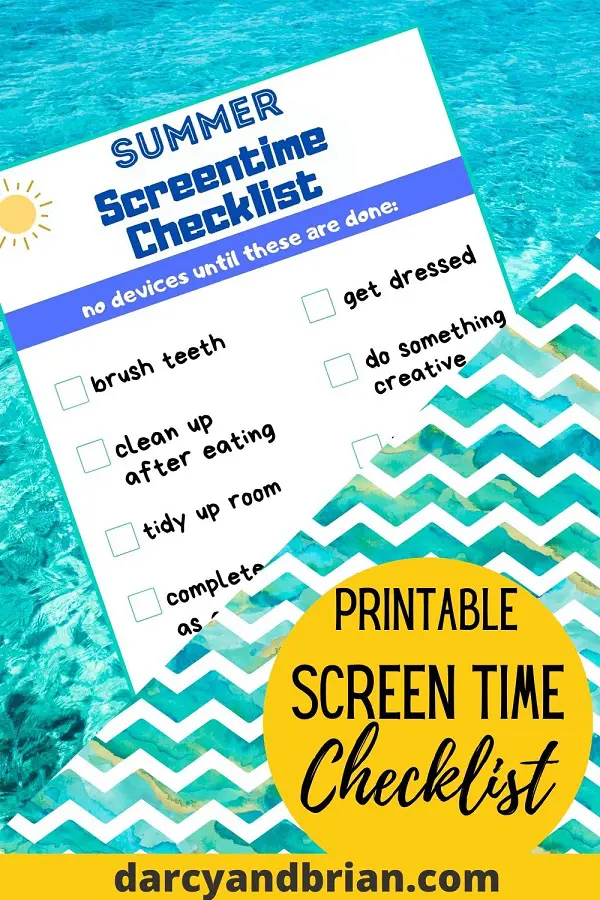 This post contains affiliate links. As an Amazon Associate and a participant in other affiliate programs, we earn a commission on qualifying purchases.
Summer Screen Time Rules for Kids
Does it feel like summer becomes a screen time free-for-all?
Throughout the school year, I don't necessarily feel like I have to set hard limits on screen time because of our schedules. It feels easier to allow the kids to play games and watch videos in the pockets of free time after school and around activities.
But summer… the lack of scheduled activities mean lots of free time.
While we're fairly lenient on game time, we still have guidelines for when and how long the kids can spend time on tablets, game consoles, and computers.
There are expectations, such as the kids doing chores, and a few other things, first.
Even though I know there are educational benefits to playing Animal Crossing and other video games and educational apps, I still want them to engage in other activities too.
Rather than focusing only on the number of hours the kids can spend on screens, I'm having them complete certain tasks and activities to earn game time.
They are expected to get dressed, clean up after themselves, read, play outside (weather permitting), complete chores, and a few other things. I want them to get into a flexible routine while also learning how to balance responsibilities with fun.
With the checklist, kids can be more independent with completing tasks rather than constantly being told what needs to be done.
It reduces the amount of asking (and whining) about when they can watch TV or play video games because they know exactly what needs to be done. Plus, it's nice being able to point to the checklist when they do ask rather than answering the same question over and over.
Free Summer Screen Time Printable Checklist
Download and save our free printable summer screen time checklist. It is for personal use only. Share this post with other parents who may find this useful!
You can print the checklist out on regular printer paper as many times as you need. You may also laminate the page or put it inside a dry erase page protector to use with dry erase markers.

More Home Organization Printables:
More Summer Activities for Kids: