Looking for fun printable games for kids? This free printable patriotic stars roll and cover math game is perfect for preschool and kindergarten children.
This roll and cover game features red, white, and blue stars, making it a great fit for patriotic unit themes. Use it when learning about presidents, Memorial Day, the fourth of July, or Veteran's Day.
It's an easy, no-prep activity for homeschool or classroom math centers. All you need to do is print out these pages and grab some dice!
Looking for more patriotic crafts and recipes? Make red, white, and blue M&M pretzel brownies and double sided star wands with the kids for the 4th of July.
This post contains affiliate links. As an Amazon Associate and a participant in other affiliate programs, we earn a commission on qualifying purchases.
Patriotic Themed Roll and Cover Dice Game
Number recognition is an important early math skill for preschoolers and kindergartners to work on.
We know that kids learn through repetition and keeping learning fun helps immensely. It's an easy math activity for kids to work on number recognition, subitizing, and counting all while feeling like they are playing a simple game.
How to Play This Printable Patriotic Stars Dice Game
Download and save this patriotic stars dice game printable for your personal use at home or in your personal classroom.
You may print out as many copies as you need. If using for a class, you may want to laminate it for multiple uses.
The first page has numbers 1-6 and you will need a six sided die to play. The second page has numbers 0-9 which requires a 10 sided die.
I highly recommend getting a set of dice that is commonly used for RPG games like Dungeons & Dragons. Those sets included several different types of dice.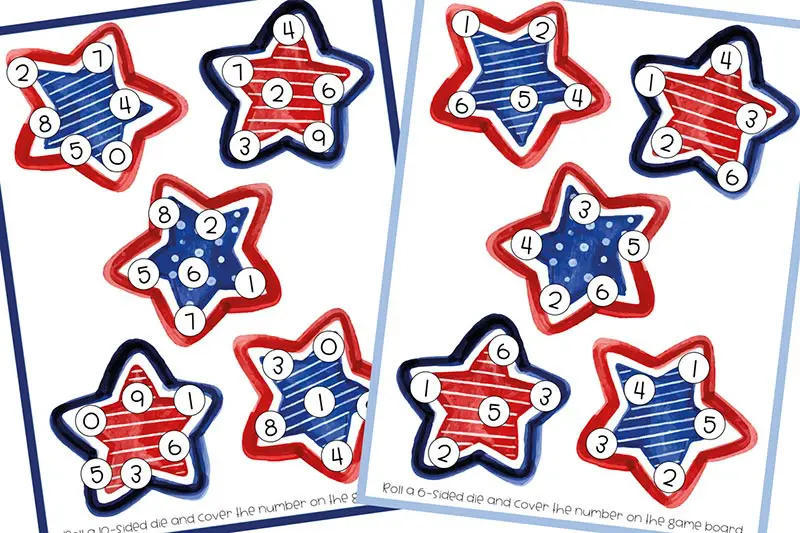 Have students roll the die, find that number on their worksheet, and cover it. They can color it in or cover the numbers with something small such as pom poms or bingo chips.
Another option is to combine it with snack time and cover the numbers with Goldfish crackers or Cheerios.
Kids will continue rolling until all numbers are covered!

More Math Activities for Kids:
Did you enjoy doing this activity with your kids or students?