Looking for a fun activity for kids to do online during a video chat? This printable video call scavenger hunt is a fun game to engage kids when they're apart from family and friends.
It's really easy to host a scavenger hunt over video chat and a great way to keep kids connected with their friends, classmates, and family members.
Want more printable activities? Check out these printable games for kids and find all sorts of entertaining options!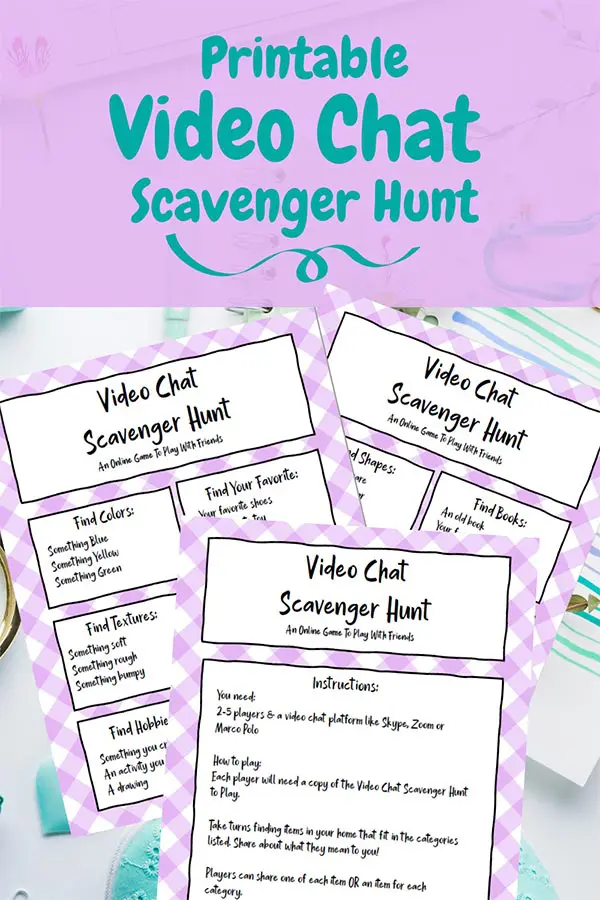 This post contains affiliate links. As an Amazon Associate and a participant in other affiliate programs, we earn a commission on qualifying purchases.
Free Printable Video Call Scavenger Hunt Game
Have you tried to FaceTime friends and family with your kids? It's an increasingly common way to stay connected even when we're apart.
Things like virtual happy hour video chats, classroom meetings, and even family dinners are taking place using platforms like Zoom.
Sometimes it's hard for younger kids to sit still and chat without getting distracted by making faces into the camera, but they will love searching for these scavenger hunt items to show their friends on a video call!
This is a fun and easy activity for kids to do on a video call together. It's up to you if you want them searching for the items while on the call or find things ahead of time and be ready to share.
It's also a nice activity kids can do while video chatting with grandparents! They'll have a blast showing things off and talking about them.
I love that there are a few different ways to use this scavenger hunt for a fun game!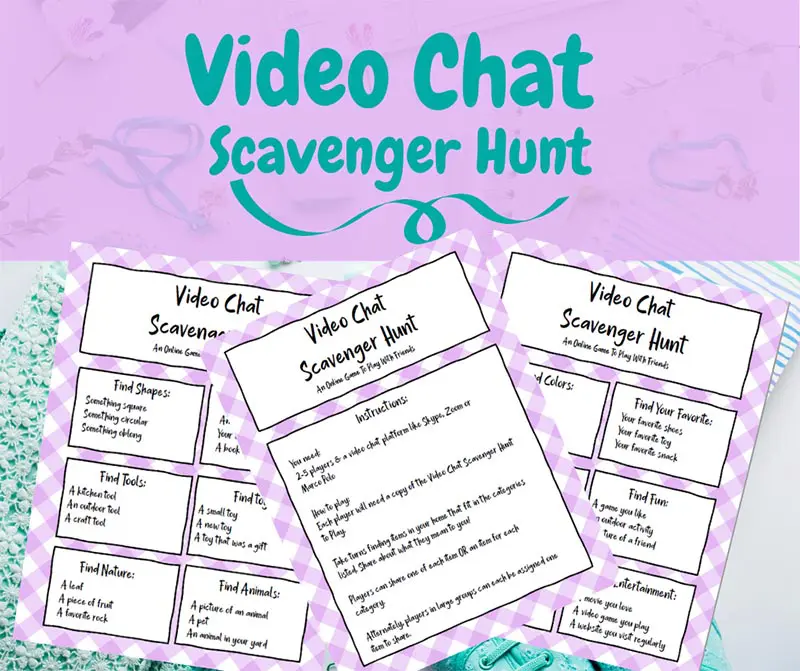 How to Use the Printable Video Call Scavenger Hunt
Click the button below to download and save the free video call scavenger hunt printable.
You can print it out on regular printer paper, or refer to it on your phone or tablet. Everyone playing should have a copy of it ahead of time, or use screen sharing to show it to the group.
This video call scavenger hunt can be played using any video chatting platform, such as Marco Polo, Zoom, Skype, as well as Google Meet.
There are several categories such as toys, colors, shapes, books, and entertainment. You can check off items as they are found and try to complete the entire list or assign one category per child.
These printables are for your personal use at home or for your personal classroom only. Share this post with teachers and parents who would love this activity for their kids too!

More Activities for Kids: