I'm surprised I never burned anyone with a sparkler when I was a kid.
The most memorable Fourth of July cookout that I remember from my childhood was on my aunt's farm. The specifics are fuzzy, but I remember running through the grass. Spinning round and round with my arms widespread until I tumbled to the ground, the dizziness making the world swirl around me.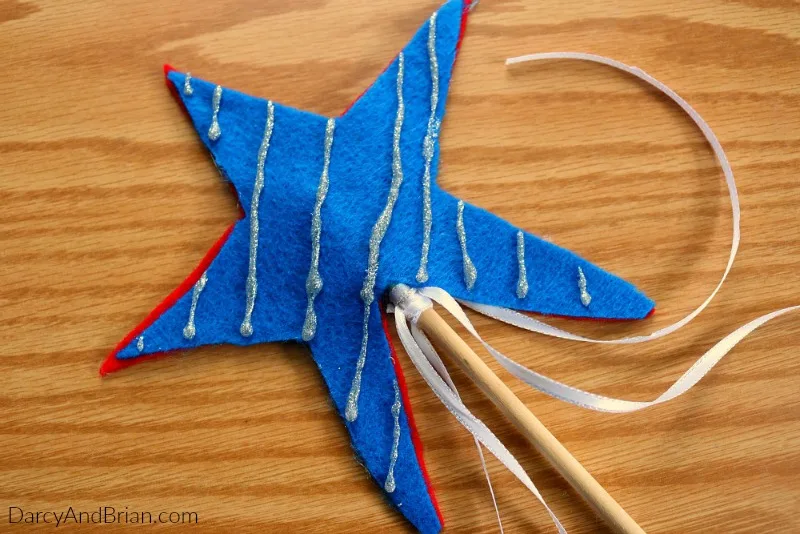 There were never a whole lot of kids because I didn't have many cousins. It was always hot, so the sprinkler would be out for us to run through.
What I remember most of all were the sprinklers. I liked how pretty fireworks were in the sky, but I didn't like being startled by the pops, bangs, and sizzles. Someone in our family usually had a bunch of sparklers, waiting until dusk to light them up for us. They were pretty and quiet. Still, I'm not sure I should have been running, jumping, and spinning around with them.
My kids are all about wands (and light sabers). They want to point with it, dance with it, and more. I loved my sparkler wand, but it never lasted long before burning to ash.
My kids haven't played with sparklers yet. I know overall they are tame, but I don't think it's a good idea when they run around with wild abandon and aren't as aware of their surroundings as I wold like. We love that this Fourth of July star wand offers safer imaginative play.
Double Sided Star Wand 4th of July Kids Craft
This post contains affiliate links.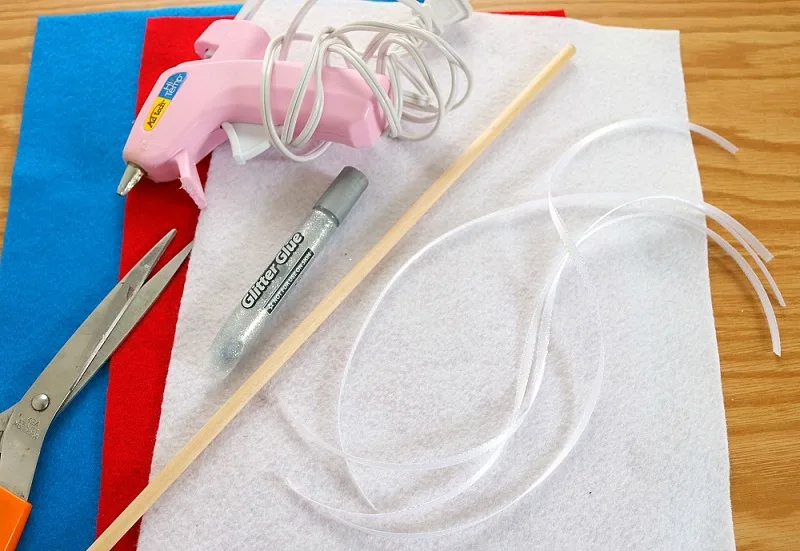 Materials:
Red craft felt
Blue craft felt
1 wooden dowel
White ribbon
Scissors
Hot glue gun (or fabric tacky glue)
Glitter glue, white paint, glitter, and other optional embellishments
Instructions: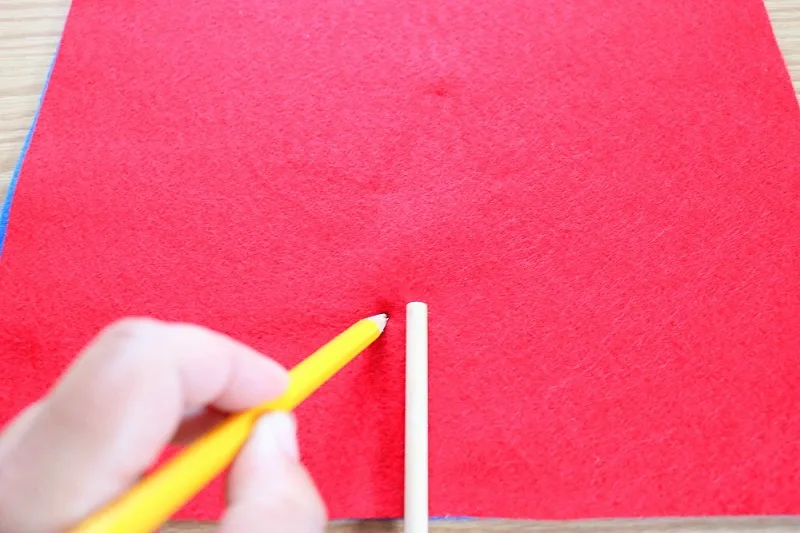 Start by tracing (or freehand drawing) a star shape on the craft felt. You can either trace the star on each piece of felt or lay the felt on top of each other and cut both stars out at once.
Place one star on the table and glue one end of the dowel onto it.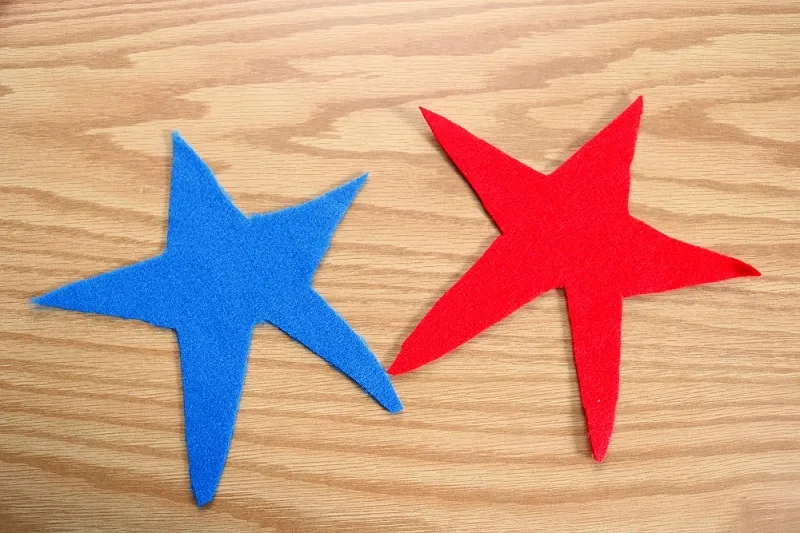 Put a bead of hot glue around the edge of the star. Placed the other star on top of it and press down around the edges. Let it dry.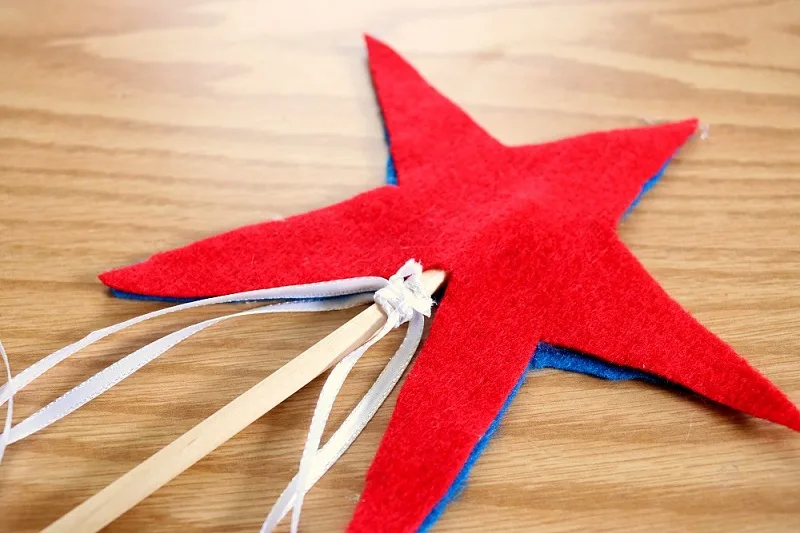 Cut the white ribbon into 8-10 inch long pieces and tie them around the dowel just below the star.
Then decorate both sides of the star as desired. Have fun with it!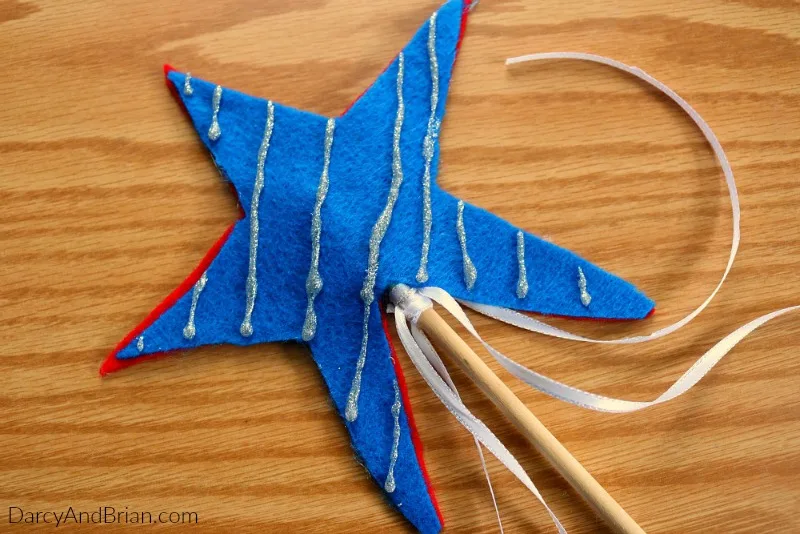 We hope you and your kids enjoy making your very own Double Sided Star Wand 4th of July Kids Craft! The kids can easily take it along for watching the parade and the fireworks. I can't guarantee they won't accidentally bump someone with it, but at least I won't have to worry about my kids burning each other with a sparkler.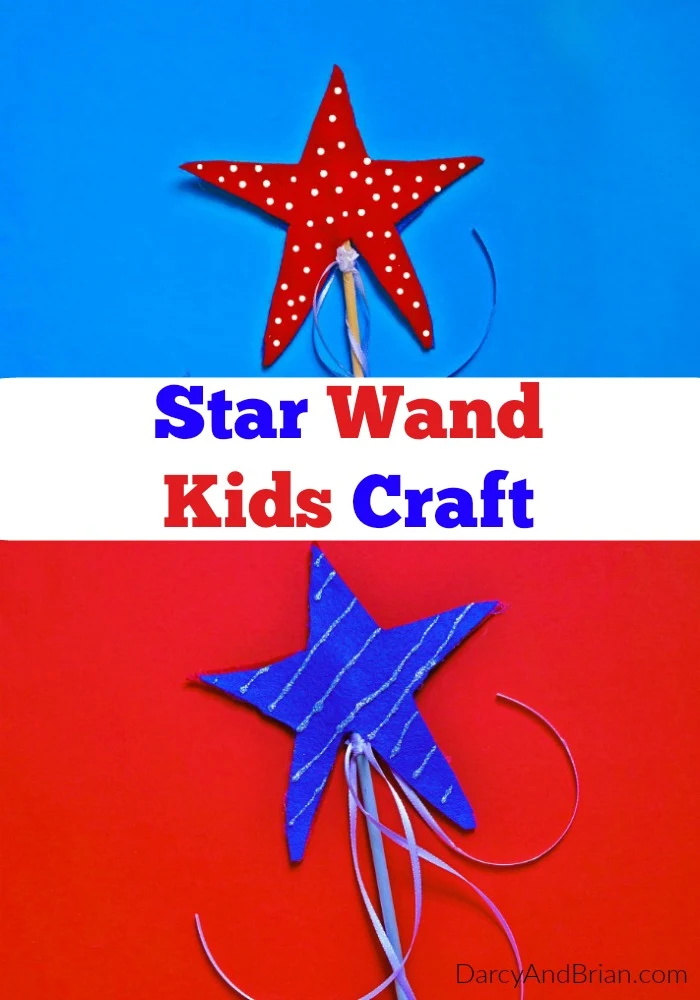 Don't miss these other fun kids crafts: