With little ones underfoot all day, you too may be looking for some fun activities for preschoolers to do on the colder winter days. Snow is always a tough challenge to the kids since they want to play outside, but the cold can be a bit too much to handle. Here are some easy to manage fun activities for preschoolers to enjoy on snow days both inside and outside.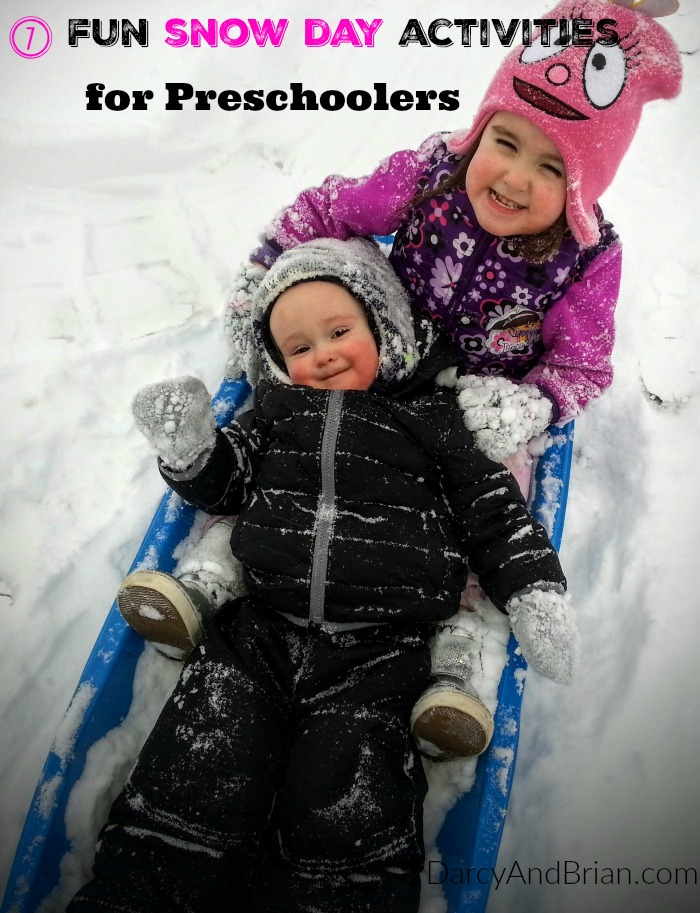 7 Fun Activities For Preschoolers On Snow Days
This post contains affiliate links.
Paint the snow.  Fill empty squeeze bottles with water and food coloring to give your kids easy to use "paint". They can squeeze the paint in patterns onto the snow to make fun patterns. It's also a great way to teach them about colors, and how mixing primary colors can create fun new colors.
Make snow angels.  Everyone loves this classic activity. Make sure you are in an area you know is without rocks or other obstacles hidden under the snow and have fun making a few snow angels. Bundle them up good, and make sure their pants and jacket are waterproof for this fun activity.
Make snow ice cream.  Snow ice cream is always a fun choice for snow days. Be careful about where you get your snow from, and if you are uncertain about what it may have in it from floating in the air, you can simply make some homemade ice cream in your ice cream maker and pretend it is snow ice cream.
Build a fort.  This is one of the best activities for preschoolers to do on snow days because it is fun, full of imagination, and of course, a great excuse for you to build a fort! Blankets, pillows, chairs and a few fun toys can make hours of play much more fun.
Take pictures.  Even if your kids don't have a cool kid-friendly camera to use for themselves, you can go outside with them and let them pose for fun selfies in the snow. Watch for animal tracks, icicles, and other fun things to create a cool collage of pictures from your snow day.
Make S'Mores.  There is nothing more fun than making S'Mores whether you make them in your fireplace (I wish!) or the microwave (like us). Since you are inside and staying warm instead of out in the snow, you can work with your kids to make sure it is done safely. Let them help! They will be thrilled to help assemble the graham crackers and chocolate while you roast the marshmallows. Then have a fun little picnic with them in the living room.
Make stained glass sun catchers. I remember these from childhood, and they are a perfect craft for snow days. Use crayon shavings, and waxed paper to create a fun stained glass sun catcher. Let your kids sprinkle crayon shavings on one piece of wax paper and cover with another piece of wax paper. Use your iron to melt the paper together and melt the crayons between creating a stain glass effect. Let your kids cut the paper into shapes, then use a hole punch and string to create a simple and fun sun catcher to hang in the window.
These fun activities for preschoolers are ideal for a cold and wet snow day. From fun outside exploration to indoor crafts and fun you can keep your kids safe and happy while you enjoy the beauty of snow.
Check out some other great activities and tips for kids: 
Subscribe
Get weekly sanity saving parenting tips, recipes, and kids activities.