It gets a bit chilly here in Wisconsin during the winter. Okay, not a bit chilly, but freezing cold, right? We've talked a little bit about what you need for baby in the winter, and if you have a baby you're probably going to spend most of the time hibernating indoors. If you have older kids and want to venture out as a family, this Wisconsin Winter Bucket List will give you some ideas!
Wisconsin Winter Bucket List
Build a fort, roast some s'mores, and check out the rest of my ideas to keep preschoolers busy on snow days.
Burn That Energy Off, Baby!
Just because it snows doesn't mean kids lose energy (I actually think they gain energy), so here are a few places to get all that energy out to make room for a relaxing evening at home (ha!).
Indoor Play Areas Near Milwaukee
Since I was a kid, I've spent plenty of time in the Dells during summer, but did you know it's a fun destination for winter travel too? The Great Wolf Lodge is more like a weekend getaway, but it's a great escape for the whole family to have lots of fun. You must try the raft funnel ride if you go!
Not far from the Great Wolf Lodge, and also located next to a 10 screen cinema, the Kalahari Resort is another option for family fun. Try the roller coaster, wave pool, tubing river, laser tag, bowling, and ropes course! It can get a little expensive for a large family, but if you go in the evening you can get a pass for about $10 off the regular price so that's a great way to save quite a bit if you're taking the whole family.
Check out the other Wisconsin Waterparks and indoor activities beyond waterparks. I found this Wisconsin Dells Coupon Book for $10 (expires December 31). Might be worth buying if you're going to make the trip!
Learn a Thing or Two
Museums are always at the top of our list for educational trips. Who doesn't love sneaking in a little education while the kids are having a blast? Here are a few suggestions:
Brave the Cold
If you can handle it, brave the cold to experience these Wisconsin winter adventures!
Try your hand at ice fishing at Trophy Ice Fish. There's a professional team of guides to make sure you're safe (and successful!) on your journey.
There's no shortage of places to ski in Wisconsin, but not all ski resorts are created equal! Check out On the Snow for information on tons of ski resorts as well as up to the minute skiing and weather conditions.
The entire family will enjoy seeing the bears, wolves, foxes, eagles, and owls at the Wildwood Zoo!
Did you know that winter ziplining is a thing? I didn't! I guess I never really thought about it, but now that I know people do it, I might just have to try it. There's something exhilarating about ziplining, don't you think? (Just kidding, I'm terrified of heights! It sounds fun, but I'm not sure I could go through with it.)
Experience the Big Chill Ice and Snow Festival in January each year. It's held in Downtown Racine, in Monument Square. Monument Square is transformed into a Snow Sculpting Competition Battleground, where ten teams turn huge blocks of packed snow into absolutely stunning sculptures! Free admission.
Go snowmobiling at Eagle River (one of the best spots in the state!), or explore the Ice Caves of the Apostles. Both have absolutely breathtaking, unforgettable views.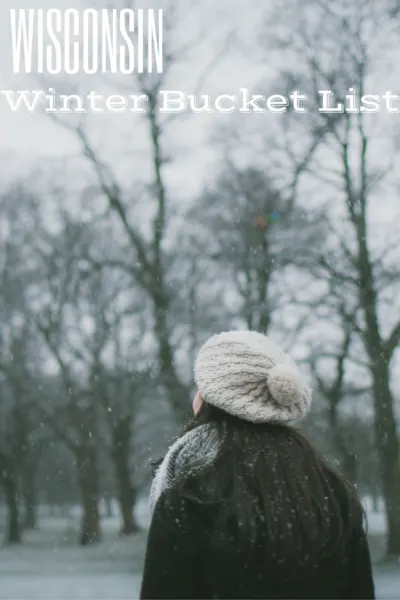 What's your favorite winter spot in Wisconsin?