Why have a boring pizza cutter when there are so many fun designs out there to cut your pizza pie? Seriously, who knew they made these unique pizza cutters? You can find one for most hobbies and these make cute, thoughtful gifts all year long.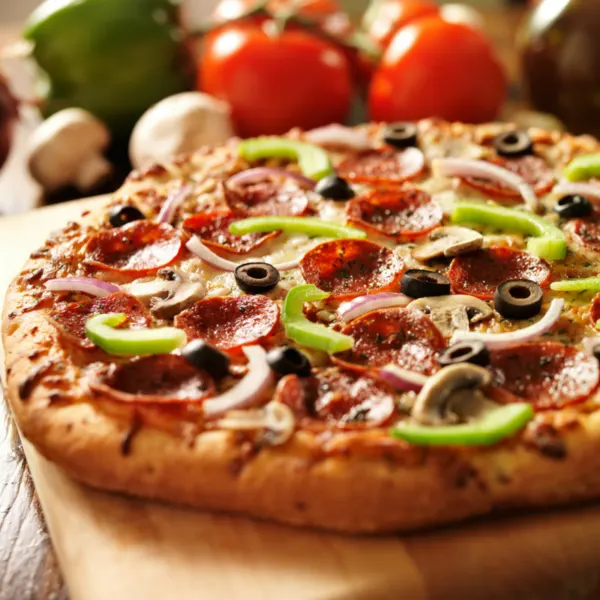 10 Unique Pizza Cutters for Pizza Lovers
This post contains affiliate links.
Whether you are a pizza lover like me or not, you can't deny the awesomeness of these unique pizza cutters. They are also a must-have kitchen gadget. We use ours for cutting more than just pizza. They are perfect for quickly cutting up the kids' pancakes too!
Bicycle Pizza Cutter

The Bicycle Pizza Cutter seems only natural with using the wheels to cut through the thick crust of your favorite pie. The bicycle comes in yellow, red, blue, and even white. Which one would you choose? I can see cyclists, triathletes, and IronMan athletes loving this little guy as a gift.
Pizza Chopper Motorbike Pizza Cutter
For the motorcycle fan in your family, get them the Pizza Chopper Motorbike Pizza Cutter. Vroom vroom through your pepperoni pizza on this class looking motorcycle! You could even add stickers on the side of the motorcycle of your favorite bike, especially if it is a Harley.
KitchenAid Gourmet Pizza Wheel
Sometimes you just want to cut the pizza and go, but you can still do it with style. KitchenAid Gourmet Pizza Wheel comes in many pretty colors, including this beautiful teal color. Now, all of your KitchenAid appliances and kitchen tools can match – or mix and match your favorite colors together!
Learn how to make the Perfect Pizza at Home in this free mini-class at Craftsy.
Pizza Peddler Monkey Unicycle Pizza Wheel
Put your hands in the air like you just don't care… or like this Pizza Peddler Monkey Unicycle Wheel! He is just too cute! That sure is one cute way to cut up your pizza on a Friday night.
Tape Deck Pizza Cutter

Take it back to the 80s with this Tape Deck Pizza Cutter. Pick up some Little Caesars and a copy of Sixteen Candles and have a night walking down Memory Lane. Invite the neighbors over as I bet they would love a night talking about the good 'ol days.
Ax Pizza Cutter
Know any cute lumberjacks and fireman that would appreciate this Ax Pizza Cutter? It sure looks like it will get the job done cutting up your pizza into slices or squares.
Pizza Pi Cutter
When you have a great sense of humor and a love for math, then the Pizza Pi Cutter is perfect for your kitchen! I mean seriously, this is awesome on so many levels! I can see you trying to cut your pizza into exactly 3.14 perfect slices too.
Rockin' Pizza Cutter

Sometimes you just want to rock out and eat pizza while dancing around your living room. Just me? Well, the next time the music takes control, break out your Rockin' Pizza Cutter to help turn the night up a notch. Have a family member who loves to play the guitar? You should found the perfect gift for them.
Quick Draw Pizza Cutter
Bang, bang! This Quick Draw Pizza Cutter will get your pizza to surrender right into your mouth so you can enjoy all of that cheesy goodness. That was cheesy, wasn't it?
Star Trek Enterprise Pizza Cutter
Star Trek fans would love to receive this Star Trek Enterprise Pizza Cutter in their stocking or a gift anytime of the year! Don't be surprised if they fly it through the air a few times before they cut the pizza!


Now you have zero excuses for owning a boring pizza cutter. I never thought I would consider a collection of them until I found these unique pizza cutters. I think my favorite is the tape deck one -which one is yours?
More unique gift ideas: