Are you looking for a fun Midwest destination for your next family vacation? Wondering where you can go that offers plenty of things to do with the kids? We visited Roseville, Minnesota over the summer and have a few tips and itinerary ideas for your next trip to Minnesota!
Our family took a road trip to visit Roseville, Minnesota as part of a hosted press trip experience. Lodging, admission, and meals were provided throughout our stay. We also partnered with Toyota, who provided us with the 2017 Toyota Sienna for our family road trip.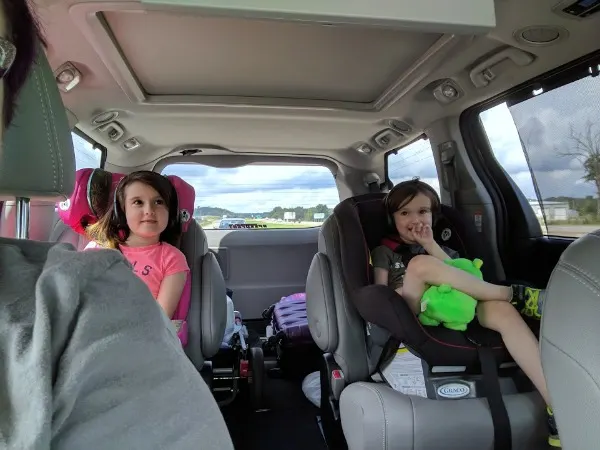 Reasons Why Roseville, Minnesota is Perfect for a Family Vacation
Have you heard of Roseville before? Roseville is known for being "perfectly positioned" between Minneapolis and Saint Paul. After staying there with my family for three nights, I have to agree it lives up to the Perfectly Positioned title. It's an excellent place to stay while being 20 minutes or less away from a variety of attractions in the Twin Cities plus all the shopping!
Fun fact: Roseville is the home of the first ever Target store! It opened in 1962, but was later demolished and rebuilt as a Super Target in 2005.
Where to stay
If you are planning to visit the Twin Cities area, Roseville is an excellent area to stay in. They have 11 hotels that are only a few minutes from the downtown area of both Minneapolis and Saint Paul. We stayed at the Courtyard by Marriott, which was very close to a Minnesota State Fair shuttle stop.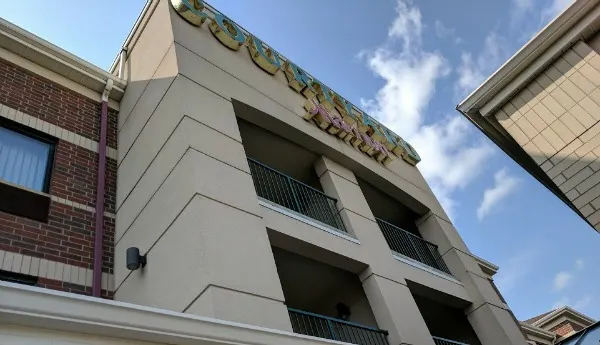 The Roseville Courtyard by Marriott offers complimentary parking and free high speed internet. We always appreciate when there aren't additional costs for parking. Although we didn't spend a ton of time in our room, free WiFi is a must for us! It's nice when we can let the kids use their tablets while winding down as well as making it possible for me to get a little work done.
The room was spacious enough where we did not feel like the kids were on top of us constantly. The beds were super comfy and the entire hotel was very clean. They also have a fitness center and a pool, but we left our swimsuits at home.
One of my favorite things? They serve Starbucks in the lobby! The Bistro is open for breakfast, lunch, and dinner, and there are also to-go options as well. The appetizers during our welcome reception were delicious and the breakfasts prepared us for busy days. Overall, it's a nice place to stay with the kids.
Things to do with the kids
Como Zoo Park Zoo & Conservatory
The Como Zoo is 1 of 11 free zoos in the country and it is the second most visited place in Minnesota. (Can you guess the first? If you guessed the Mall of America – you're right!) The Como Zoo takes care of around 2400 animals and focuses on breeding and conservation work.
The Como Zoo is a wonderful free place to visit with the kids. They have a variety of events throughout the year as well.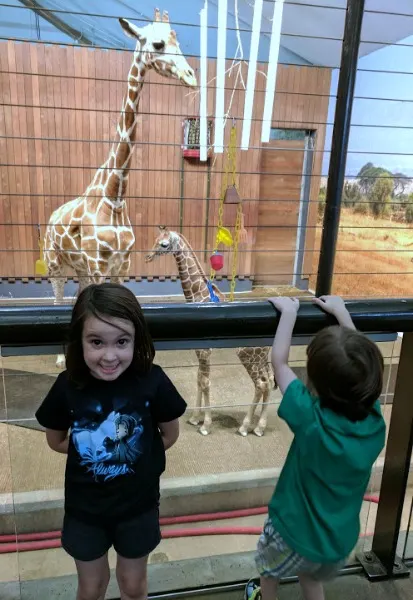 We went on the behind-the-scenes group tour offered at Como Zoo. It begins before the zoo opens to the public. The kids helped make enrichment treats for the polar bears and we fed a giraffe! It was an incredible experience that my children absolutely loved.
Can Can Wonderland
Can Can Wonderland is a unique artist designed mini golf place. They also have a collection of vintage arcade games along the boardwalk. If you want to be inspired, you must spend time gazing at the art throughout Can Can Wonderland.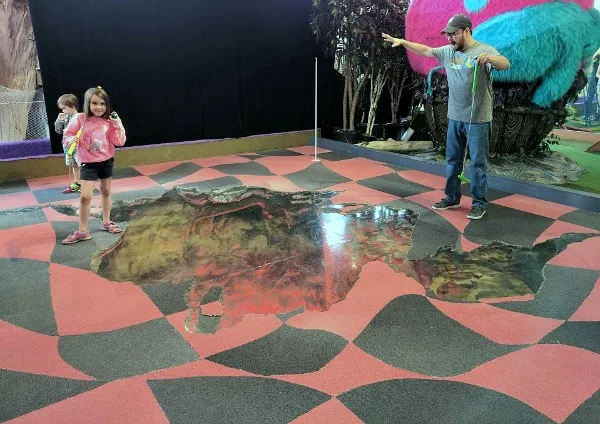 What else makes it unique? There is a stage area for a variety of shows and entertainment including silk aerials! They also have a concession stand making it a great spot to grab lunch. Oh and did I mention they also serve beer and cocktails?
Can Can Wonderland is family friendly, but they do reserve after 9PM for only adults 21+ years old. They are only open Thursday through Sunday, which makes them a fantastic weekend destination.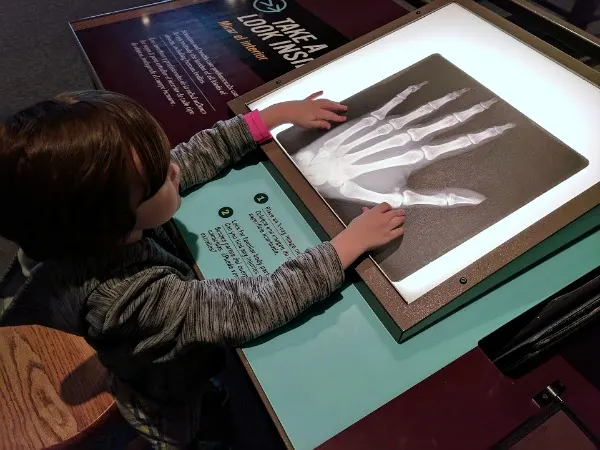 Science Museum of Minnesota
Another place we visited was the Science Museum of Minnesota. If you and your kids love hands on science museums, you may want to plan on spending at least half a day here! We walked through and interacted with a variety exhibits, but we barely scratched the surface in the hour or so that we were there.
Minnesota State Fair
While the Minnesota State Fair is only an option for 12 days each year near the end of August, we highly recommend going! We spent almost a full day there with the kids and weren't even close to seeing and doing everything there. We hope to go again and spend a couple days there. Go here to read more about kid-friendly things to do at the Minnesota State Fair.
Fun fact: Roseville has 28 parks which covers a total of 632 acres with 44 miles of trail. All Roseville residences are within a quarter mile of a park!
Unique places to visit
That Cooking School
At THAT Cooking School, we had a one-of-a-kind experience. This family-owned company offers cooking classes under the guidance of experienced chefs.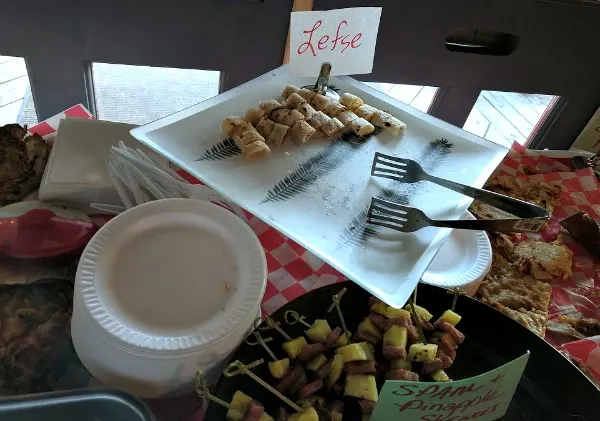 First we sampled a variety of Minnesotan recipes. Then our group participated in a team cooking competition where we had to create dishes using the bin of ingredients provided. No recipes were provided! We were judged on creativity and taste.
They offer a variety of classes and private events. I would recommend their events for a fun date night or moms night out. Older kids and kids who understand kitchen safety will have fun too.
Minneapolis Sculpture Garden
When in Minneapolis, you must get a picture with the giant spoon and cherry! The Sculpture Garden is an excellent place to stretch your legs while taking in the incredible statues and structures. This is a great place to expose your kids to art and if they are interested in photography, they can practice taking photos.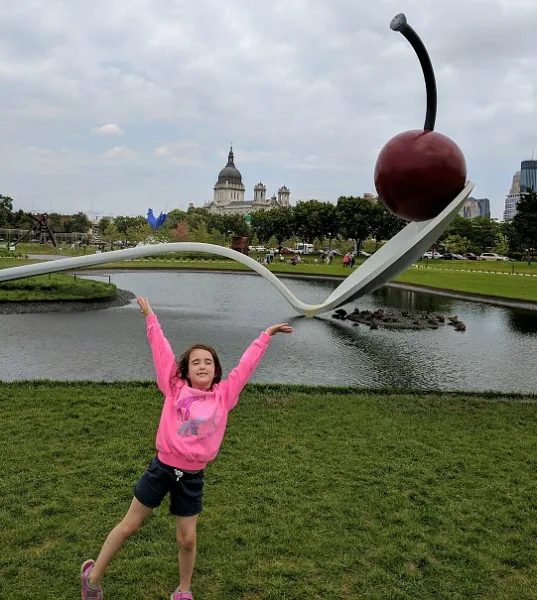 Places to eat
Bonfire Grill
Located in Saint Paul, at Bonfire Grill you'll find delicious food options such as chicken, juicy burgers, and seafood cooked in wood fire ovens. The kid menu offers typical options that most kids enjoy. Both of my kids easily found what they wanted to order.
Can Can Wonderland
We got a kick out of the names and descriptions of their menu items, especially the Princess Bride inspired ones. You'll find pizzas, sandwiches, soup, and more.
Minnesota State Fair
You simply cannot visit the Minnesota State Fair without eating. They are home to an impressive amount of foods on sticks. If you are visiting during the fair, you should plan on eating there!
Hungry for more? Find more dining suggestions in and around Roseville here.
We hope our family's experiences while staying in Roseville, Minnesota help you as you plan your next midwest family vacation! While we visited these places over the course of three days, you may want to allow yourself more time to enjoy each destination. Pick a couple must-sees for your Minnesota itinerary and have fun!
More family travel tips: