We received this YOGI game to review. All thoughts are mine because friends don't let friends play boring games.
If you are looking for a fun stocking stuffer idea, then you need to check out YOGI by Gigamic. It's a hilarious party game that is sure to have the kids giggling in no time.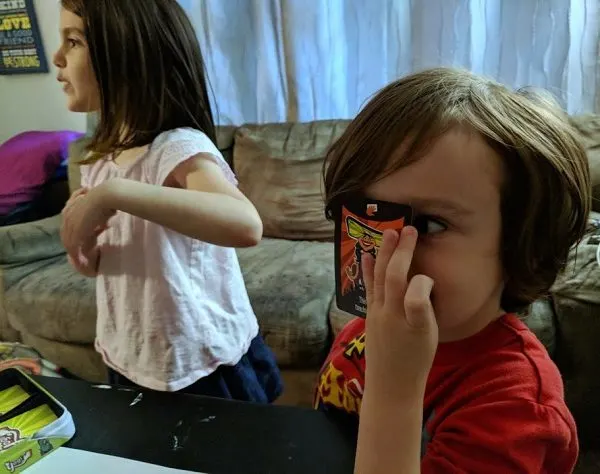 This party game takes a classic twisty game and gives it a new spin. I love that it doesn't require a lot of floor space to play and it's super easy to take along in my purse for spontaneous fun at family gatherings.
YOGI Game Review
The rules are simple: follow the directions on the card you draw. With every card you draw, you must add that pose to all the others you are doing. Some cards require you to figure out how to hold them at the same time. Before you know it, you could have a card on your head, a finger in your armpit, your right wrist bent, your left pinky pointing down, and a card on your nose…. all at the same time!
If you stop following any of the directions or drop a card, you are out. The last twisted person standing wins!
One thing I loved was the ability to modify the game so even our youngest child could join us. We had to read his cards and he played a game that helps him practice following directions. I think the kids' flexibility gave them an advantage over us though, haha! To see some of the hilarious poses other players have twisted themselves into, check out Gigamic on Facebook.
My daughter kept saying, "This is ridiculous!" and laughing the entire time. YOGI was a fun family game to play together on a gloomy day. It was perfect because the kids were feeling a little cooped up and this did not require them to sit still at a table.
YOGI is available on Amazon and at your local game store. Pick up your copy for a family friendly party game that's great all year round!
More family games you may enjoy: