This printable Super Dad questionnaire is a fun activity for kids to fill out and give to Dad for Father's Day.
How well do the kids know Dad's favorite things? Reading our children's answers to questions about us can be incredibly sweet and funny.
These pages can be part of a homemade Father's Day gift, for dad's birthday, or just because.
I think they make wonderful memory keepsakes. Kids can work on this and these other Father's Day crafts at school, summer camp, or at home for a nice surprise!
We also have a Super Parent version of the questionnaire that is perfect for nonbinary or gender fluid parental figures.
All About My Super Dad Questionnaire Printable
It's nice to take a moment and see ourselves the way our kids see us – even if it's in the most unexpected ways based on their answers.
Sometimes they pay more attention than we think. Other times, their answers make us laugh (in the best way possible!) like when they think you are 110 years old and have the same favorite movie as them.
These printable questions cover things such as what are dad's favorite things (movies, food, etc), what he does to make them laugh, how he helps them, and what he taught them.
There is a spot where kids can write a special message plus a few places to glue pictures or draw their own.
The Super Dad printable set is File 147 in our resource library. (Fill out the form at the bottom of this post to receive the password for free access if you do not have it already.)
There are a couple different ways you can assemble the completed pages. You can leave the 8.5×11 inch pages as is and attach them together or fold and cut the pages in half to create a cute little super dad booklet.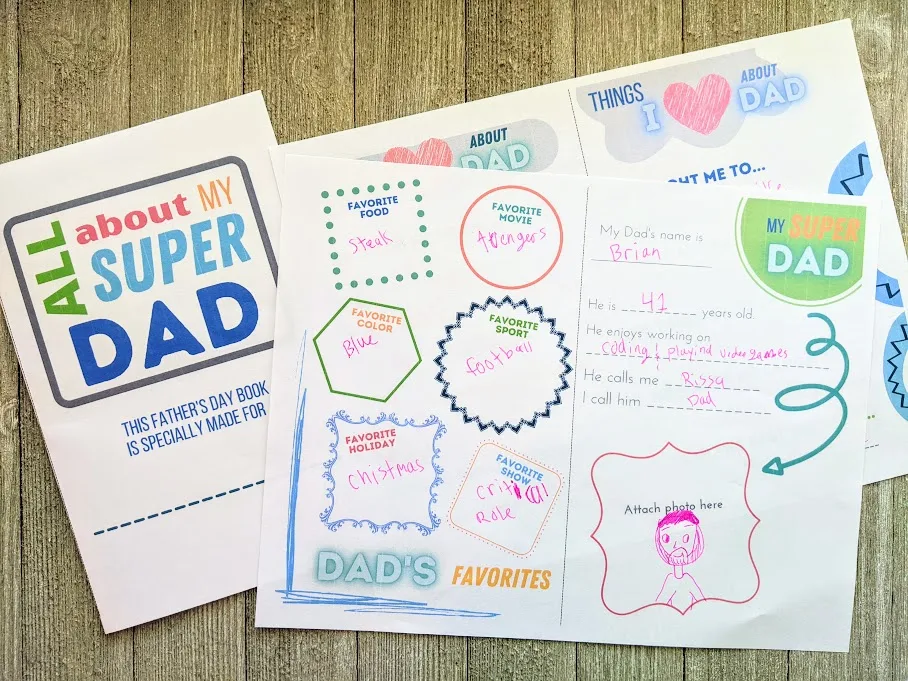 This post contains affiliate links. As an Amazon Associate and a participant in other affiliate programs, we earn a commission on qualifying purchases.
You can print it out on regular printer paper or on white card stock paper. One idea is to print the cover on card stock and the interior pages on regular paper. The photo gallery page may also look nicer on thicker paper.
If printing out photos to cut out and glue onto the pages, the photo spot on the "My Super Dad" page is about 3in x 3in. On the photo gallery page, Dad and Me spot is about 2.5×2.5 inches, Family Picture spot is 3×3, and Family Vacation is 4×4.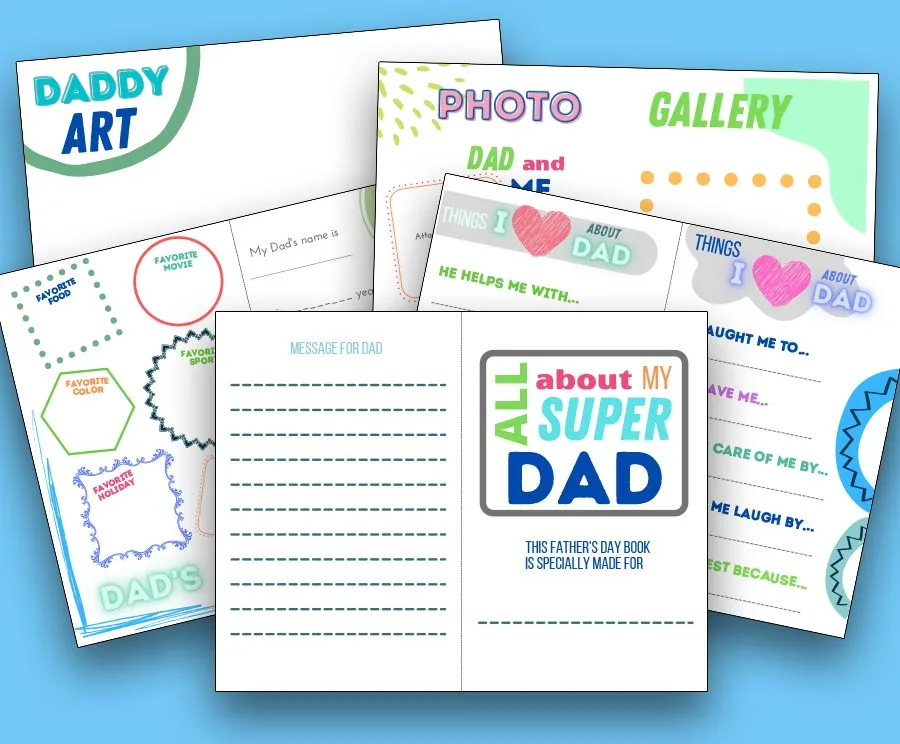 Get the Super Dad Questionnaire Printable Pack
Fill out the form below for free instant access to our printable library if you do not currently have access to it. Printable Super Dad Packet is File 147.
More Father's Day Ideas: