This printable geeky Best Dad Ever Father's Day card is perfect for kids to color and give it to their dad.
Receiving homemade cards from your kid is the best. I like to encourage my children to make cards for Father's Day.
Sometimes they don't feel like making a card completely from scratch, so I designed this card that they could color in.
It's a simple project that even the youngest children can have fun doing. Plus, coloring is a calming activity.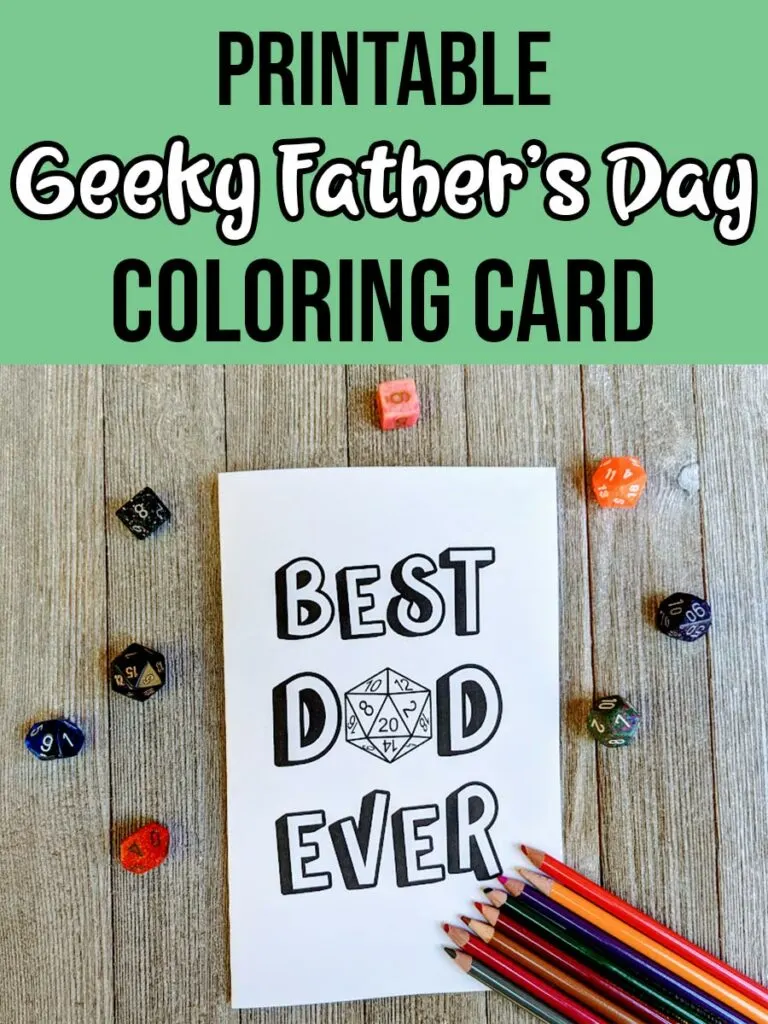 It's a quick and easy homemade card they can give along with a gift, such as this tissue paper photo frame or one of these awesome gaming gift ideas.
Looking for more Father's Day card ideas for kids? Check out our Geeky Dads Build Character card, Fish Pun Printable Cards and Love You To Pieces Printable Card Craft.
Best Dad Ever D20 Nerdy Printable Father's Day Card
There are lots of Father's Day cards out there with themes like tools, fishing, golf, grilling, or ties, but not as many for dads who love playing family board games, Dungeons & Dragons, and video games.
This inspired the Best Dad Ever card featuring a natural 20 for the "A" in Dad.
The card does not specifically say Happy Father's Day on it, so this card could also be used for Dad's birthday or another special occasion.
How to Print Out the Best Dad Ever D20 Card for Coloring
First you will need to download and print out the Best Dad Ever printable card, which is File 149 in our resource library. (Fill out the form at the bottom of this post to receive the password for free access if you do not have it already.)
Select "fit" when printing. If you leave it to print at the actual size, it will be quite a bit smaller and need to be cut out from the paper.
This post contains affiliate links. As an Amazon Associate and a participant in other affiliate programs, we earn a commission on qualifying purchases.
I highly recommend printing the card on white card stock paper (I think it looks best this way), but you can use regular printer paper as well.
If you do a lot of printing at home like we do, our new Epson EcoTank printer has been fantastic. Everything looks good and we are able to print a lot more pages without running out of ink.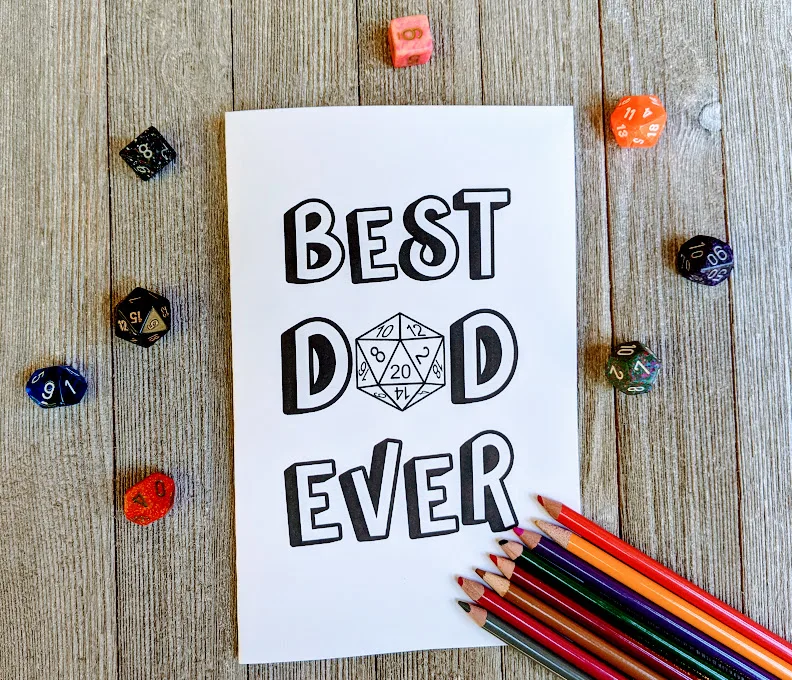 However, if you don't want to print them out yourself, you may go some place such as a local print shop or Office Depot. It's quite affordable to get printables printed out that way, especially when you want a nicer thicker paper.
This printable card is for personal use only, but you can save and print as many as you need to give to your friends and family. If you are a teacher, you may print enough for the students in your personal classroom.
Once it is printed out, line up the edges and fold in half. You can leave the card full sized or trim the edges if needed.
Then color in the D20 and words on the front. Color the card using markers, crayons, colored pencils, or gel pens.
Inside the card is blank, leaving plenty of room to write a message and sign your name. There is even space to draw a picture if you wanted!
Get the Geeky Best Dad Ever Printable Card
Fill out the form below for free instant access to our printable library if you do not currently have access to it. Printable Best Dad Ever D20 Card is File 149.
More Father's Day Ideas: