Looking for screen-free activities for kids? We received the ProjeX Projecting Arcade Game for review, which doesn't require a TV to use and can be played indoors or outdoors.
My kids love playing all sorts of games – our whole family does. So, I love finding new ways to interact without using screens.
I know how much my kids enjoy playing laser tag outside and couldn't wait to try the new ProjeX Projecting Arcade Game.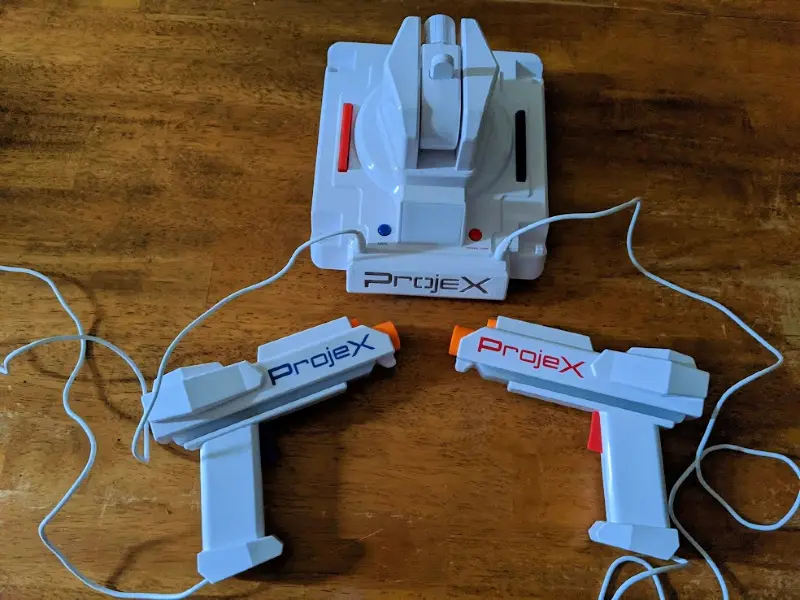 Create Arcade Game Fun at Home
The ProjeX projecting game arcade is super easy to set up. Within minutes of opening the box, the kids and I were blasting targets on the living room wall.
You can play solo, go head-to-head with another player, or play cooperatively. My kids (9 and 7) are having a blast playing it. I joined in too and think it's a great screen-free option for families.
There are different difficulty levels and ways the targets move on the wall. Some of them seemed really hard, but I like that it offers easier targets for younger players as well as challenging ones.
How to Play ProjeX
The ProjeX projecting game arcade comes with two blasters and three different target slides. It's battery operated so it doesn't need to be plugged into an outlet and can easily be taken outside or to a friend's house.
We took the pictures off of our living room wall because it works best on a blank, light colored wall. We've played it in the afternoon with lights off and curtains closed, but found it worked the best in the evening when the room was darker.
After installing three AA batteries, make sure the blasters are plugged all the way in and insert one of the slides. Place it on a table about 5 feet from a blank space of wall inside the house or even on a garage door or hanging sheet outside.
The blue one features images of a target and is easy difficulty. The red one has UFOs, which are medium difficulty, and the white one has ducks and is harder.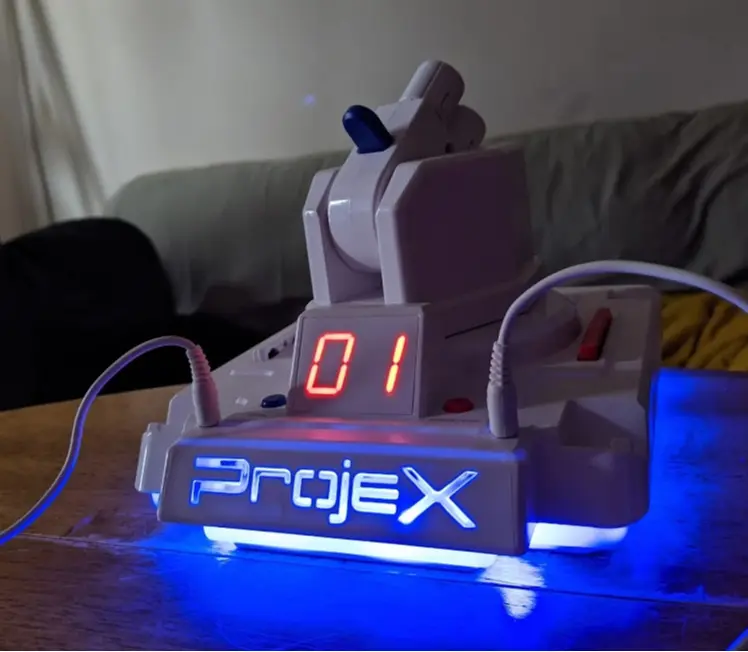 Once you insert the slide, turn it on and it'll power up. You can select one of five game types, which consists of the target moving differently. You can also select three different levels of difficulty for each slide.
To play solo, only plug in one blaster before turning it on. For competitive head-to-head play, both players pull back to reload their blaster to start the game. The base keeps score with an LED display.
In order to play cooperatively for a combined score, both players need to hold the trigger while reloading their blasters to start the game.
Each player can shoot at targets six times before needing to reload. The blaster will no longer be lit up if it needs to reload.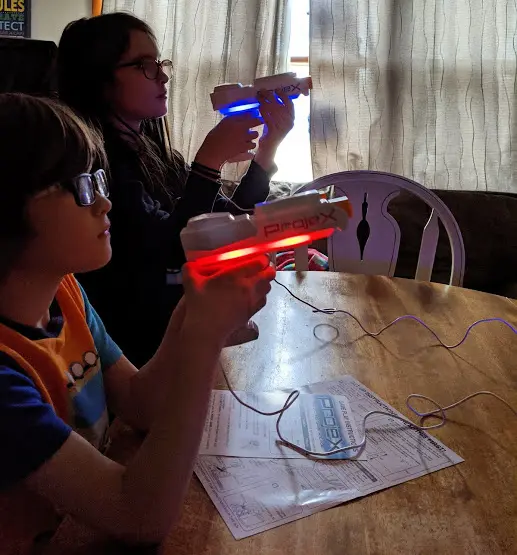 ProjeX Projecting Arcade Game Review
Overall, we are enjoying ProjeX. My son especially loves playing it because he can play it by himself or with his sister. He's been asking everyday to play it!
I love how portable and compact it is, which makes it easier to set up in the living room, my son's bedroom, or take it along somewhere else. We haven't used it outside yet, but it could be great evening activity for the family in the backyard.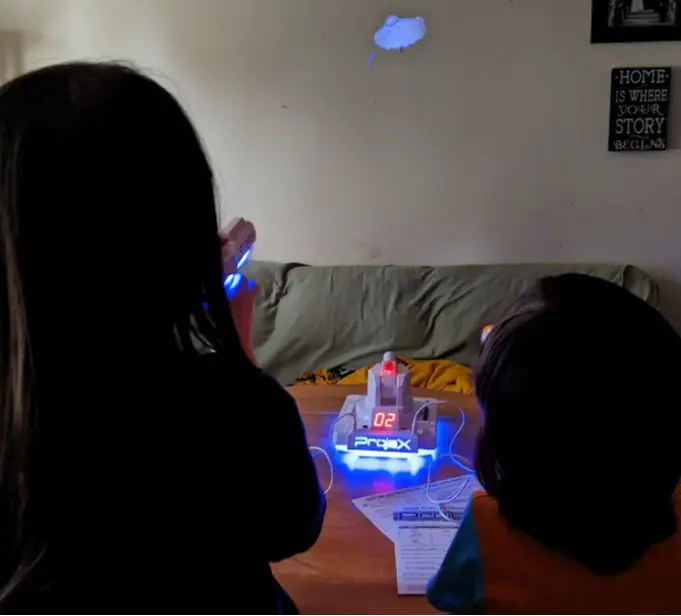 My kids preferred the ease of the first game with the blue slide. A lot of the other ones were more challenging, but makes a fun goal to work towards. I do wish the image slides weren't different difficulty levels so we could pick any of them to play on easy.
There also isn't a volume control for the sound, which can be somewhat loud. We take the noise level into consideration when deciding when and where to set it up.
It definitely works better in a darkened room and it's great that almost any light colored wall works to become your very own arcade game!
Find ProjeX Projecting Arcade Game at ProjeXGame.com, Target and Walmart in the U.S. or at Toys R Us in Canada.