This homemade Descendants 3 Hades costume was a hit for trick or treating on Halloween!
My kids love Disney's Descendants movies and they both decided to dress up as characters from Descendants 3 for Halloween.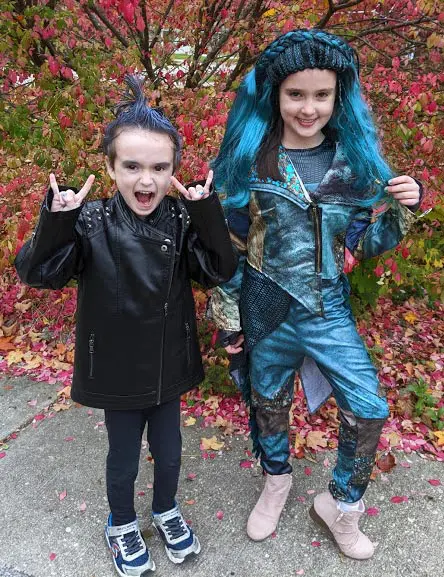 This post contains affiliate links. As an Amazon Associate and a participant in other affiliate programs, we earn a commission on qualifying purchases.
Getting a Descendants 3 Uma costume and wig for my daughter was pretty easy, but I was having a hard time finding a Hades Halloween costume for boys.
I found a few for men, or they were missing key details, or simply wouldn't arrive on time for our city's trick or treat time.
So, I felt inspired to do my best to recreate Cheyenne Jackson's Hades look.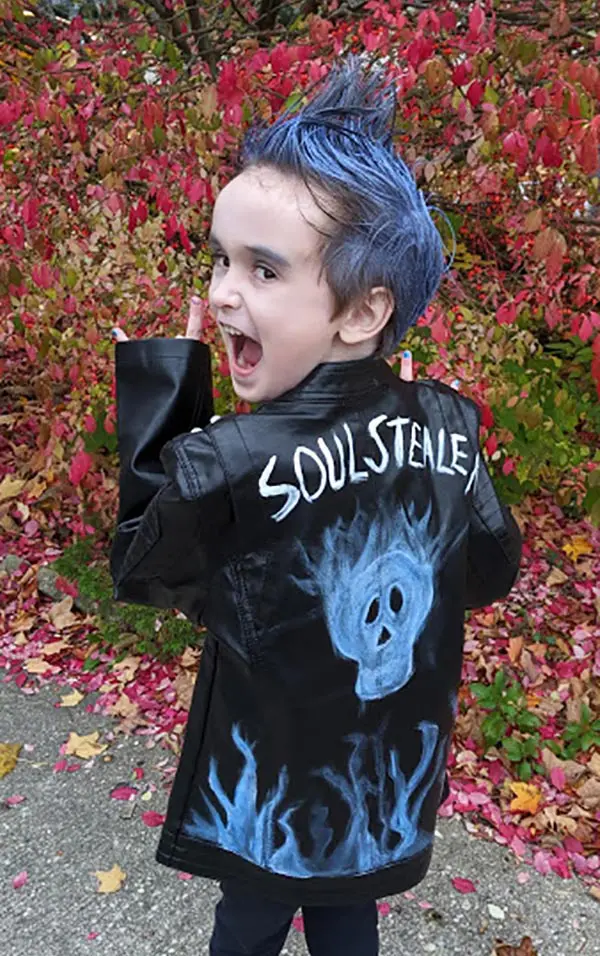 How to Make a Hades Costume
If I had realized from the start that I would need to make my own Hades costume from Descendents 3, I would have added more details to the overall look.
But, this costume came together quickly and what I did worked well enough to have a happy kid who loved his Halloween costume!
I focused on the two main things that pulls off the Hades look that Cheyenne Jackson had in the movie: the hair and the jacket.
DIY Hades Jacket
For the jacket, I ordered this faux leather motorcycle jacket for boys. It already had the brads on the shoulders, so I just needed to paint the back.
I was fine with it being long sleeve instead of a vest like in the movie, because it's often chilly when trick or treating in Wisconsin.
On the back, I used white and blue acrylic paints. I used regular acrylic paint, but you can also use leather paint.
First, I painted the words Soul Stealer on the top. Then I painted a skull and blue flames.
I had also ordered fingerless black gloves, but they were too big for my son. Instead of having them slide off while going around the neighborhood, we just skipped them.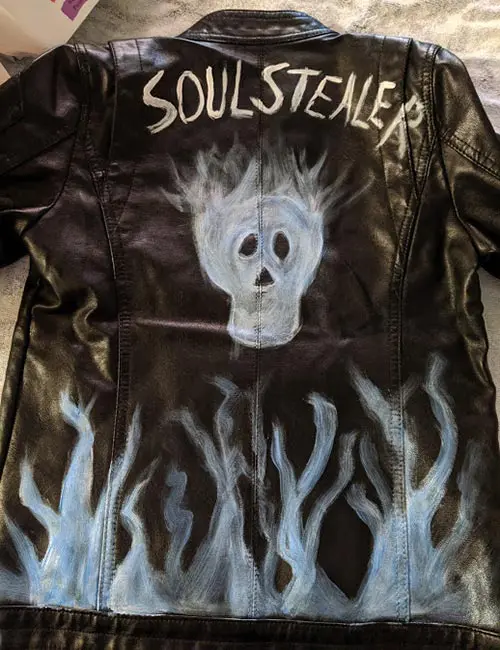 Hades Hair and Make Up
My daughter applied gray eye shadow around my son's eyes and painted his nails with blue nail polish for kids.
For the hair, I applied strong hold hair gel like this one to his damp hair and spiked it up. To help keep his hair standing up straight, I held it up while blow drying it.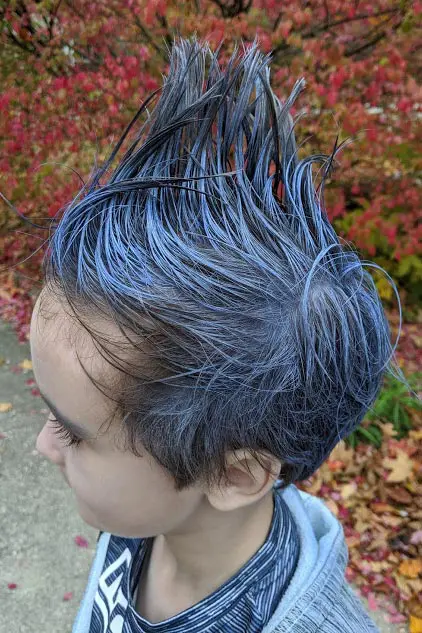 To give the frosty blue fire look to his hair, I used white hair color spray all over his hair first. Then I sprayed blue hair color over most of it.
I bought hair spray color that shampoos out at Meijer, but you can find a similar temporary blue hair spray and a white hair spray on Amazon.
I highly recommend going outside to apply the hair color if using a spray.
While our costume did not look exactly like Hades did in the Descendants 3 movie, it was still a fun inspired look!
More Halloween Costume Ideas: