One great way to enjoy The Badger State is to visit some of these 10 museums to see in Wisconsin this summer. There are many great outdoor activities when the weather allows. But when the summer heat gets to be too much, these wonderful museums beckon you with dreams of fun and learning!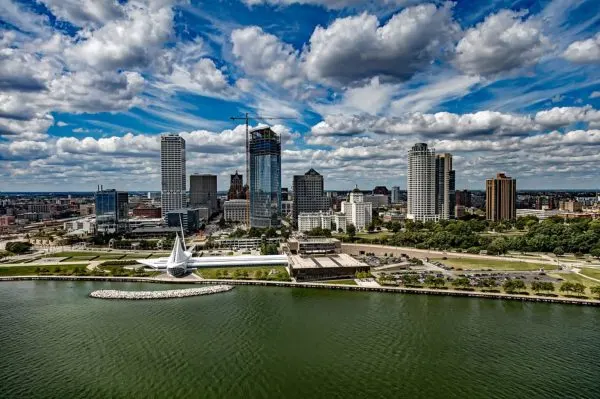 10 Museums to See in Wisconsin This Summer
This post contains affiliate links.
Summer in Wisconsin is a real treat for the senses. There is no shortage of beautiful views everywhere you look. Winding streams, picturesque lakes, and pristine forests that offer up that heavenly scent of pine – what could be better? But when you want some fun indoors, check out these 10 museums to see in Wisconsin this summer.
It is an outstanding way to break up the monotony of daily schedules and to learn more about the world around you. Before you head out on your Wisconsin road trip, you may be interested in reading Weird Wisconsin: Your Travel Guide to Wisconsin's Local Legends and Best Kept Secrets by Linda S. Godfrey.
These museums can help you appreciate beauty and cultural importance of art in its many forms. You can learn about geological structures you walk around on all day. Or you can learn all about the history and importance of railroads. Exciting displays and exhibits will liven up your summer with something for every age group and interest. Be careful, though. You just might learn something!
Racine Heritage Museum
Racine Heritage Museum – Racine, WI – The Racine Heritage Museum houses a wonderful collection of artifacts. Learn the story of Racine's struggles and challenges and how they were met and overcome. This facility proudly displays the wide variety of products which were invented and manufactured locally, as well as celebrating its cultural heritage. That heritage includes, among other things, being a crucial part of the Underground Railroad in the days leading to the Civil War and becoming a thriving Great Lakes port city. The works of famous architect Frank Lloyd Wright are also celebrated here.
National Railroad Museum
National Railroad Museum – Green Bay, WI – In 1956 a group of visionaries with an appreciation for the role that railroads played in the history of our country put forward an idea for a museum dedicated to just that. Just two years later Congress recognized their efforts under the title of National Railroad Museum. As a repository for all things railroad-related, this facility now hosts 75,000 visitors every year. Guests can enjoy static displays of a variety of classic locomotives, take a ride on a vintage, full-sized railroad car for a 25 minute tour of the museum. There is even an exciting theater presentation featuring Union Pacific locomotives.
Hazelwood Historic House Museum
Hazelwood Historic House Museum – Green Bay, WI – A visit to the Hazelwood Historic House Museum is like taking a trip back in time to the 1880s. This beautiful house is designed in the style of Greek Revival architecture, with Victorian style decor in each of ten rooms. Originally the home of the Martin family of Green Bay, many of the furnishings and heirlooms are original. If you love old homes and a chance to walk through history, the Hazelwood Historic House Museum is definitely worth the visit!
Chazen Museum of Art
Chazen Museum of Art – Madison, WI – The Chazen Museum of Art is a sight to behold. There are more than 20,000 works of art here, from paintings and sculptures to photographs and prints. The collection, which covers many historical periods and cultures, is the second largest art collection in the state of Wisconsin. It is definitely worth at least one visit, and if you live nearby enough to visit more often, be sure and catch some of the amazing temporary exhibitions they host throughout the year!
Milwaukee Public Museum
Milwaukee Public Museum – Milwaukee, WI – A trip to the Milwaukee Public Museum always includes a bit of the unexpected. This amazing place is always up to something fun, giving you the opportunity to learn something new without even trying! Permanent exhibits include an exotic trip to Africa and a chance to see what Milwaukee was like a century ago. But they also have amazing special exhibits to keep things interesting. And when you're done checking out the exhibits, be sure and take in a show in the Theater & Planetarium. You'll definitely want to visit the Milwaukee Public Museum more than once!
Kenosha Historical Society & Museum
Kenosha Historical Society & Museum – Kenosha, WI – The Kenosha Historical Society & Museum and Southport Light House offer you an amazing opportunity to walk through history. The lighthouse was built in 1866 and the lighthouse keeper's home the following year. Both have been lovingly restored so you can really get a feel for how people lived back then. The Southport Light Station museum teaches you all about fishing and the shipping industry of the past, and how it connects to the present and future. For an experience a little bit off the beaten path, this museum is worth a trip to Kenosha!
The Children's Museum of Green Bay
The Children's Museum – Green Bay, WI – If you are facing a hot summer with kids, pack them into the car for a trip to the Children's Museum of Green Bay. This amazing and magical place is designed to help kids learn while having fun, and they are great at it! In addition to a wide range of ever changing exhibitions, there are many events throughout the year. So if you live in the Green Bay area, consider a membership to this special place. You might just find that it becomes a favorite second home for your whole family!
Discovery World
Discovery World – Milwaukee, WI – The Discovery World in Milwaukee, Wisconsin, is a Science and Technology Center full of interesting and hands-on opportunities to learn while you play. A number of amazing exhibits await, providing a lot of fun for kids and adults alike. Learn more about life under water around the world when you spend time in the Reiman Aquarium. Then head over to the Music Factory and learn about the world of engineering while you create a song. There is so much more to see and do, The Discovery World is definitely worth a visit this summer – and throughout the whole year!
Madison Museum of Contemporary Art
Madison Museum of Contemporary Art – Madison, WI – If you love art, you are in for a truly wonderful experience when you visit the Madison Museum of Contemporary Art. The MMoCA takes pride in offering some of the best exhibitions of contemporary art in the country. Their permanent collection numbers around 5,000 unique and interest pieces of art that have been donated over the years. The museum also hosts spectacular visiting exhibitions, so you always have the opportunity to see something new. The Madison Museum of Contemporary Art is a great place to expand your mind while beating the summer heat!
Geology Museum
Geology Museum – Madison, WI – One of the most amazing things about our little blue planet is the incredible assortment of things we walk around on every day. Fossils, geodes, gemstones, and more – there is so much to see and learn in the world of Geology. And when you visit the University of Wisconsin-Madison Geology Museum, you'll get the opportunity to experience more of this wonderful and mysterious world. This is a great place to take kids, especially if they are a fan of dinosaurs. (And what kid isn't?) But it's a great place for adults, too, and if you aren't careful, you just might learn something while you're there!

If you're looking for a good way to beat the heat in Wisconsin this summer, be sure to give a few of these museums a visit. If you can make it to all of them, even better. Have you already been to any of these 10 museums to see in Wisconsin this summer? We'd love to hear about your experiences in the comments below!
More family travel tips: