These cute first day of school printable signs are perfect for taking pictures of your kids at the start of the school year. Taking a photo of my kids on the morning of the first day became one of our back to school traditions.
While I didn't always have a cute sign for them to hold, it's a wonderful way to organize and track their growth throughout the school year.
Witnessing the transformation from the first day to the last day of school photo is truly heartwarming. Which is why I designed not only a first day of kindergarten sign, but also up through sixth grade.
Don't forget to grab our matching set of last day of school signs too!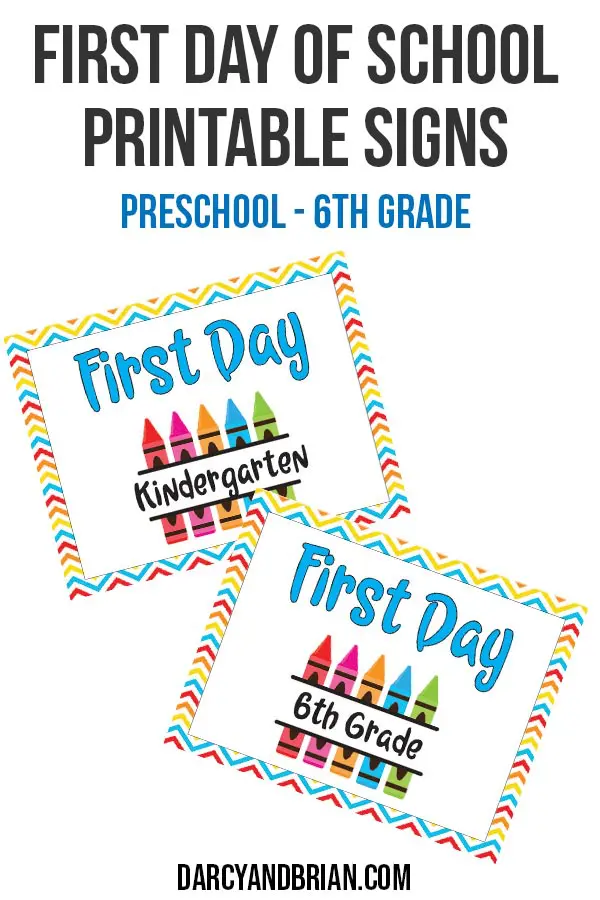 These kinds of memories and keepsakes are precious and I want to help you preserve them for your family as well.
I remember my dad taking off of work on my very first day of school and on the first day for my early elementary school days.
I have a home video of my first time going to preschool, which is a special memory for me. He made the occasion feel special and I try to do the same for my kids.
More Back to School Ideas
For those who are looking for more ways to make the start of the school year special and memorable, we've got you covered! Here are some more back to school ideas you might find interesting.
Creative Ideas for First Day of School Photos
Get creative with your first day of school photos using our free printable "First Day of School" signs! Our set includes preschool through 6th grade so you can document the entire journey from kindergarten to middle school.
Have your child hold the first day of school printable sign standing by their favorite tree in the backyard or on the steps of your home to add a personal touch.
You could even include some of their new school supplies, like a shiny new backpack or a set of colorful markers, in the frame to capture the excitement of the new school year.
Experiment with different angles or perspectives – perhaps a close-up of your child's excited face with the sign slightly blurred in the background, or an overhead shot of them lying on the grass with the sign.
Check out these tips from A Blissful Nest for first day of school photo ideas and how to set up a little photo booth at home.
Another idea is to have your child stand next to your house or a wall and capture their first and last day of school picture in the same spot.
These photos can be combined to create side-by-side collages that capture how much they've grown throughout the school year.
Remember, there is no right or wrong way to capture these precious moments – the most important thing is to have fun and make it memorable!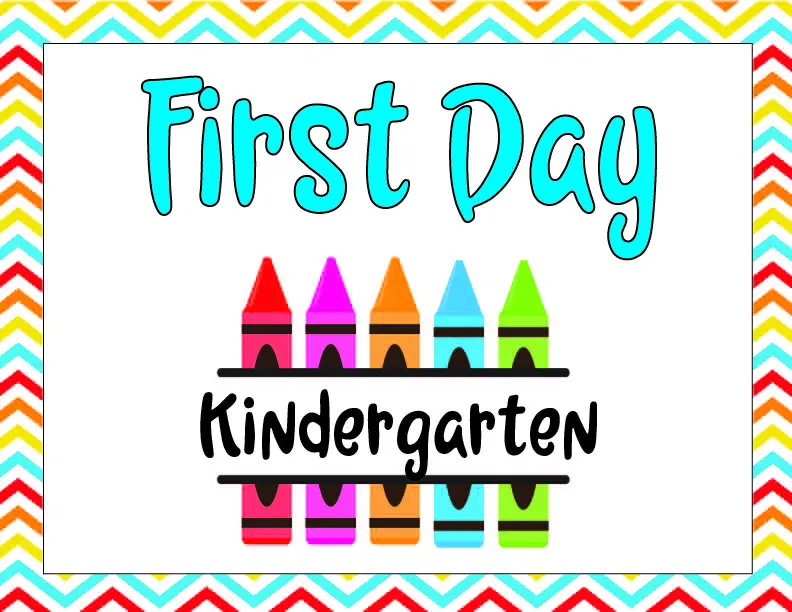 This post contains affiliate links. As an Amazon Associate and a participant in other affiliate programs, we earn a commission on qualifying purchases.
What's Included in the Set of First Day of School Printable Signs?
You may print out the grades you need at home or at a local printing shop. If printing at home, I recommend using white cardstock paper.
These bright and colorful first day of school posters include a set of undated signs for the following grade levels:
preschool
kindergarten
1st grade
2nd grade
3rd grade
4th grade
5th grade
6th grade
Epson EcoTank ET-3830 Wireless Color All-in-One Cartridge-Free Supertank Printer with Scan, Copy, Auto 2-Sided Printing and Ethernet – The Perfect Printer Productive Families,White
First & Last Day of School Board, 10×12 Inch Double Sided Back to School Sign for Kids Girls Boys, My 1st Day of School Chalkboard Sign Photo Prop, Wooden 1st Day Boards of Preschool Kindergarten
WOOD SIDE ORBIS School Years Picture Days Collage Frame with Double White Mat, Displays One 5×7 Photo and Twelve 2.5×3.5 Pictures, Landscape, Portrait, K-12 Keepsake
LEJHOME Paper Picture Frames for 4x6in Photo, 30pcs Photo Frames for Back to School Decoration, Multi Color 30 Clothespins Hanging Photo Display Frames with 3 Ropes for Home, School and Office Decor
Can I Print These First Day of School Signs in Black and White?
Yes, you can print these signs out in black and white. They were designed to be printed and used as colorful signs, but they are still readable when printed in black and white.
How Homeschool Families Can Use These First Day of School Printable Signs
Homeschool families can also join in the tradition of capturing the excitement of the first day of school with these colorful printables.
Even if you're not sending your child off to a traditional school building, marking the beginning of a new academic year can be a great way to celebrate their educational journey.
These signs can be used to document your child's progression from one grade level to the next, just like their peers in traditional schools.
You could take photos of your child holding their sign in your homeschool space, or during a special outing or activity that signifies the start of your homeschool year.
My friend Clare has even more ideas on how to celebrate the first day of homeschool during back to school season.
There are a variety of fun ways to recognize and celebrate your child's academic milestones, and the photos will serve as cherished keepsakes of your homeschooling journey.
Ways to Display First Day of School Photos
Parents can get creative with displaying their child's first day of school pictures.
One idea is to create a dedicated wall in your home where you can display the pictures in chronological order or create a special frame with all the signs in it.
This wall can turn into a visual timeline of your child's academic journey, showcasing their growth and the evolution of their interests.
Another option is to make a digital photo album, which not only helps in preserving these memories but also allows easy sharing with friends and family.
For long-term use, consider transforming these pictures into custom keepsakes like photo calendars or fridge magnets.
In the future, these pictures can serve as a perfect throwback during graduation parties or even used to make a memorable graduation slideshow.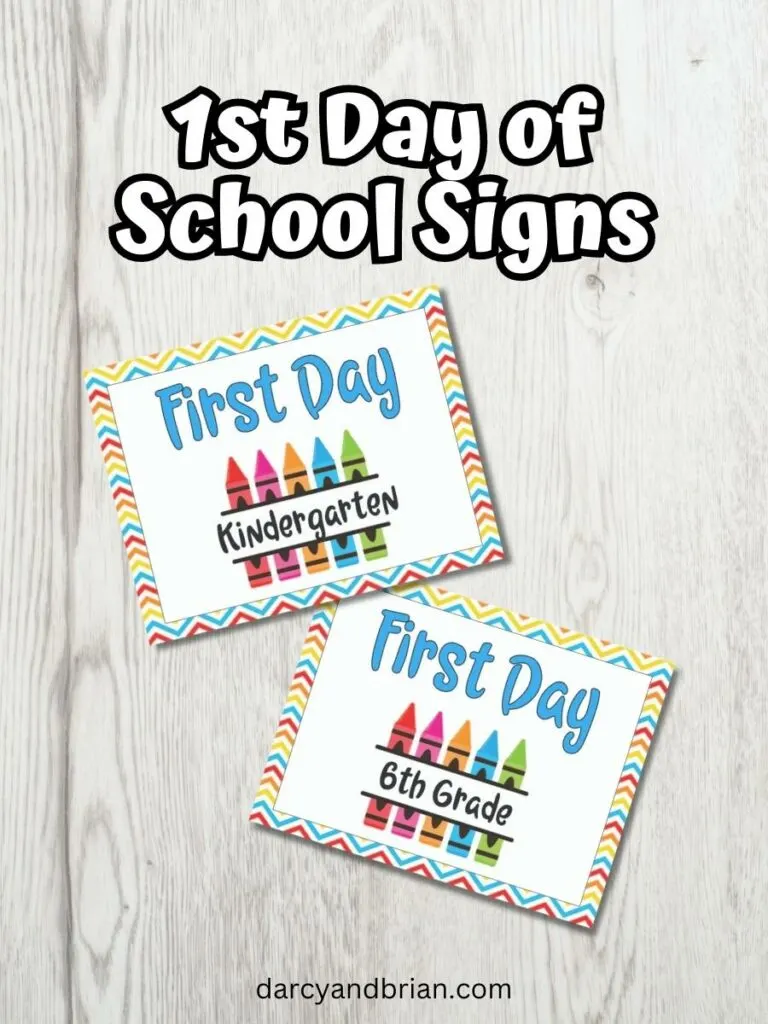 Memorable First Day of School Ideas
Making the first day of school special and memorable for kids can be an exciting task.
Consider starting the day with a fun tradition, like preparing their favorite breakfast or leaving a motivational note in their school bag.
Capture the moment with our colorful first day of school printable signs, perfect for preschool through 6th grade.
After school, you could have a mini celebration, such as a special treat or an outing to a local park.
This not only celebrates their achievement but also helps to ease any first-day jitters they may have had.
Remember, the goal is to make the start of the school year positive and exciting, setting the pace for the rest of the year.
More Back to School Activities
Why not make the back-to-school season even more exciting with some creative crafts?
Arts and crafts are a great way to engage your children, encouraging them to tap into their creativity while also creating keepsakes for this special time.
From coloring pages to homemade bookmarks, there is a myriad of fun and simple craft projects you and your children can dive into.