Looking for fun printable games for kids that explore emotions? Our Feelings Pictionary printable game helps children recognize various emotions and understand how they are expressed.
With free word cards, this drawing and guessing game provides a unique teaching opportunity that makes learning about feelings entertaining.
This activity engages kids of all ages while trying to draw and guess what others have drawn. You'll help them build emotional intelligence with every expressive picture too.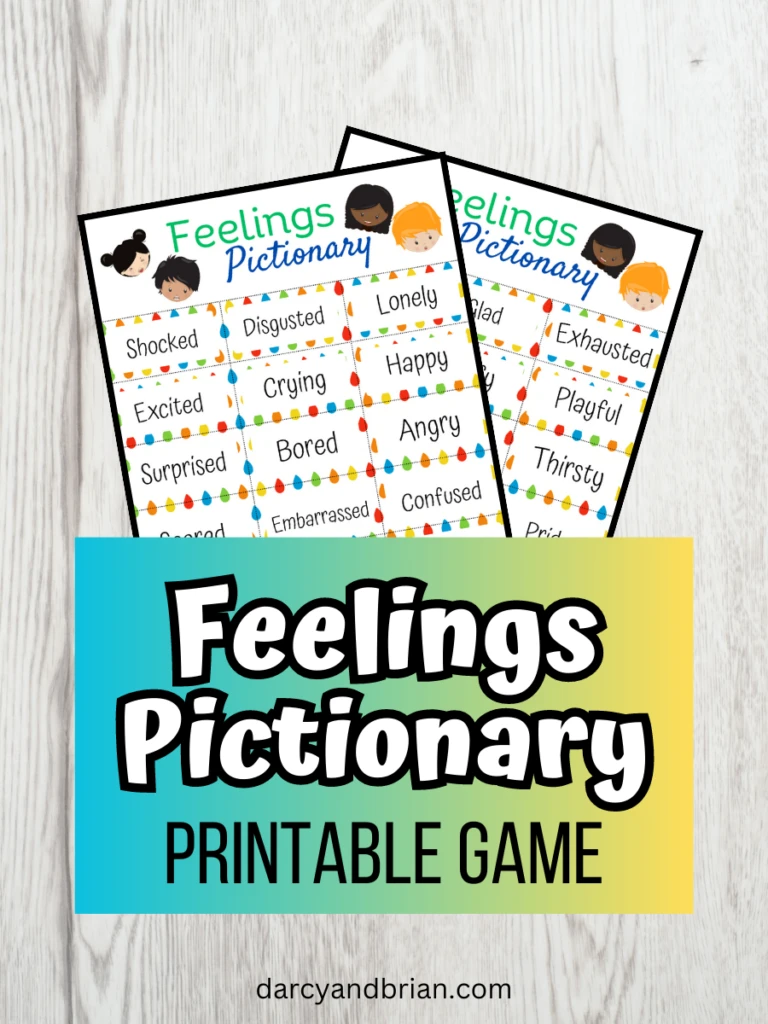 Children delight in playing games due to the sheer joy they bring. We are passionate about fostering a love for learning in children through the power of play, as it enhances their ability to absorb knowledge and forge meaningful connections.
Educational Activities for Kids
Educational activities for children are not just about imparting knowledge, they also provide a platform for kids to explore, express, and understand the world around them.
Here are some additional learning activities you may be interested in:
What's the Learning Benefit of Playing Feelings Pictionary?
Engaging children in activities that help them express and understand their emotions is crucial to their emotional intelligence development.
This game is not just entertaining but also an effective way to assist kids in identifying, expressing, and managing their emotions.
It encourages them to communicate their feelings through art, making the learning process enjoyable and creative.
These types of activities, especially when they're as fun and engaging as our Feelings Pictionary game, also help children develop essential skills such as empathy and creative thinking.
Whether it's drawing, guessing, or simply discussing the emotions depicted, this activity offers a unique learning experience that goes beyond traditional learning methods.
Why is Emotional Intelligence Important?
Emotional intelligence is a vital aspect of a child's development. It refers to the ability to understand, manage, and express one's emotions effectively and comprehend the feelings of others.
Children with high emotional intelligence tend to have better relationships, cope more effectively with stress, and exhibit improved problem-solving skills.
They are also likely to display empathy, kindness, and resilience.
Encouraging emotional intelligence in your children can lay a solid foundation for their future, equipping them with the necessary skills to navigate life's ups and downs with grace and composure.
This invaluable skill set goes beyond the classroom, influencing every sphere of their lives, from personal relationships to career success.
There are plenty of emotional regulation activities for kids to help them learn how to identify and express their feelings.
This post contains affiliate links. As an Amazon Associate and a participant in other affiliate programs, we earn a commission on qualifying purchases.
Books About Emotions for Kids
Books are an excellent learning resource, and offer a wealth of information about feelings and emotions.
Both fiction and non-fiction books provide us with a treasure trove of information, insights, and perspectives on a wide range of topics, including the intricate workings of our own emotions.
The Way I Feel
A Little SPOT of Emotion 8 Book Box Set (Books 1-8: Anger, Anxiety, Peaceful, Happiness, Sadness, Confidence, Love, & Scribble Emotion)
I Am Stronger Than Anger: Picture Book About Anger Management And Dealing With Kids Emotions And Feelings (Preschool Feelings Book, Self-Regulation Skills) (World of Kids Emotions)
My Body Sends a Signal: Helping Kids Recognize Emotions and Express Feelings (Resilient Kids)
The Color Monster: A Story About Emotions
Breathe Like a Bear: 30 Mindful Moments for Kids to Feel Calm and Focused Anytime, Anywhere (Mindfulness Moments for Kids)
What Age Can Play Feelings Pictionary?
Our Feelings Pictionary game is appropriate for children across various age groups. Independent readers will find it easier to interpret the drawing prompts without assistance.
When playing with younger children, you can support them by reading the feeling words and providing explanations when necessary.
How to Play Pictionary
To play, divide into teams and have each team choose one player to draw. The game begins with the drawing team selecting a card that features an emotion and attempting to create a visual representation of it.
The rest of the players must guess what the picture depicts before time runs out.
The round ends when the time is up, or when someone on the guessing team correctly guesses the emotion.
The drawing team scores a point if this happens – otherwise the guessing team gains a point. The game continues until each team has had several rounds of drawing and guessing.
Our Feelings Pictionary game helps kids learn about emotions while also sharpening their creative thinking and problem solving skills as they try to convey an emotion through their drawing as well as accurately guess what others drew.
What's Included in the Feelings Pictionary Printable Cards
There are 42 emotion themed pictionary words that you can print and cut out to use in your game. We've also included a few blank cards to write in your own.
Some of the emotions listed may seem like they overlap, but it's a great way for kids to think about the ranges and spectrum of emotions.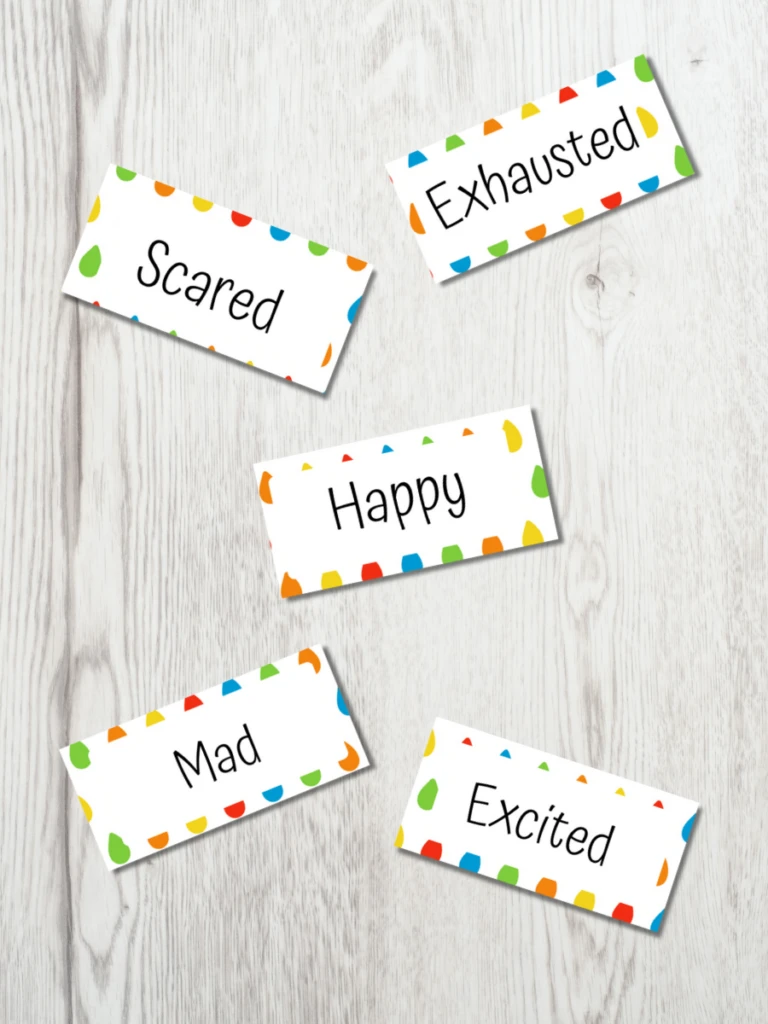 Here are a few examples from the word list:
Happy
Sad
Surprised
Bored
Angry
Scared
Embarrassed
Confused
Sleepy
Recommended Items for Playing
You don't need a lot of items in order to play, but we find these things to be helpful!
Feelings Pictionary Variations
Feelings Pictionary is a versatile game that can be adapted in various ways to suit the age and level of your players.
One way to make it more challenging is to assign each player a specific emotion – they must draw this emotion in order for their team to gain a point.
You can also set a time limit, allowing each team one minute or less to create and guess all of the emotions featured on their cards.
This will really get kids thinking quickly and add an extra element of challenge to the game.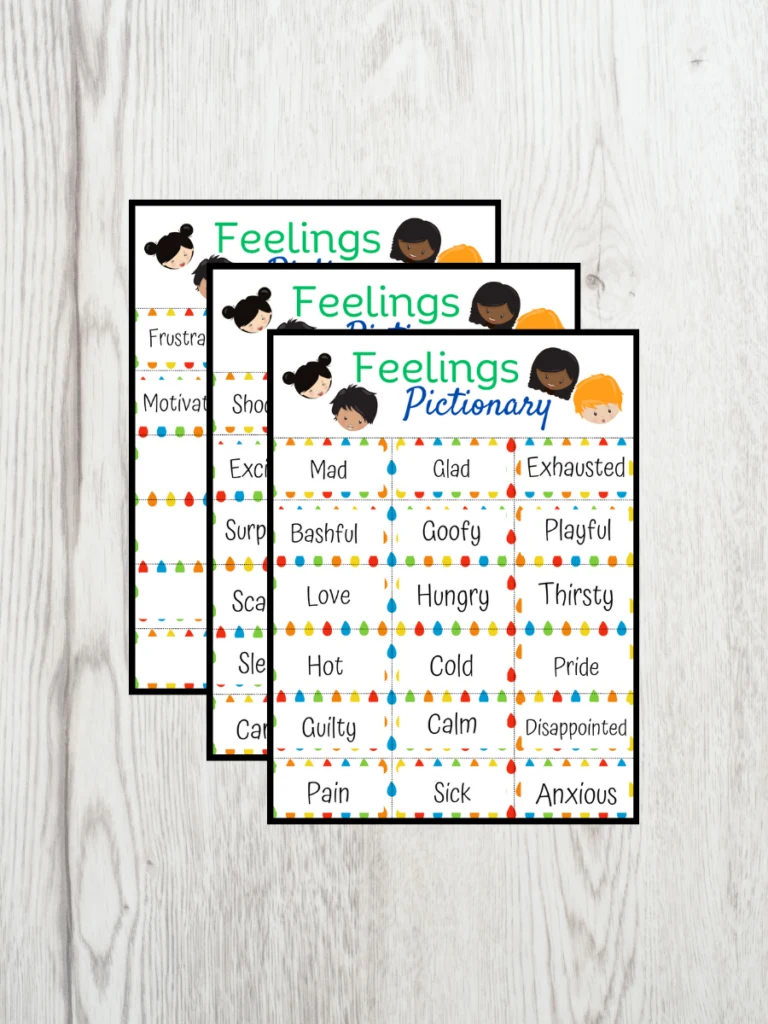 Another option is to play without teams and everyone gets a turn to draw while the rest of the players try to guess.
Playing Feelings Pictionary is a great way for kids to learn about different emotions in a fun, engaging way that will keep them occupied for hours!
So break out those word cards and get ready for some creative drawing action.
More Fun Drawing Games for Kids
Drawing games are incredibly beneficial for children, not only in terms of entertainment but also for fostering their creativity, imagination, and fine motor skills.
Games such as Feelings Pictionary encourages children to express their feelings and emotions in a fun and engaging way.
In the same vein, there are other drawing games that can bring out the Picasso in your kid while promoting a great deal of learning and fun.
Let's explore some of these creative drawing games that can keep your children engaged, amused, and artistically inspired.
TWOPOINTOH GAMES Artsy Fartsy – Fun Family Games for Kids and Adults. Winner of USA Today's Best Gift for Families National Award
Mythical Creatures Drawing Game for Kids Mashup Animal Art Ideas. 150 Prompt Cards. Creative Gift for Tweens, Teens + Family Fun Night for All Imaginations!
Telestrations Original 8-Player | Family Board Game | A Fun Family Game for Kids and Adults | Family Game Night Just Got Better | The Telephone Game Sketched Out | Ages 12+
The Imagineering Company WatchamaDrawit Fast Action Drawing Game with Wildly Creative Challenges – A Family Board Game for Kids and Adults
Vango The UpsideDownChallenge Game for Family & Kids – Complete Fun Challenges with Upside Down Goggles – Hilarious Fun Game for Game Night & Parties – 2-6 Players, Ages 8+
​Pictionary Air Kids Vs. Grown-Ups Family Game for Game Night with Light Pen and Clue Cards, Connect to Smart Devices
Additional Activities About Emotions
Feelings Pictionary isn't the only activity that can help kids learn about their emotions. There are many other creative and engaging activities out there to help children identify, understand, and express their feelings.
One such activity is to create a Feelings Book, in which each page is devoted to a single emotion (e.g., happy, angry, sad, excited). On each page, kids can draw a picture of what the emotion looks like or jot down their thoughts on the subject. This will both help them get in touch with their feelings and give them an outlet to express those feelings.
Another activity is to have children track their emotions using a chart, like this feelings chart for kids from Living Life and Learning, where they can identify how they feel and update it throughout the day.
To build off of the game, kids can make this pumpkin emotions craft from Simple Everyday Mom. It's another way to work on recognizing feelings and interpreting facial expressions. Repetition helps children learn and connect with the concepts.
Watching the movie Inside Out is also a great opportunity to discuss emotions. The movie provides ways to visualize different emotions we have and gives them personalities that we can identify with. Plan an afternoon to watch the movie and create some of these Inside Out crafts for kids that were curated by Mommy Evolution.
These activities are just a handful of many that can help kids learn about and express their emotions.
By having the right activities available, we can create a safe space for children to explore their feelings and grow as individuals.
With enough guidance and compassion, they'll soon be able to safely navigate their emotions on their own.