If you're looking for a rainy day activities for your animal-loving child or want to include activities for younger children for an Australia unity study, try these free Australian animals printable coloring pages.
They are ideal for children in preschool through first grade and introduce a variety of animals native to Australia.
Some will be familiar, others will be new and exciting discoveries for your child.
This post contains affiliate links. As an Amazon Associate and a participant in other affiliate programs, we earn a commission on qualifying purchases.
Australian Animals Printable Coloring Pages
These fun coloring pages allow your child to also practice handwriting and word tracing.
The free Australian animals' printable coloring pages (available in our free printable resource library – get the password by filling out the form at the bottom of this post) feature 22 animals native to Australia.
It will keep your animal-loving children busy and engaged for quite some time.
Promote research skills by having your child match the animal to images on the internet. You could also use images and resources from some of the books referenced below.
This can help with coloring accurately and improving research skills all while having fun.
The word tracing copywork can improve literacy.
Copywork is beneficial in a variety of ways. It promotes attention to detail and improves muscle memory.
Copywork also increases composition skills to help your child become a better reader and writer.
These fun Australian animals' printable coloring pages feature well-known animals like the crocodile and sloth.
They also introduce others your child may not have heard of like the echidna or the phalanger.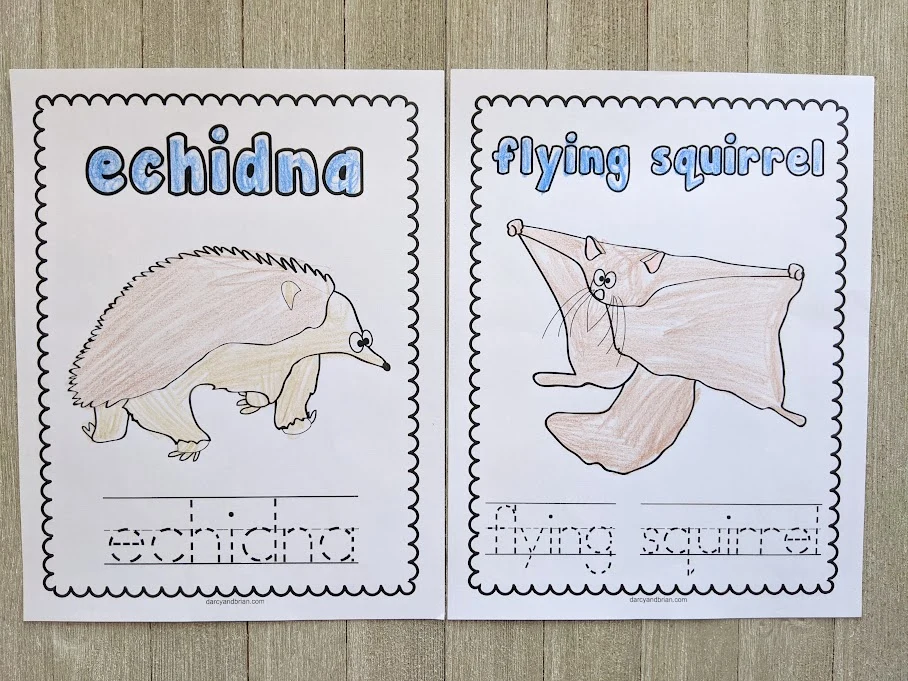 Extension Activities Using Australian Animals Printable Coloring Sheets
If you're looking for additional activities to do with your child to extend the life of these printable coloring pages, consider matching each animal to their respective biome.
Young children are by nature curious about the world around them so it may be fun to help them discover the habitats and biomes these animals live within.
Another option is to use the printable as a jumping-off point to learn more about each animal individually.
Growing up Wild with Bindi and Robert Irwin is an ideal resource. In this fun video, the famous siblings introduce Mia, a beautiful Dingo who lives at the Australia Zoo. Graham, the saltwater crocodile shows off what he can do in this video clip.
Introduce your children to Brian and Toby, two Tasmanian Devils who make the Australia Zoo their home.
For an added bit of nostalgia, don't forget to stream a few episodes of The Crocodile Hunter to introduce your children to the late Steve Irwin.
If your children resonate with the Irwin family, consider the Bindi Adventure series books that chronicle her real-life situations and experiences.
For a bit of hands-on play learning, these Wild Republic Toy Figures feature 11 animals native to Australia, including the emu, platypus, and wombat. Perfect for little hands, the toys bring the animals to life for your child.
Another fun option that promotes literacy and encourages imaginative play is these Australian animal plush finger puppets.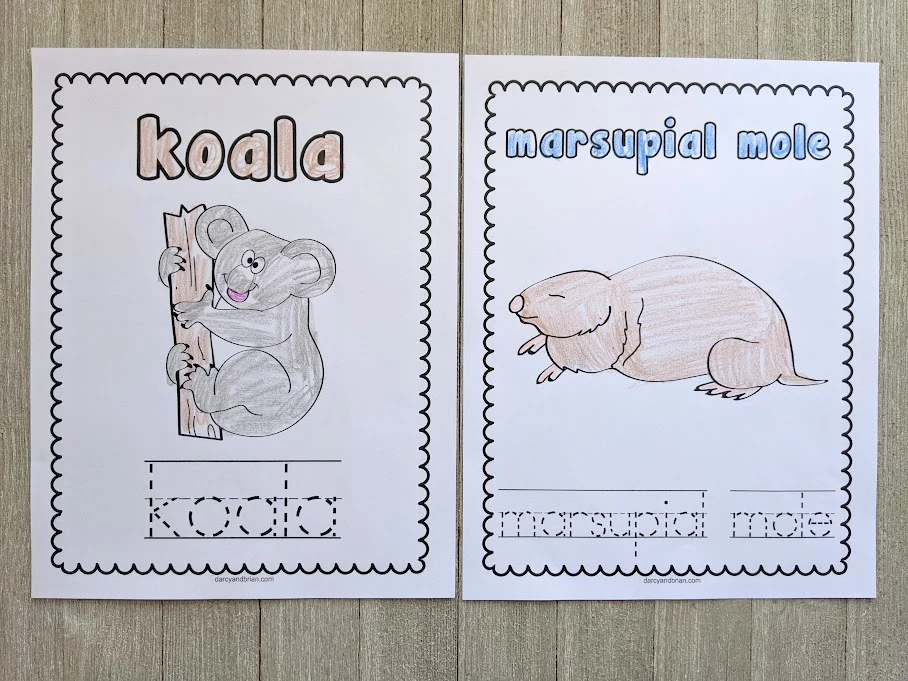 Australian Animals Books and Games to Extend the Learning
Hands-on activities bring learning to life. Consider incorporating a few of these resources to help bring the learning full circle.
The National Geographic Animal Encyclopedia brings over 2,500 animals right to your child's fingertips. It features maps, images and facts about animals across the world for your child to explore.
Use the Australian animals' printable coloring sheets and cross-reference to the corresponding animal in the encyclopedia. This is a great way to learn more about these amazing creatures.
Books and Puzzles Featuring Australian Animals
Take a deep dive into everyone's favorite marsupial with the Explore My World: Kangaroos book geared for children age 3 – 7.
The book introduces young children to all of the animals in the kangaroo family. It includes engaging photos and bite-sized trivia. Perfect for young zoologists in training.
Introduce your child to Australia with this 1000 piece wooden puzzle featuring significant landmarks, animals, and cities in bright beautiful colors.
Explore the underwater world with, Where is the Great Barrier Reef? and dive into the world's largest coral reef system. This book is geared for readers age 8 – 12.
While it may not work for your youngest learners, it's perfect for older siblings to read aloud. Ideal if you're bringing all ages in for a unit study on Australia.
If you're looking for a book written for the younger set, The ABCs of Australian Animals: An Interactive Kids Yoga Book is the perfect accompaniment to these Australian animals' printable coloring pages.
Whether you use the printable coloring pages simply to pass the time or as part of a larger Australia unit study, the wide variety of animals showcased are sure to be a hit for your children.
Get the Printable Australian Animals Coloring Pages
Fill out the form below for free instant access to our printable library if you do not currently have access to it. Australian Animals Coloring Pages is File #141.
More Coloring Pages for Kids: