These unique strawberry desserts recipes make wonderful summer treats. You'll want to make them all!
When I think of summer, I think of strawberry picking and all the delicious ways to enjoy strawberries, such as Frozen Strawberry Lemonade.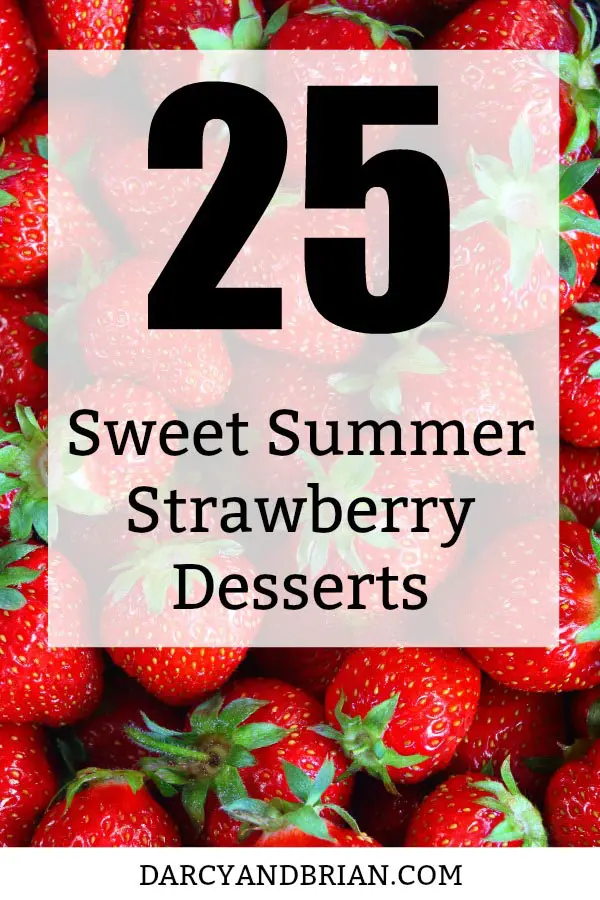 It's no wonder I love attending our local Strawberry Fest every June. They have strawberry shortcake, strawberry milk, strawberry ice cream, strawberry wine, and even strawberry brats.
I know strawberry brats may sound weird, but they are actually quite good.
Have you ever wondered what to do with fresh picked strawberries?
Although I love going and picking our own, we always bring home more than we can reasonably eat out of hand.
Strawberries need to be eaten, used, or frozen rather quickly because berries can go bad quickly.
To help both you and I use up our sweet strawberries, I put together a list of delicious dessert options.
Honestly, some work well for breakfast. Do you consider strawberry bread a dessert or a breakfast food? Either way, it's delicious!
Many of these are perfect to take along and serve at a family potluck too.
25 Summer Strawberry Dessert Recipes
These delicious strawberry recipes make wonderful summer desserts. You'll want to try them all!
I hope you enjoy making these recipes to use up strawberries throughout the summer and find a new favorite.
You may also want to consider baking in batches if you have a lot of berries on hand. Then you can enjoy many of these strawberry desserts throughout the year.
Want more desserts?
Try our Glitter Brownie Pops, Oreo Stuffed Brownies, or Red, White, and Blue Pretzel M&Ms Brownie recipes.
More summer recipes you may like: